Salespage Snapshot: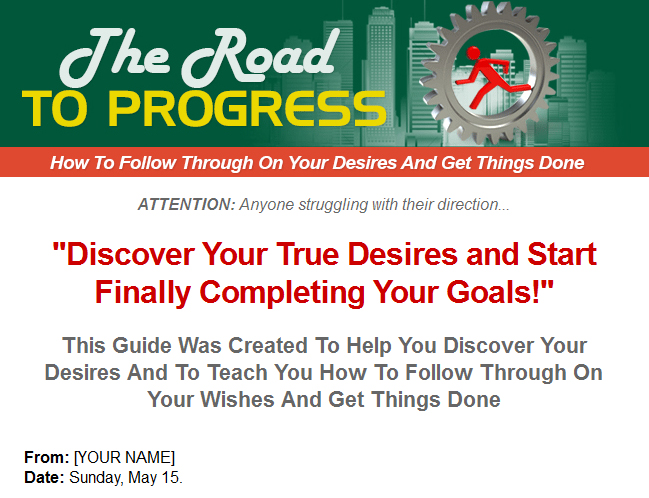 >>> Click Here To View Full Sales Page…
Table of Contents
Introduction .. 4
How This Book Can Help You . 4
Chapter One: How to Clearly Define Your Desires .. 7
How to Conquer Your Fears & Discover Yourself.. 8
Chapter Two: Setting Long-Term Goals You Can Achieve … 12
S.M.A.R.T …. 13
Chapter Three: Setting Short-Term Goals That Will Motivate You .. 18
Setting Your Goals . 21
Chapter Four: How to Create a Weekly, Monthly or Daily To-Do List for Your Goals . 25
Breaking Down Your Plan 25
Chapter Five: Tracking Your Progress …. 29
Update a Spreadsheet 30
Keep a Journal .. 31
Keep a Blog, or Better Yet, a YouTube Channel . 31
Chapter Six: Dealing With Negativity from Others .. 32
Reasons Why People Are Going to Hate on your Success 33
Chapter Seven: Changing Your Mindset . 35
Conclusion . 40
Sample Content Preview
Introduction
Everyone has desires that they want to fulfill. Most of the time, your desires change as you learn what you are truly interested in, but sometimes the desires you have as a child or young adult are still on your mind years later. Either way, reaching your desires takes work and persistence and you have to follow through even when you don't feel like it.
This book will help you to identify what your desires actually are and how you can set goals and make plans to achieve them. Having the desire to do or be something simply isn't enough. You have to have a plan, keep track of your progress and make adjustments as you get new information. This seems intimidating at first, but once you have the process down, you are able to do anything with your life.
How This Book Can Help You
If you are perfectly happy with your life the way it is, you don't need this book. In fact, you can delete it from your hard drive right now, if you have nothing that you want to change. However, if you are like most people, there are lots of things you want. You just need a little help getting there. That's precisely what this book is all about.
You see, I was in your position a few years ago. I had dreams and desires and wants, but I had no idea how to achieve them. Then one day, a man came into my life who showed me exactly what I needed to do to achieve my goals. He didn't do it for me and he didn't hold my hand the whole way, but he gave me the tools that I needed to get where I had been trying to go for years. It was as if I'd been driving around for my entire life looking for Nebraska and suddenly, someone presented me with a road map that showed me exactly how to get there.
Luckily, I was smart enough to recognize that I desperately needed this information if I was every going to do any of those things that I'd been talking about and dreaming about for years (and in some cases decades.) My specific goals are almost certainly different than yours, but that doesn't mean that the way to get there is different. We all have that navigation difficulty in common and no matter what you are trying to achieve, no matter what your dreams are and no matter how difficult they might seem at this moment, the theory of how to reach them is the same for all of us.
In this book, we'll start with identifying your particular desires – and we'll identify what you really want from what you think you want right now. The two might not be the same. In fact, I'm willing to bet that you'll be surprised after this exercise is over and you see your desires more clearly.
Other Details
- 10 Articles (TXT)
- 1 Ebook (PDF), 40 Pages
- 1 Salespage (HTML)
- 1 Squeeze Page (HTML)
- Year Released/Circulated: 2015
- File Size: 1,806 KB
License Details:
yes you may giveaway this ebook.
yes you may resell this product. suggested retail price
yes you may resell this product.
yes you may edit the squeeze/salespage.
your customers only get personal use rights only. they may not resell this product.
you may not sell or giveaway private lable rights.
you may not re-title or edit the contents of this product.
you agree to handle any own customer support issues related to this product.