Salespage Snapshot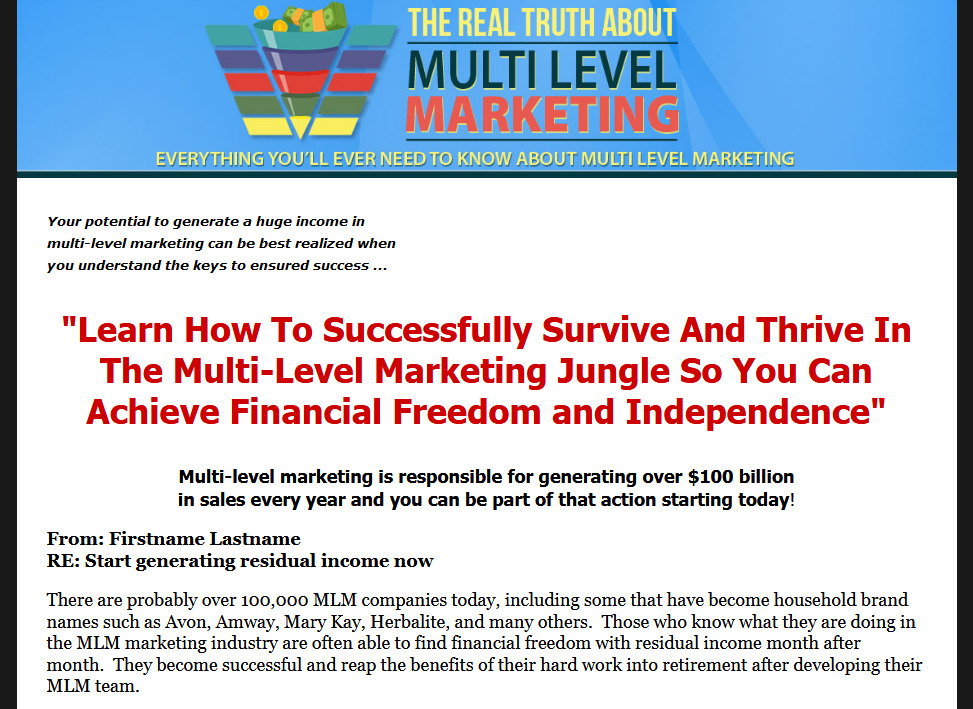 >> Click Here To View Sales Page...
Table of Contents
The Shocking Truth 3
Why Would You Be Choosing an MLM in The First Place ….. 3
Types of People Who Are Looking For Opportunities . 5
What is the MLM Jungle Like … 7
Exposure to the Industry . 8
Joining the Right Team .. 15
The Trend of the Time … 16
There is No Such Thing as a Perfect MLM 17
An MLM That Would Suit YOU …….. 17
Being Aware of the Risks …….. 18
Getting Started Off The Right Foot . 19
Sample Content Preview
Genuine business opportunity seekers are the most important people in building a large business. They are the bread and butter. Not all are leaders but leaders are not born, they are developed. This group of people also can be product consumers.
Product consumers are people who join an MLM and buy from them because they like the product and enjoy the service of their upline. They are not necessarily genuine business opportunity seekers or builders yet for many builders, a lot of their income will come from this group. The good thing about them is as they learn more about the product, the company and interact more with their upline, their exposure to MLM grows and they might convert to opportunity seekers and then builders.
The supporters' category is quite a mixed match of people. When their close friends or relatives build an MLM, they will join under them to 'support their businesses. However, the consequence of that action varies according to the individual. For example, I would join my friend's organization but it could be purely out of obligation and not for any genuine reason. This could potentially lead to resentment (when you mix business dealings with friendship), confusion and even loss of friends. Others might even join to see if their friend or relative is involved in a scam to try and pull him or her out. In order to prevent any potential disaster, make sure your intentions for joining an MLM are very clear cut.
MLM junkies are the sort of people who jump from MLM to MLM (some people even call them Multi-Level-Monkeys). They attend a talk, get hyped up about the opportunity, and build the business on euphoria. Sooner or later, they lose steam and find problems with the company (when the real problem is themselves most of the time) and jump to the next SMOKING HOT business opportunity. It is not wrong to be a member of many MLM companies (depending on your budget). Bear in mind, certain companies discourage or even forbid you to join other companies (then their business practices should be examined). If you are a member of many companies, it is ok to do a good survey and attend trainings, but the key to remember is you must focus on ONE good MLM for the long run and the others can operate on a referral basis (like recommending a friend to buy a product from another company while building one main one).
This leads us to one more category of people who could be MLM junkies as well – the 001 syndrome. Basically they want to be the first to start building a business in a brand new start-up. They want to be the pioneer. There are many pros and cons to assess about a new company like their background history, financial status and product market rather than just focusing on the income potential. There are many more challenges to be faced for people who are sponsored directly under the company and new companies don't usually have a time-tested workable system in place.
If you fall into one of the above categories (or even some or all of the above), these will give you a general guideline on how to improve your choice selection of MLM companies before we go in to the details about compensation plans and product demand. By knowing yourself better, you can do a better assessment.
What is the MLM Jungle Like
There are thousands of MLM companies out there! Here are a few categories of MLM. These will help you determine which company suits you.
Product/Servicing
Traditional MLM Concept
Physical product
Internet M Digital Product
The main difference between traditional MLM and Internet MLM is the method used to recruit or sponsor. Traditional MLM relies mostly on one-on-one prospecting (like at a McDonalds or Starbucks), home party, opportunity meetings or rallies. Internet MLM does the recruiting through e-mail, newsletter, forums, websites and sales letters. This minimizes the human interaction part and may be more suitable for those who are not very good at talking to others.
Two main types of traditional MLM are one that is heavily concerned with retailing, consumption or distribution of a physical product. Typically one with a high volume of repeat sale (like vitamins or skin care products) and good testimonials of the product with high visibility (e.g. look at my skin, the product has cured all my pimples!).
Concept MLM doesn't focus as much on products compared to its former counterpart. They usually do have a product, but it doesn't have as high a repeat sale as those mentioned above. Most of them run their business like a club. Some are like lifestyle clubs. Others conduct their business with a high degree of professionalism (they all dress better than an office worker). Often they will sell their people a dream or molding them to a particular image to convey the image of the company for attracting more recruits. It's the sizzle that sells the steak.
In Internet MLM, there are distributions of two types of products. A physical product distributed through the Internet means that the Internet does the selling and recruiting, taking the orders, and the shipment of the product are done offline. Digital products remove the headaches of physical product distribution. This usually gives the company a better margin due to lower overheads (no warehousing or shipment).
Exposure to the Industry
In the MLM industry, there are a few factors to consider when considering which company to build a long term business.
Product background
Marketing or Compensation plan
The team (Upline, Sidelines, even the company staff)
The trend of the time
First off: It has been said in the past – your UPLINE chooses the first company you join. It still is the case today for many who are either unexposed and their friends or relatives who join an MLM first approaches them.
The unexposed might oblige their upline and if they are not careful, will cause a very bad first impression on the industry.
Today, you don't need to be picked by someone else. You can choose first. Do a good survey based on the guidelines above. As a matter of fact, you don't even need to join the first person who invited you in a company. You have a choice to choose someone else to be your upline within the SAME company.
Products are very crucial in MLM. Just because one company says our product is the 'best' doesn't mean that it is. Just like any other business, people seriously building an MLM will only say good things about their own product. They will even give fantastic and even outrageous testimonials about how the product can help them. Many are very sincere and well-meaning, but the rule of thumb to remember is – yes, you say the product is the best, but that is also because you haven't tried any others because you are in this business!
I firmly believe that most MLM products are of exceptional quality. That is because the product must work then only can the distributor give good testimonials due to the nature of the distributor doing direct sales (dealing directly with the prospect/customer). There are companies that DISCOURAGE their people from using products from a competitor MLM (some even ask you to stop buying from the supermarket and buy from your 'own business' instead).
Beware: some even go as far as to talk down about the products of other MLM companies. Most people, in their zealous zeal to recruit others, may use this tactic. This is often perceived as rather unprofessional.
Other Details
- 1 Ebook (PDF), 20 Pages
- 15 Graphics (JPG, PNG)
- 1 Salespage (HTML)
- Squeeze Page (HTML)
- Year Released/Circulated: 2021
- File Size: 2,461 KB
License Details:
[ Yes ] Can sell the eBook to your customers.
[ Yes ] Can give away eBook (PDF Format).
[ Yes ] Can be used as a bonus (PDF Format).
[ Yes ] Can include eBook in membership site (PDF Format).
[ Yes ] Can be combined with other offers or sold as a package.
[ No ] Can include within website flips.
[ No ] Cannot sell Resell Rights to customers.
[ No ] Cannot sell Private Label Rights to customers.