Salespage Snapshot: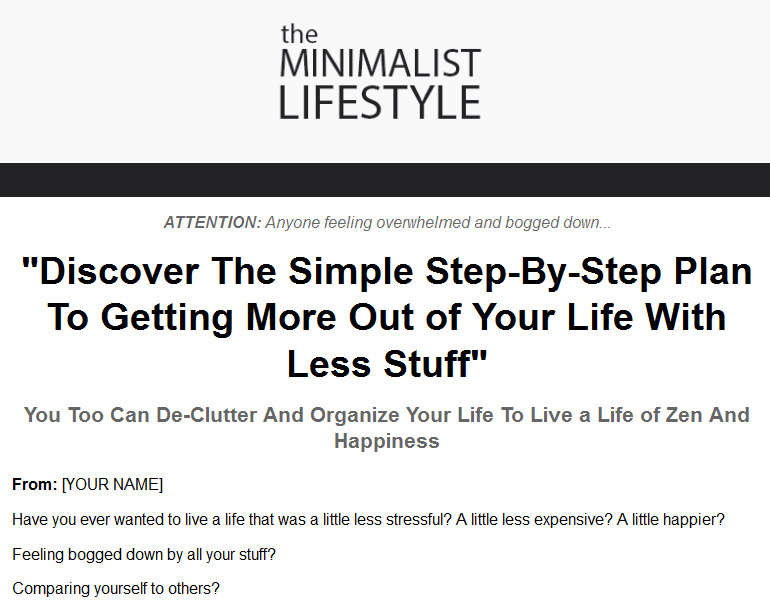 >>> Click Here To View Full Sales Page…
Table of Contents
Introduction ……….. 5
Chapter 1: You Don't have to Be Bogged Down with "Stuff" …. 8
Applying Minimal Design to Your Home . 10
Minimalism as a Reaction to Materialism ……….. 12
Chapter 2: The First Steps to a Minimalist Lifestyle …. 15
Reduce Your Clutter .. 16
Remove Boxes ………. 18
Cable Management … 19
One In, One Out Rule 20
Getting Rid of Things ….. 20
Chapter 3: Enjoy the Freedom that a Minimalist Lifestyle can Offer … 22
Creating a Zen Space …. 23
Spend Less Time Cleaning! ……. 25
Financial Freedom ……… 26
Chapter 4: Become More Productive with a Minimalist Lifestyle …….. 28
The Ultimate Home Office ………. 29
Keeping Your Tech Clean and Fast … 32
Chapter 5: Make Room for the Important Things ……… 34
Turning Your Home Into a Means to an End …… 35
How to Fight the Urge to Buy Unnecessary Clutter …. 36
A List of Things to Do ….. 37
Chapter 6: A Minimalist Lifestyle is Good for the Environment ………. 39
Becoming Self-Sufficient 40
Simplifying Lifestyle Changes That Will Help the Environment ………. 41
Chapter 7: Save Your Money for Bigger and Better Things….. 42
Create a Stunning Home With a Few Items ……. 43
Remember to Stay You and Stay Creative! … 44
Chapter 8: You Don't Need a Huge Home to be Happy 47
Creating a Budget for Your Minimal Lifestyle ….. 49
Chapter 9: Stop Comparing Yourself to Others 51
Practicing Patience …. 53
Chapter 10: Enjoy a Happier Life as a Minimalist ……… 55
How Minimalism Leads to Happiness ….. 56
Going Deeper ….. 58
Conclusion and Summary ………. 61
Sample Content Preview
Chapter 2: The First Steps to a Minimalist Lifestyle
If you're like most people, then you're probably living a lifestyle that is a long way from minimal right now. Chances are that every single surface is covered in unneeded clutter and that you have a long list of things you want and that you intend to spend your money on and feel like you can't quite afford the quality of life that you want or feel you deserve.
You've learned why this is a problem and how it can make you unhappy. Now it's time to start doing something about it!
Follow these steps to begin your journey toward a truly minimal lifestyle…
Reduce Your Clutter
We've used the word 'clutter' a lot already and that's because it really is one of the biggest problems. Minimalism doesn't mean not having nice things, it means not having the things you don't really need or want.
As an experiment, I want you to head into any room in your house and go over to one of the surfaces – whether that's a bedside cabinet, a desk or a windowsill. Now, take a look at those items on display and remove 60% of them.
This is going to feel wrong at first. It will feel as though you're getting rid of things you really like or that you're leaving that surface too sparse. But go with it.
What you'll find, is that far from looking worse, removing those items actually makes your surface look a LOT better. That minimalism provides space for your possessions to breathe and it makes them stand out more. What's more, is that it reveals the actual surface underneath and removes the visual 'noise' out of the corner of your eye that can actually end up creating a lot of stress.
What's remaining is now the top quality 40% of your items. That means that what you've left behind will be things that you really love. It means that the average quality of what's on that surface will go up significantly, as will the average value. And those few remaining items will say much more about you and will attract much more attention – instead of just blending into a crowded mess.
The best part though, is that when you then come to clean that surface, you will be able to do so by simply removing 3 or 4 items and then wiping. This has now become a 3 minute job, as opposed to a 10 minute job. And imagine what will happen when you apply that same logic to all the other surfaces in your home!
Now go and do the same thing for all those other surfaces in your room!
Remove Boxes
The reason that removing clutter is so powerful, is that it provides you with mental space. Our brains are designed to pay attention to contrast and things that stand out and they do this by releasing small amounts of stress hormone. The more clutter and noise there is in a space, the more there is for our brains to process. This can be overwhelming and after a long hard day at work, it makes it very hard to relax and unwind.
The fact that they also create more work only further enforces the fact that an abundance of items doesn't add to your space.
The same goes for a number of other items that you probably don't realize are causing you stress. Case in point: boxes that you are keeping under your bed or on top of your wardrobe. This probably seems like a great place for storage, that will be out of the way and help you to keep more items. But the reality is that it will again create visual clutter and work.
For starters, boxes under the bed and on the wardrobe get badly dusty unless they have a lid. But more importantly, they once again will play on your mind by taking up room and by removing those crucial areas of 'space' that make a room feel much bigger and much lighter.
Just try taking the boxes out from under the bed and on top of the wardrobe and see if this creates a more relaxing and clean looking environment. Do the same for things on top of bookshelves, under coffee tables and stuffed behind sofas.
And again, just think how easy tidying and cleaning is going to be…
It's time to start thinking about the negative space in your home as being just as important – if not more important – than the clutter that surrounds it.
Cable Management
Another important tip is to think about your cable management. Right now, you probably have cables running under desks, across the floor and just about everywhere else.
Can you guess what these do? That's right: they create more visual clutter! And they make your home seem much more untidy and disorganized than it probably is. There are a great many different cable management solutions, which range from using boxes to store your cables, to attaching them to the underside of desks and the backs of monitors. Get creative and you can create a lot more space!
One In, One Out Rule
One of the best things you can do to maintain an uncluttered home, is to introduce rules that will help you to maintain a more minimalist décor.
One such rule is 'one in, one out'. This simply means that every time you buy a new item, you need to choose one to get rid of. This will help you to keep a sensible number of items in your home that never become overwhelming and it will help you to save money – especially seeing as you can sell the items that you don't need in order to get money off of the new item. It creates a space for your new item immediately and it also forces you to think much harder about the things that you truly want.
This sounds like a harsh rule to make with yourself but once you start to see and feel the benefits of living a more minimalist lifestyle, you'll be happy to do it!
Getting Rid of Things
If you follow all of these tips, then you're going to find that you're disposing of a lot of things. This can be a painful process but there is an art to getting it right.
To begin with, you are going to do a big 'de-clutter' and get rid of a lot of items quickly. This will help you to reset your life so that you have a good starting point to work from.
The first step is to throw out boxes of items that you've been keeping in storage that you never use. The rule that is often given here is to throw out any box that you haven't gone into in the last 3 months (you'd be surprised how many that includes!). Remove anything that is sentimental or worth a lot of money of course – but everything else can be replaced if you need to!
Likewise, remove clothes that you haven't worn in 3 months from your drawers.
Another tip is to get rid of these things swiftly. If you have items you think you can get a lot of money for, then these are worth selling on. But everything else you should give to charity shops or throw out.
It's a mistake to leave items in bags, to let friends and family go through them, or to try and sell every last item. This not only creates a lot more stress as you have to go through all the items you own (thus meaning a lot of people will put it off and not do it!) but it also creates the temptation to change your mind and take items back. This is not the aim of the game!
Chapter 3: Enjoy the Freedom that a Minimalist Lifestyle can Offer Still not convince of the value of going minimal?
Then try moving home!
When you come to move home, having a huge amount of clutter and things you don't need will make life much more difficult! Conversely, if you can reduce your possessions and clutter down to just the essentials and some things that you really love, then you'll find that moving is a million times easier.
You know what that means? It means you can really entertain the idea of moving.
And it also means, that you can entertain the idea of putting all your things in storage for a while and going travelling for 3 months.
Or how about putting your possessions in the loft and letting your home out to tenants while you travel?
This is a very clear demonstration of how having less clutter is actually liberating. You are now free to travel the world and make more money because you have a lot less stuff! Having lots of possessions is like having a physical anchor keeping you in one place. When you reduce this unwanted mess, you will actually start to feel physically lighter!
Creating a Zen Space
Another example of how having less stuff can be freeing, is in the way it will allow you to reduce stress.
In many ways, our homes are an outward reflection on our mindsets. When life is too busy and you feel as though it's all getting on top of you, it can result in a situation where your home starts to look that way – you end up with clutter all over your home that you haven't had time to tidy. You have washing strewn on the floor and you have washing up piling up by the sink. Papers are everywhere and the little time you get to relax, you can't enjoy because your home is such a mess. Apart from anything else, you have to constantly wrestle with the feeling that there are other things you should be doing (i.e. chores).
How can you get on top of things again if you can't properly relax and unwind?
Even with the best attempt at going minimal though, it is going to take a little time before you get everything just perfect and there will also always be times when life gets on top of you again and you feel stressed.
One tip then is to create a 'Zen space'. The idea of this space is that you are going to make just one space in your home that is going to be 'sacred'. That means that no matter what else happens, you are not going to make a mess in this particular room. That in turn means that you are going to use an even more minimalist design here and it means that you're going to make rules to keep the space clean – like no food and drink.
The aim is to have one place in your home that is always calm, tidy and organized and where you can come and sit with a cup of tea and a book when the world seems to be in chaos around you.
Other Details
- 10 Articles (TXT)
- 1 Ebook (PDF), 63 Pages
- 2 Graphics (JPG, GIF, PNG)
- 1 Salespage (HTML)
- 4 Promotional Ad Materials (Emails)
- Checklist, Resource Cheat Sheet, Mindmap, Optin Page, Social Media Images,
- Year Released/Circulated: 2017
- File Size: 13,235 KB
License Details:
You're granted master resell rights, resell rights or to resell with personal use rights. Price for resell is strictly $7.00 minimum
You may add this product to your PAID membership site
You may giveaway the product as a bonus when people buy through your affiliate link
You may edit the included sales page and opt-in page
No, you may NOT edit the contents of the eBook(s) & videos
No, this product does NOT include private label rights. You are granted Master Resell Rights only
No, you may NOT giveaway the eBook(s) & videos for free. Must be sold for at least $7.00 (videos $17)