Salespage Snapshot: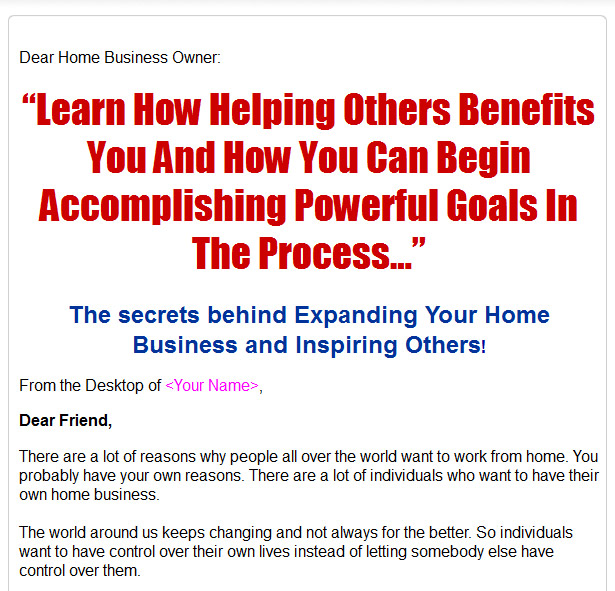 >>> Click Here To View Full Sales Page…
Table of Contents
Chapter 1:
The Pros and Cons of Home Business Models
Chapter 2:
Choosing a Home Business
Chapter 3:
3 Home Business Models to Choose from
Chapter 4:
Building Your Mindset to Succeed
Chapter 5:
The Material and Abstract Things You Will Need
Chapter 6:
What Motivates a Home Business Operator?
Chapter 7:
Your Early Achievements
Chapter 8:
Taking Your Home Business to Higher Levels
Chapter 9:
Guiding People Along – Building a Workforce
Chapter 10:
When a Home Business Doesn't Stay a Home Business
Sample Content Preview
What Motivates a Home Business Operator?
One of the most important ingredients that you will need when you are planning to enter into a home business is to have the right kind of motivation. It is only when you are motivated that you would be able to follow it through till the end.
So what helps in building the motivation?
If you have had a bad experience with your previous desk job, it could be great motivation for you to do well as an independent home business operator. You will have the urge in you to do something so that you could give a better lease to your life. In fact, failures can be great motivators to succeed in future, but you have to take them that way.
When you are starting out, there are many things that motivate you – you want to prove a point, you want to earn well so that you can show your detractors, you have the initial zeal that goes with everything that we do, you are genuinely happy because you are able to do something on your own steam, etc. This keeps you going. But the problems begin to occur afterward. When you see that things are going smoothly, you might become lax. When you see that there is so much liberty that you can take, you actually start becoming complacent. This is when the business starts to dwindle.
You need to stay motivated to keep going. And this you can do by slowing expanding and changing your practices. If you keep with the same things you did before, you are going to get bored. But if you begin expanding, there will be new challenges to meet and this is what will keep you driven.
Never shy away from accepting new challenges or from trying new things. When you know that things are going in a streamlined manner that should actually ring some alarm bells for you. You must start looking for new things to do within your realm of business.
Join a social networking website like Facebook or MySpace and participate in the group discussions. Speak about your work. The feedback you will get from other people will encourage you. You will know what people like and whether they are generally appreciative about your idea. This could be a brilliant motivation thing.
Even associating with new people works. Stagnancy begins to creep in soon in home business models, even if they are paying well. Hence, look for diversity and keep surging ahead.
Summary
Your business depends largely on those first few weeks.
Your Early Achievements
We may be very rational in almost everything that we do, but there is one place where instinct rules over rationality. This is in the obtaining of results. We are too result-oriented. We don't do things if we aren't sure of results or if we don't see results coming in the near future. Patience is a very rare virtue.
That is the reason succeeding early on in your home biz is so very important. It is so good to see that you have earned $100 in your first week (which is very much possible) even if that is nothing in comparison with your previous endeavor. The $100 ensures that money will come. It tells you, very poignantly, that if you have earned $100 this week, you can earn $200 in the next week and more in the future. You get motivated by this early success.
It may not be always about money. If you see that your efforts are passing muster, such as people are commenting on your blog posts or articles, people are visiting your website, people are checking out your profile, etc., then it means that you are making some sort of headway into this. It is these small things that tell you that you are being well-received. In your early days, such response can actually work much better than the money you earn.
Make it a point to speak with your near and dear ones about your early achievements. Don't keep them all under wraps. When they will hear about them, they will get encouraged too and they will speak with you and discuss with you. Slowly, they will get involved if they weren't already. This can take you further.
Your early achievements might be small, but you will remember them for life, even if you will have hundred times this success in the future. You will always remember that first blog comment you got, the first feedback you got on your article, the first review you got from your client on your job profile, the first payment you got, etc. Such things help you a lot in the long run.
Summary
How do you improve upon the home business you have established and take it to greater glories? Here are some ways.
Taking Your Home Business to Higher Levels
If your home business shows some signs of settling down, what do you do next? You have probably grown with the idea that you can make as much or as little of your home business as you want to. If you see that things are beginning to pay off to some extent, you might want to pull the stops. But, what you must realize is that you can take your home biz to much higher levels if you wanted to.
You will need to consider a few things.
Outsourcing
We have spoken about this before. If you haven't used it yet, you must know that you cannot avoid it when you are trying for expansion. You can give out some part of your work so that you can manage more clients, more work and hence more money. Try finding people over the Internet who can give you work through online means. If you are into something like network marketing, try building newer streams to improve your home business.
Automation
There is a lot that you can automate. You might not know about it at the start, or you may not have the funds to do that, but as your business grows, you will certainly be able to do so. For example, you could automate your emails by using an autoresponder system. You could automate your website testing by using split testing software. These are just examples. There is automation possible almost everywhere. You have to find out about it and use it.
Diversification
While one arm of your business is doing well, it is time to think about another branch. You will have to nurture it just as you did the earlier one, but with one branch established, you have time to do this. You could select a related domain to reduce your work because then you can use most of your material from your initial venture into this. Diversification can multiply your income in direct proportion, but not the investment, because several things will be used in common with your previous ventures.
Other Details
- 1 Ebook (DOCX, PDF), 44 Pages
- 1 Salespage (HTML)
- Ecover (JPG)
- File Size: 804 KB