Salespage Snapshot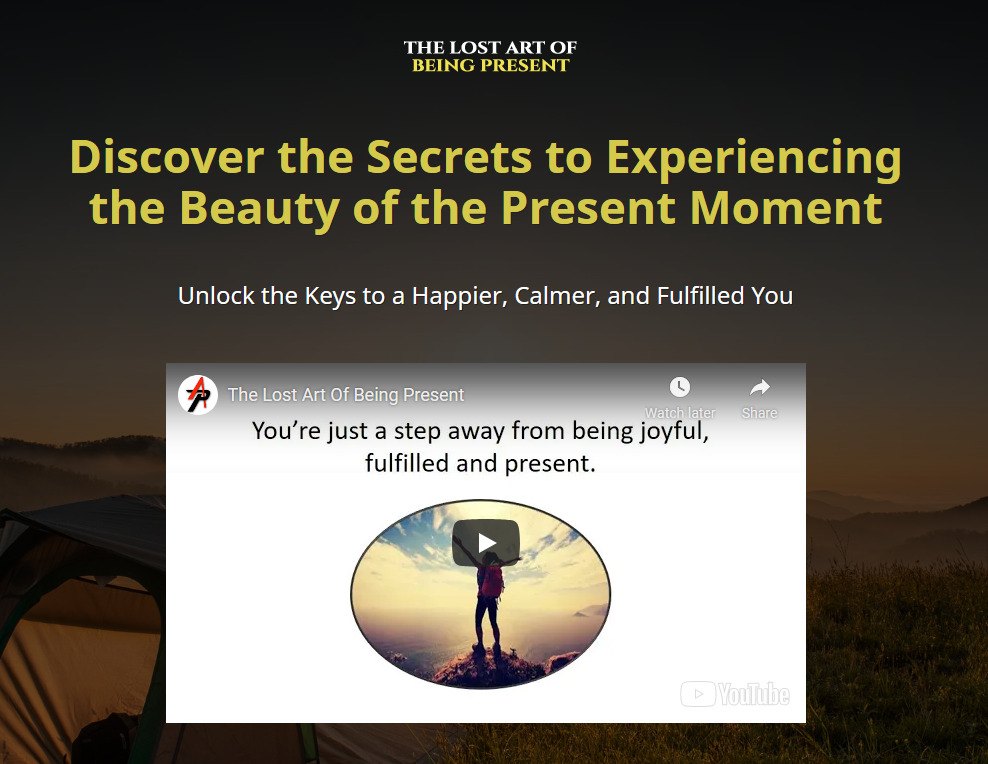 >> Click Here To View Sales Page...
Table of Contents
Introduction….. 6
Chapter 1: Mindfulness 101……………………10
Meaning of Mindfulness………10
The Differences Between Mindfulness and Meditation…… 12
Types of Mindfulness Movement……………….14
Factors That Enhances Mindfulness…………. 16
5 Facts About Mindfulness…..18
Chapter 2: The Perks of Practicing Mindfulness…… 20
Stress Reduction………………….20
Enhanced Performance………. 21
Improved Insight…………………22
Enhanced Awareness…………..23
Increased Empathy…………….. 24
Enhanced Interpersonal Relationships……..24
Better Mental Health………….. 25
Chapter 3: Mindfulness Techniques……28
Basic Walking Mindfulness… 28
Leveraging Words and Phrases………………… 30
Sensory Walking Mindfulness…………………… 31
Body Scan Walking…………….. 32
Gratitude Walking……………….33
Observational Walking………..34
Chapter 4: How to sit for Mindfulness Practice………37
Get a Seat……… 37
Focus on Your Legs……………..38
Straighten Your Upper Body. 38
Position Your Upper Arms Parallel to Your Upper Body… 39
Drop Your Chin a Little……….40
Stand Still…….. 40
Be Conscious of Your Breath. 41
Gently Return Your Attention When Wandering……………. 42
Don't Pause Impulsively…….. 43
Gently Lift Your Gaze…………. 44
Chapter 5: How to Bring Mindfulness to Your Exercise Routine …..46
Pause and be Mindful of Your Purpose…….. 46
Disconnect from Digital Devices………………..47
Focus on Your Body Sensation…………………. 48
Leverage Your Breath as an Anchor…………..49
Try Other Focal Points……….. 50
Take Advantage of Open Awareness………….50
Strengthen Your Commitment………………….. 51
Appreciate Your Efforts……….52
Chapter 6: How to be More Present in Various Settings……………. 55
Lessons from Scandinavian Nations………….56
How to Incorporate Mindfulness into Various Aspects of Your Life………59
Chapter 7: Mindful Movement Practice for Sleep Pattern Restoration….. 64
Cat/Cow……….. 65
Deep Lunge….. 66
Seated Neck Stretch……………. 67
Dynamic Bridge…………………..68
Knee-to-Chest. 69
Chapter 8: Incorporating Mindfulness into Yoga…..72
Leveraging the Four Contact Points…………..73
Finding Balance on all Fours.74
Cow Technique 75
Cat Pose…………75
Rising up………. 76
Shoulder Rotation………………..77
Side Bends……. 78
Chair Posture.. 78
Leg Bends………79
Stand Quietly…79
Conclusion……80
Sample Content Preview
Chapter 1: Mindfulness 101
This journey will begin by exploring the rudiments of mindfulness. We'll also discuss the differences between mindfulness and meditation, as well as the types of and factors that enhance mindfulness.
Meaning of Mindfulness
You need to understand what mindfulness is all about to be able to practice it effectively. Generally, mindfulness refers to being aware of your environment and the sensations demanding your attention. For example, when you are living in the moment, you'll pay attention to the natural arrangement and color of the flowers as you walk through a garden. You'll also notice the way cars are moving and stopping rather than just see them as objects flying past you while walking on a busy road.
Your mind has a tendency to act like a monkey jumping from one branch of a tree to the other. The Buddha refers to this state of mind as "the monkey mind." This restlessness is the reason many people find it difficult to stay in the moment. Their minds are full of thoughts about the future and how they can solve the next problem in such a way that they cannot enjoy the current moment.
Such people are always distracted and find it difficult to concentrate on a task.
Many people don't realize the transient and short nature of life. You cannot afford to live a meaningless and colorless life due to your inability to see the beauty in the basic things of life. For some people, they will never realize the importance of those simple but foundational things in life until their health declines. Staying in the moment and making every moment count is supposed to be our default mode. However, it's now a lost art that so many people are learning the hard way.
The Differences Between Mindfulness and Meditation
There's no doubt that mindfulness and meditation share a number of similarities. Nonetheless, they aren't the same. Mindfulness is broader and simpler than meditation. You cannot meditate everywhere you go, but mindfulness isn't restricted to any particular location. Before you can meditate, you'll need to be somewhere you'll not be distracted. There are also some outfits you'll need to get the best out of the practice. However, that's not the case when it comes to mindfulness.
Meditation promotes mindfulness, but you can stay in the moment without practicing meditation. For example, you can simply focus all your energy and attention on a conversation you have with your friend or a member of your family. At that moment, you can decide to switch off your phone or put it away so that you can have a full grasp of what the person is saying. You're not meditating at that moment. Yet, you are practicing mindfulness because you are making the best of that conversation.
So, every single time you choose to be fully engrossed with an activity you are involved in, you are practicing mindfulness. When you are living in the moment, you'll enjoy and analyze a football game you are watching in detail. You will not be thinking about how you will perform at an interview at that moment. People that practice mindfulness allows future events to handle themselves.
In other words, they don't allow the pressure of an upcoming situation to cripple their enjoyment of the current moment. They put their best in whatever they have to handle right now without distractions.
Types of Mindfulness Movement
Remember that the central idea behind mindfulness is staying in the movement, regardless of what you're doing. Yet, there are some activities that can make you practice mindfulness deliberately. Below are some of them:
Breathing Exercises
Breathing exercises involve deliberately elongating your breath and slowing it down while observing it. This routine enables you to refresh and improve your focus. Breathing exercises feature in seated meditation. However, it only serves as an anchor for the practice. In mindfulness, this exercise helps you to reconnect to your environment.
Mindful Walking
Taking a walk is recommended by physical experts as a beneficial exercise that offers multiple benefits. Still, you can combine mindfulness with it to get more out of the activity. For example,
while walking past a garden, pay more attention to the breeze and the beauty of nature all around you.
Routine Workout with Mindfulness
You can synchronize your breath, tune in your body, and stay in the moment while nourishing your muscles and building strength.
This approach is a fantastic way of enjoying the benefits of working out and mindfulness at the same time. It is a combination that you will find beneficial to both your body and mind.
Mindful Stretching
Stretching is an early-morning home routine for many people. It helps to reduce stiffness, release tension, and eliminate negative emotions. You can introduce mindfulness into the activity by observing every movement you make. Pay attention to your body and your breath. You are inadvertently building resilience, focus, and energy, which translate to a better living experience, especially while going through your daily activities.
Factors That Enhances Mindfulness
There're some things you can do to make it more seamless to stay in the moment. Here are some of them.
Digital Disconnection
Digital devices have many advantages, including a faster accomplishment of certain tasks. Sadly, they have become the greatest source of distraction for many people. This excessive use has also affected the quality of sleep and interpersonal relationships of many individuals. If you want to make every moment count, you need to stay off your digital devices sometimes or totally for some days, if possible.
If you cannot imagine staying one week off social media, you need to act fast. You can deliberately stay off for some days to be in charge again. Whatever makes you lose control over your life has put you at the backdoor. You need to wrest it back and be in charge as fast as possible.
Work-Life Balance
Many people find it challenging to leave their jobs in the office. They often bring uncompleted tasks home, thereby finding it difficult to have time for their loved ones. If you want to stay more in the moment, try to leave your job in your office. When you are at home, let your family have full access to you to create great memories together. It doesn't matter if you're working at home.
You still have to ensure that you create an office space and time at home to avoid letting your job demands interfere with your family life. You'll not be happy to discover that there are some other people that your kids prefer to you.
Stay Closer to Nature
Possessing and cultivating a garden, especially with your family, is one of the most fulfilling activities in the world. It creates a sense of togetherness as you try to achieve a goal as a family. However, if you don't have one, you can still stay closer to nature by visiting one or going to places with beautiful sceneries. Walk through the location and appreciate the creativity in nature and the exciting colors of various plants and flowers.
Have Hobbies
Instead of wasting time on digital platforms, enjoying a hobby is a better activity. Find something you like to do that can take your mind away from your challenges and other negative emotions whenever you're doing it. Hobbies also ensure that you're doing something that improves your self-esteem. You will enjoy this benefit if you choose a hobby that you're good at doing.
5 Facts About Mindfulness
There are many intriguing facts about mindfulness that can inspire you to practice it more. Some of them are listed and explained below.
– It's not religious: Some people assume that they need to have a religious affiliation before they can practice meditation and mindfulness. However, this is far from the truth. You don't need to be a Buddhist or Hindu to stay in the moment.
– There are over 1300 mindful apps: You'll not find it difficult to practice mindfulness because there are countless quality materials and apps that can help you to get the best out of the activity.
– Mindfulness has an Eastern root: Mindfulness traveled from the East to the West.
– Search for mindfulness has increased by 67% recently: In the last five years, online searches for mindfulness have increased by a staggering 67%. This shows that more people are beginning to understand the importance of this practice.
– Some of the most mindful cities in the world are in Europe: Aarhus (Denmark), Lucerne (Switzerland), Reykjavik (Iceland), Bergen (Norway), and Turku (Finland) are some of the most mindful cities in the world.
Other Details
- 1 Ebook (PDF), 82 Pages
- 2 Graphics (PNG)
- 1 Salespage (HTML)
- Checklist, Mind Map, Landing Page, Lead Magnet, VSL, Emails
- Year Released/Circulated: 2021
- File Size: 54,946 KB
License Details:
[YES] Can be packaged
[YES] You Can Use This Product Yourself
[YES] Can be sold as it is not less than $7 price tag!
[YES] Can pass on the Resell Rights privilege to your customers
[YES] Can Add This Product to a Membership Site or Bundled Within a Product Package as a Bonus
[YES] Can be used to create audio/webinar/video products
[YES] Can Give Away The Product (NOT Source Code Files) To Your Subscribers, Members or Customers as a Bonus or Gift
[YES] Can change sales page and/or graphics
[YES] Can be added to paid memberships
[YES] Can sell master resale rights
[NO] Add to a free membership sites
[NO] You can't just pass away the product to anyone
[NO] Contents of the product can be edited, modified or altered