Salespage Snapshot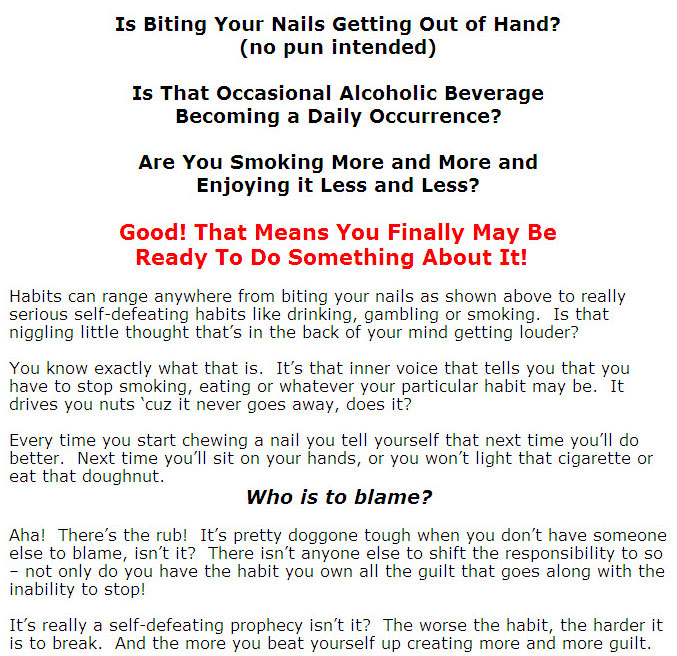 >> Click Here To View Sales Page...
PLR Ebook Table Of Contents
Habits and How Are They Created
What You Can Do to Change Habits
Is There Something Stopping You
Regular Habits People Create
Tripping the Trigger
Changing is a Process
Using Meditation and Relaxation
How to Stop Nail Biting
Changing Sleep Disorders
Overspending and Shopping
Do You Have Relationship Habits
Health and Fitness Habits
Gambling – Another Self Destructive Habit
Is Laziness a Habit
When You Need Help
PLR Ebook Sample Content Preview
Habits and How Are They Created
Habits: What They are and How They are Formed
There is no human being in this world that doesn't have a habit. In fact, no creature lives and thrives without at least a semblance of a habit. Habits are reminders that we learn within our environment and that our environment directly affects the way we act, speak and think. But what are habits and how are they formed?
Learning a habit
A habit, by definition, is any act that is acquired through experiences and is performed on a regular basis, often without thinking. Once a habit is acquired, it becomes almost automatic in nature. It is often exhibited as a mannerism, a quirk, a regular act, a routine or a craving, like smoking.
Psychologist Mortimer Adler, Ph.D., refers to a habit as a 'formed ability', learned over a sustained period of time. He even considers habits as a form of perfection, regardless of whether they are good or bad. His reasoning is that a human infant, during the early stages of his life, has within himself various potentialities and abilities, all of which need to be developed.
Other Details* Sales Page:
Included, HTML, MS Word Doc
* File Format:
MS Word Doc, PDF
* Number of Pages:
59
* Included Graphics:
Ecovers, PSD
* Download File Size:
2,047 KB