Salespage Snapshot: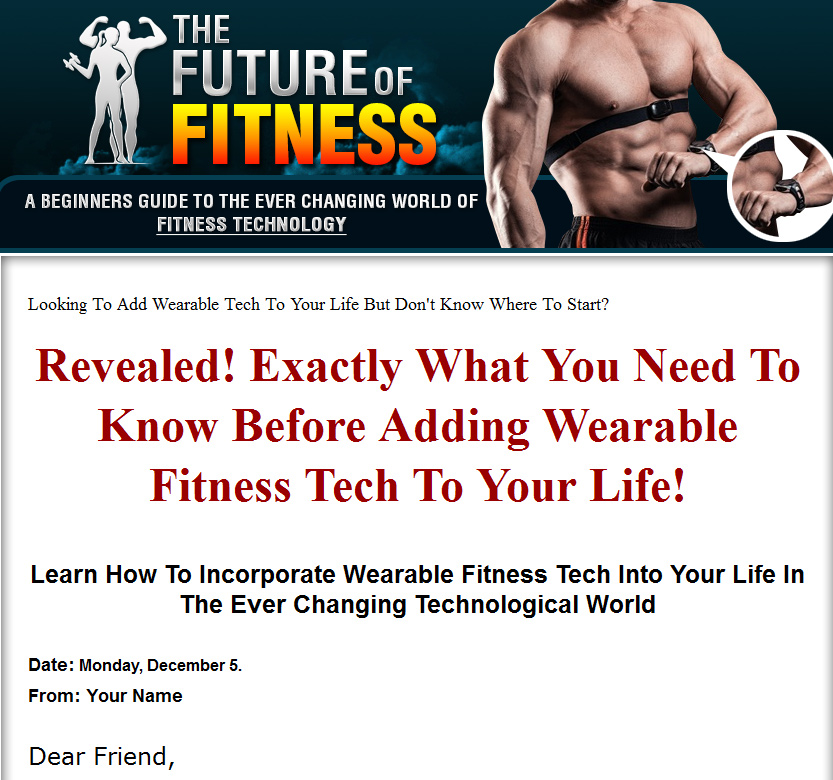 >>> Click Here To View Full Sales Page…
Table of Contents
Introduction – Why Are We In Need Of Fitness? .. 4
How is obesity measured? …… 5
Chapter 1 – What Exactly Is Wearable Tech? Should I Use It? … 10
Chapter 2 – The Evolution & History Of The Wearable Device …. 14
Chapter 3 – Different Types Of Wearable Technology & Are They Safe? .. 18
How Safe Are These Wearable techs. … 22
Chapter 4 – The Benefits Of Wearing Technology Over Not Wearing It .. 24
Chapter 5 – Things to Consider Before Investing 27
Chapter 6 – Comparing Wearable Tech & Smartphone Apps ….. 31
Chapter 7 – Avoiding Common Beginner Mistakes with Wearable Tech … 34
Chapter 8 – Making Wearable Tech Part Of Everyday Life .. 39
Conclusion – The Future of Wearable Tech: Where to from Here? … 43
Sample Content Preview
Chapter 1 – What Exactly Is Wearable Tech? Should I Use It?
Firstly we must ask the question…what exactly is wearable technology? Wearable techs, short for wearable technology, are gadgets or devices, which are worn on body parts, along with clothes and other accessories to help the wearer perform various functions that can be performed on our computers and phones while on the go.
These gadgets usually include a type of tracking technology (such as motion sensors) that monitors various data such as heart rate, sleeping patterns, physical activity (steps, performance, etc.), and various other useful information.
Wearable tech has plenty of applications and can benefit people of all ages suffering from:
Obesity – The biggest industry wearables have infiltrated is health and fitness. Today, you can find a bracelet, sports bra, jewelry, watch, belt, and other items that have been programmed to monitor physical activities, work as a pedometer, provide coaching, measure calorie intake and burned, and track other bodily functions.
Popular wearable fitness trackers like FitBit and JawBone have helped users get motivated with exercise. Meanwhile, obese kids can make losing weight fun with various game-type wearables that promote being active, offer challenges, and allow them to play against other kids.
Insomnia and Sleep Apnea – Sleep is an important part of fitness, so wearable devices that monitor the quality of a person's sleep can be a huge help. Neuro:On, Luciding, ActiGraph, Fatigue Science RediBand, FraSen Inc. Sleep Mask, and Sleep Image are devices with a full list of sleep data analysis that can help people suffering from insomnia and sleep apnea.
Fitness trackers like Garmin VivoSmart and UP3 by Jawbone, which are equipped with sleep monitors, are great for users who also want to prioritize their health. The Kokoon in-ear sleep headphones were designed to actually improve a person's sleep quality, but it will only be released in late 2016.
Aging-associated diseases – Older adults who are suffering from aging associated diseases such as cataract, diabetes, hypertension, arthritis, and cardiovascular disease (among others) can also find wearables very useful. For instance, the BodyGuardian Sensor can perform cardiac ECG and rhythm monitoring to patients and deliver results to their respective physicians.
Back problems – Devices like UPRIGHT and Lumo Lift remind people about posture, which is the leading cause of unnecessary back pain. Valedo works by strengthening muscles to prevent lower back pain, while Cur claims to eliminate back pain by using electrical stimulation right at the source.
Asthma – Health Care Originals developed Intelligent Asthma Management, a wearable that helps in detecting symptoms, reminding about a physician's treatment plans, and other features to help manage asthma.
Diabetes – Google Life Sciences revealed an ambitious project that can possibly help in reversing the effects of diabetes. Verily is a contact lens that detects glucose levels.
Wearable tech can also be useful to people who are perfectly healthy, but want to level-up their performance with sports, exercise, and weight training, among other physical activities.
Sports fans would go wild with wearables that could provide real-time stats of a game and accurate performance measurements of players.
In some instances, wearable tech can help save lives, promote a healthier lifestyle and prevent diseases.
Chapter 2 – The Evolution & History Of The Wearable Device
Wearable technology may be all the buzz in 2016, but the process of adding technology to day-to-day life has been done for centuries. According to Giordano da Rivalto, the earliest "smartglass" was commissioned by Roman Emperor Nero. The glasses were made of a metal frame and emerald lens, which reportedly helped in improving Nero's eyesight during fights from 54 AD to 68 AD.
In 17th-century China, the oldest smart ring was designed with the smallest abacus you'll ever see.
In 1884 New York, Cute Circuit's Electric Girls showed off one of the first applications of wearables in the fashion industry. Electric lights were embedded on a group of ballerinas' clothing.
In 1907 Germany, Julius Neubronner invented the first GoPro-looking device and the sub-niche Pigeon Photography. He fitted several pigeons with an aluminum breast harness, which holds a miniature camera with timer mechanism that captures a single aerial-view photo.
By the early 1960s, the term wearable tech has not been coined yet, but has been applied in countless inventions. Two MIT professors, Edward Thorp and Claude Shannon, designed, constructed, and tested the world's first wearable computer that could predict the outcome of roulette. The device consisted of two main parts – a timing device concealed in a shoe, and a cigarette pack. Thorp and Shannon were so successful that their winning bets increased to 44% and led to Nevada passing a law that prohibited similar machines in 1985.
Other Details
- Articles (TXT)
- 1 Ebook (PDF), 45 Pages
- 11 Graphics (PNG)
- 1 Salespage (HTML)
- 15 Promotional Ad Materials (Banners)
- 5 Keywords List (EXCEL, DOC, PDF)
- Report
- Year Released/Circulated: 2016
- File Size: 7,615 KB
License Details:
Yes can used for personal use.
Yes can be given to list subscribers
Yes can be packaged with other products
Yes can be offered as a bonus
Yes can be used as web content
YEs can be broken down into smalller articles
Yes can be added to an e-course kor auto responder as content
Yes can be submitted to article directories
Yes can be added to paid member sites
Yes can be adeed to an ebook/PDF as content
Yes edti the sales letter anyway you want
Yes can sell resale rights
Yes can sell master resele rights
No can sell Plr Rights
NO cannot Give away Plr rights