Salespage Snapshot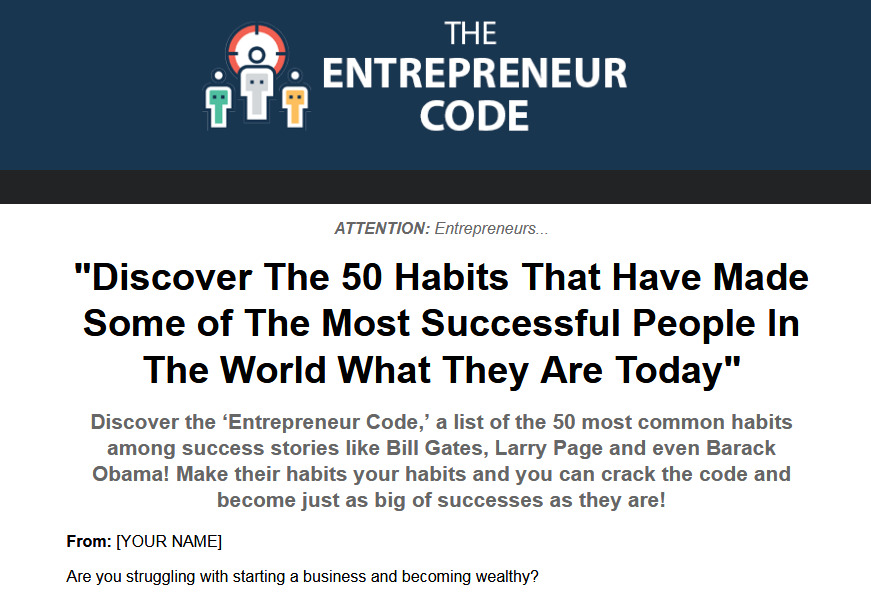 >> Click Here To View Sales Page...
Table of Contents
Introduction 7
Chapter 1: Health & Fitness .. 9
Habit 1: They get up early … 11
Habit 2: They work out consistently 11
Habit 3: They eat right. 11
Habit 4: They equate fitness with success .. 12
Habit 5: They get rid of bad habits .. 12
Habit 6: They get professional help. 12
Chapter 2: Professional Goals 13
Habit 7: They write down their goals … 14
Habit 8: They work on them nearly every day. 15
Habit 9: They aren't afraid to dream big.. 15
Habit 10: They don't allow setbacks to keep them down for long … 16
Habit 11: They never give up on their dream.. 16
Habit 12: They do things that others won't.. 16
Habit 13: They are flexible enough to adjust their goals when needed… 17
Habit 14: They don't procrastinate .. 17
Habit 15: They do more than what is expected of them.. 18
Chapter 3: Personal Development . 19
Habit 16: They read a lot of books .. 20
Habit 17: They teach themselves new things.. 21
Habit 18: They focus on educating themselves, not getting an education 21
Habit 19: They are aware of their shortcomings . 21
Habit 20: They improve a little every day 22
Habit 21: They hold themselves accountable . 22
Chapter 4: Spirituality.. 23
Habit 22: They spend time in contemplation … 24
Habit 23: They give money to worthy causes . 24
Habit 24: They take their own path . 25
Habit 25: They develop a solid code of ethics. 25
Habit 26: They are open to inspiration 26
Chapter 5: Financial Habits. 27
Habit 27: They make a budget and stick to it .. 28
Habit 28: They put away more than 10% 28
Habit 29: They keep their credit history pristine .. 29
Habit 30: They know the value of good help … 29
Habit 31: They automate bill pay whenever possible.. 30
Habit 32: They keep records of everything . 30
Habit 33: They cultivate multiple income streams… 30
Chapter 6: Personal Relationships 32
Habit 34: They don't mind sharing themselves with others. 33
Habit 35: They make family a priority.. 34
Habit 36: They build relationships with like-minded people 34
Habit 37: They build the right team . 34
Habit 38: They are kind to others 35
Habit 39: They avoid negative people. 35
Habit 40: They listen to people 35
Chapter 7: Creative Outlets. 37
Habit 41: They keep a journal . 38
Habit 42: They find hobbies that they enjoy 39
Habit 43: They choose jobs they are passionate about .. 39
Habit 44: They branch out creatively… 39
Habit 45: They don't deprive themselves of fun .. 40
Habit 46: They aren't afraid to be eccentric 40
Chapter 8: Community Involvement .. 41
Habit 47: They support important causes … 42
Habit 48: They inspire others to get involved .. 43
Habit 49: They volunteer for things . 43
Habit 50: They get to know their neighbors. 44
Conclusion … 45
Sample Content Preview
Habit 1: They get up early
You'll notice that among successful people, one of the key factors that they all share is the propensity to get up early. There are a lot of advantages to getting up early. There have been dozens of studies that have linked getting up earlier with getting more accomplished. Even if you aren't a morning person – like Barack Obama – you still should consider getting up a couple of hours earlier. You might find that you have time to get more done and will get even closer to your goals.
Habit 2: They work out consistently
Another thing that successful people share is consistency. This usually extends to all areas of their lives, but it is especially true in the case of exercise. As a rule, successful people tend to exercise several times a week. They are not only very committed to it, they make it part of their schedule and work around the workout. Doing this has a couple of benefits. Besides the obvious health and fitness bonuses that you get from working out, when the first thing you do is exercise in the morning, you release those endorphins and it makes you more productive the rest of the day.
Habit 3: They eat right
Another thing that successful people do. You probably know that if you eat too much, or if you eat the wrong kinds of food, you end up feeling bloated and horrible, making it difficult to do anything.
This is one of the reasons that successful people eat right, but it's not the only one. They also eat right because there are certain foods that are really good for brain power and energy.
Habit 4: They equate fitness with success
Successful people don't think about fitness as a chore or something that they need to do to impress anyone else. They equate fitness with being successful. There is no doubt that the two are related and that's why they make this a priority, getting up early in the morning to work out, or making fitness one of the things that they work on no matter what else is going on.
Habit 5: They get rid of bad habits
In addition, you will notice that successful people are able to kick most of the bad habits that are out there. Whether that is drinking, drugs, overeating, cigarettes or any other vice that plague humanity, successful people tend to overcome those challenges and they are that much more able to channel their energies into something that is productive and useful.
Habit 6: They get professional help
Successful people also know that everyone needs help once in a while, and they get their help from professionals. Whether that professional is a doctor or dietician, or simply a personal trainer to help them at the gym, successful people use the talent around them to improve their own lives.
Chapter 2: Professional Goals
Profile: Larry Page, Co-founder of Google
In this chapter, we'll be profiling Larry Page, one of the founders of Google. While you may not be as familiar with his name as Mark Zuckerberg or Steve Jobs, Page is one of the most successful entrepreneurs in the world, surpassing some of those names that you are familiar with through his impact on the present state of technology and potential impact on the future.
Here's a pop quiz. What is the one way to ensure that your products and services are always at the very top of internet searches no matter what? The answer is – build the world's most popular search engine first, and then build products and services second. Page read the biography of Nikola Tesla when he was just 12 years old and it changed his life – and ours – forever.
From that point forward, Larry Page had a passion for business and technology, and he turned it into the world's most successful corporation. Most of the advances in artificial intelligence, robotics, automotive technology and the internet at large will likely come from Google in the coming decades. Let's take a look at the nine habits that people like Larry Page incorporate into their life in the area of setting and achieving professional goals.
Habit 7: They write down their goals
The problem with trying to take a journey somewhere that you haven't been before is that without a map, you have very little chance of reaching your destination. Imagine that you took a trip from Los Angeles to Tallahassee without a GPS or a map – and there weren't any road signs to guide you. That's how trying to reach your goals without writing them down is. Luckily, successful people like the entrepreneurs featured here know this, and they make sure they always write down their goals.
Habit 8: They work on them nearly every day
Also, entrepreneurs don't just set them and forget them. They actively work on them every day if they can. The success that they achieve comes with a lot of hard work and they know this is the case. That's why they consistently do thing to get them closer to their goals. If you want to be successful, then write down your goals and post them somewhere that you can always see them. Then each and every day, try to do something to move yourself closer to each and every one of those goals.
Habit 9: They aren't afraid to dream big
Entrepreneurs aren't afraid to dream big. Someone else might think that owning a multi-million dollar company or becoming a billionaire is well out of their reach, but the most successful people in the world have no problem seeing themselves achieving any level of success that they desire. They know that anything worth achieving is going to take hard work, but that doesn't mean that it's impossible. It just means that it might take a little longer to get there, or it might take more work for them than someone with less lofty goals.
Habit 10: They don't allow setbacks to keep them down for long
Even when things happen that make it more difficult to reach their goals, they don't get thwarted for long. Successful entrepreneurs know that failing is part of the journey and when they have a setback they just think of a way around it and then continue on their journey. Setbacks can knock some people down and they never get back up, but that's not the case with the world's most successful people.
Habit 11: They never give up on their dream
Another thing that can sometimes happen when a journey is difficult is wanting to give up on the dream. For millions of people who do not realize that they really could reach their goals if they put in the work, the dream is just that. But for these entrepreneurs, they never give up, no matter how hard things get. They just keep plugging away until they eventually achieve their goals.
Habit 12: They do things that others won't
You will also notice that successful people will do things that others won't do. For example, if someone has a dream of creating a video game, they may not be willing to spend ten years reading every book on programming and living on almost nothing while they work towards that dream. Most people don't have that kind of motivation. But successful entrepreneurs will stay late, show up early, and work for years without pay to achieve their goals.
Other Details
- 20 Articles (TXT, DOC)
- 1 Ebook (PDF), 46 Pages
- 4 Graphics (PNG)
- 1 Salespage (HTML)
- Promotional Ad Material (Emails)
- Checklist, Lead Magnet, Optin Page
- Year Released/Circulated: 2017
- File Size: 11,708 KB
License Details:
[YES] Can be sold
[YES] Can be used for personal use
[YES] Can be packaged with other products
[YES] Can modify/change the sales letter
[YES] Can be added into paid membership websites
[YES] Can put your name on the sales letter
[YES] Can be offered as a bonus
[YES] Can be used to build a list
[YES] Can print/publish offline
[YES] Can convey and sell Personal Use Rights
[YES] Can convey and sell Resale Rights
[YES] Can convey and sell Master Resale Rights
[NO] Can modify/change the main product
[NO] Can modify/change the graphics and ecover
[NO] Can be given away for free
[NO] Can be added to free membership websites
[NO] Can convey and sell Private Label Rights