Salespage Snapshot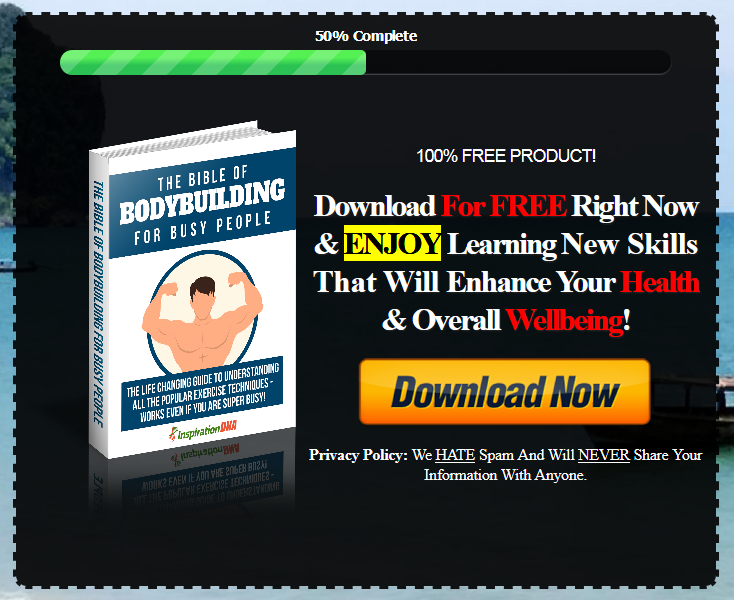 >> Click Here To View Sales Page...
Table of Contents
Foreword
Chapter 1:
Finding Time to Work Out
Chapter 2:
What Is the Best Time to Work Out—Morning or Evening?
Chapter 3:
Which Is the Best Way to Work Out?
Chapter 4:
Workout Techniques for Busy People 1
Chapter 5:
Workout Techniques for Busy People 2
Chapter 6:
Workout Techniques for Busy People 3
Chapter 7:
Workout Techniques for Busy People 4
Chapter 8:
Tips to Make Workouts Interesting
Wrapping Up
Sample Content Preview
Chapter 2:
What Is the Best Time to Work Out—Morning or Evening?
Some people like to lift their dumbbells in the morning while others like to do that in the evenings. It is a matter of preference. Everyone has a different peak time for exercising.
In this chapter, you will find out where there is nothing wrong with either of them. You may exercise at any time you wish, but you will have to approach your workouts in a slightly different manner. You can adjust your exercise schedules to your body's natural clocks.
Find out here whether it will be more suitable for you to exercise in the morning or the evening.
What Is the Best Time to Work Out
—Morning or Evening?
Have you been wondering when the best time to work out is? Is the morning or evening the best time to burn fat, lose weight and look great?
Waking and Sleeping Cycles
We all have a wake/sleep cycle and most of us know whether our energy levels are highest in the mornings or evenings. If you have experienced jet lag after traveling through different time zones then you know how it feels to challenge those inner cycles. They are under the control of our internal body rhythms also known as circadian rhythms. While we can modify those cycles (think of those people who go work night shifts), do we need to change them to lose weight and exercise for maximum results from our workouts?
Chances are you have chosen your work out time to coincide with those times you are feeling your most energetic. It's not so easy for many of us to come home tired after a long day at work , spend time with the family, prepare food then plan to go do a workout. For others, the thought of getting out of bed earlier in the morning to workout is just as unappealing. So, can we focus our work out times around our circadian rhythms and still have great success?
Morning Coffee or Afternoon Tea
Research is divided on which is better, morning or afternoon exercise. Research from the USA has indicated that our body's inner temperature is highest around late afternoon and this is the best time to exercise. However, research has also shown that people who exercise in the morning are more likely to remain consistent with their routine, probably because exercising before the day gets busy is a good way of ensuring daily exercise is actually fitted into a busy schedule.
Other research, suggests that if you exercise in the morning your metabolic rate increases throughout the day and your brain function improves. It is suggested that because we have been fasting overnight, our bodies need to convert fat to energy when we exercise. This increases our metabolic rate and therefore improves our ability throughout the day to burn extra calories after eating instead of storing them. Interestingly, research is also suggesting that contrary to what has been generally accepted, exercising vigorously before sleeping at night does not seem to affect our ability to fall asleep.
So When Should I Work Out?
Work out when it suits your schedule. You are more likely to stick to your workout program if it fits into your daily program. You will lose weight and burn fat if you prioritize your exercise time and remain consistent with it. Focus on using the best techniques to produce results rather than the timing of it. Armed with knowledge about best work outs, you will gain your desired outcomes if you stick to them and finding times that suit your schedules will help you do this.
Chapter 3:
Which Is the Best Way to Work Out?
Just like with everything else, today we are presented with several options when it comes to exercises. There are so many different ways in which we can exercise. We can have an entire home gym installed in one of the rooms of our house, or we can check out videos on the Internet or buy DVDs from the store.
There are hundreds of workout DVDs to choose from. Some people even go ahead and hire a personal fitness coach for their needs, while there are some other people who like to plan their own fitness schedules according to what they can do in the best manner.
So, there are several different ways in which you can go ahead with your workout programs. You can do whatever is most suitable for you. But, which of them is the most effective? Which of them will give you the best results?
In this chapter, we are going to analyze the different workout options that we have and we are going to see which of them is the best according to the specific requirements of our body.
Which Is the Best Way to Work Out?
When you want to work out , how do you choose between a home DIY with your own home gym, employing the services of a Personal Trainer or using one of the hundreds of exercise DVDs currently flooding the market. Each option has a lot to commend it and comparing options may help make the choice easier for you.
Home Gyms and DIY
Finding time to exercise every day is difficult, but travelling to a gym also involves time, not to mention the cost of membership and petrol costs. Home gyms provide access to gym equipment such as weights and cardio equipment in your own home. You can buy or hire the equipment and have it home delivered at relatively little charge. Auctions and community for sale boards can provide a great price on home gym equipment. Busy mums do not need to find childcare to work out and even finding a training buddy can be easier using home equipment.
New research and reports are available online to help you choose the best work out routines for your home gym. There is plenty of research available to help you find the best routines to use with the equipment. The ability to work out at times that suits you, in all weather conditions and without the need to travel long distances, make home gyms and DIY options very appealing.
Using a Personal Trainer
Perhaps you are considering using a Trainer to help you get started and stay motivated with your workouts. You have a choice between employing a Trainer privately and booking a series of sessions with a Trainer at the local gym. Trainers can be expensive, but they are able to provide and apply the most current information on best work out techniques.
A Personal Trainer create exercises that are challenging and then as your overall flexibility and fitness increases, your Trainer can help you to progress to exercises that will push your boundaries and to achieve greater success, often within a relatively short space of time.
Exercise DVD
Exercise DVD's are flooding the market as people of all fitness levels are discovering the convenience of doing exercise at home. Pilates, dance, Yoga, indoor walking and highly physical strength training are all available in different formats. They produce fun work outs designed for working out alone or with friends. .Short workout sessions make them ideal for scheduling sessions into spaces in a busy day. The exercises available are based on the latest research available, making DVDs a simple solution for a cheaper but successful exercise program.
How Do I Choose between Them?
The decision about which option to select is really based on your personal preferences, including cost and time factors. Each option promises an advantage over the others, and once you have chosen which option will work best , the routines themselves and consistency in doing them is the true to success.
Other Details
- 1 Ebook (PDF), 35 Pages
- 2 Graphics (PNG)
- 1 Salespage (HTML)
- Year Released/Circulated: 2018
- File Size: 2,741 KB
License Details:
[YES] Ebook Can be given away against an email address
[YES] Can sell the WHOLE product and keep 100% of the sales
[YES] Can sell the WHOLE product for Resale Rights
[YES] Can sell the WHOLE product with Master Resale Rights
[YES] Can edit the Squeeze & TY + MRR Upsell Pages
[YES] The WHOLE product can be packaged with other products you sell
[YES] The WHOLE product can be offered as a bonus with other products you sell
[YES] The WHOLE product can be added to paid membership sites
[YES] The WHOLE product can be offered through auction sites
[NO] WHOLE Product can be given away
[NO] WHOLE Product can be added to free membership sites
[NO] Ebook can be modified in any way
[NO] Can sell with Private Label Rights