Salespage Snapshot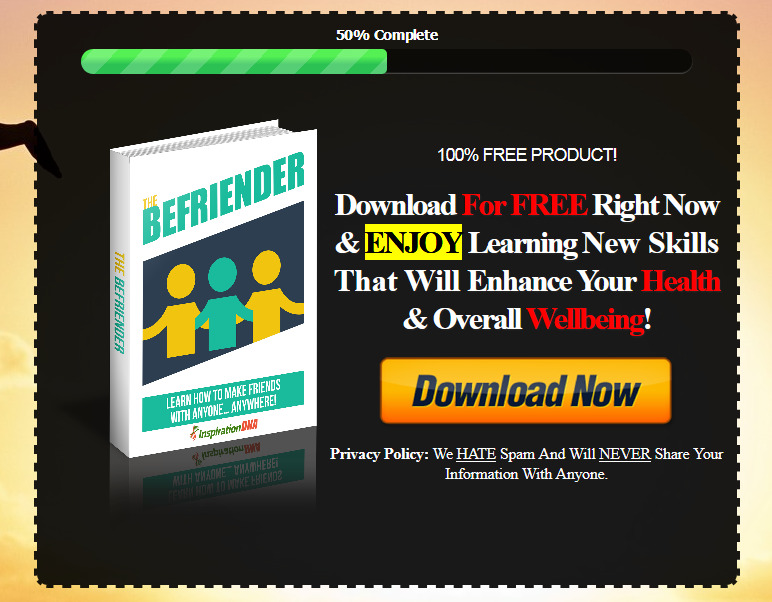 >> Click Here To View Sales Page...
Table of Contents
Foreword
Chapter 1:
Getting People To Like You
Chapter 2:
Build Your Confidence
Chapter 3:
Know What Kind Of people You Want To Spend Time With
Chapter 4:
Strike Up A Conversation Wherever You Are
Chapter 5:
Make A Good 1st Impression
Chapter 6:
Don't Come Off As A Taker
Chapter 7:
Be Genuine
Chapter 8:
Don't Dominate A Conversation
Chapter 9:
Be A Good Friend Following Meeting Someone
Chapter 10:
A Lonely Life Is A Sad Life
Wrapping Up
Sample Content Preview
Chapter 2:
Build Your Confidence
Dressing sharply has long been linked to building one's self confidence. One does not necessary have to be a good looker, but with the right clothes and matching complimenting accessories any man or woman can look good. When an individual is aware that they look good, there is an almost immediate realization of confidence in both their out demeanor as well and from within. Sad but often true is the generally accepted thinking that looks do count and in a big way.
Self Assurance
A person's walk often denotes the confidence levels being experienced at any given time. A brisk and straight posture walk gives a definite impression of overall confidence. Both these positions and movements actually affect the body's chemical make up which transcends into the outward persona.
One of the best ways to build self confidence is by listening and being exposed to as motivational media tools as possible. A lot of people now try to adopt the habit of listening to motivational talks during the commute to their work places or in their spare time or during exercise sessions. These motivational sessions often have bits of great advice and promptings which inspire the confidence needed to be successful in any endeavor. Thus in turn allowing the individual to grown their individual confidence levels.
Learning to be grateful for the current happenings and things in one's life as also another source from which confidence can be built. This teaches an individual to be thankful and to learn to look at things from a brighter perspective. It also helps to build a positive mind set which in turn will allow for a more confident personality to emerge.
Another trait that would be beneficial is to practice the ability to learn to speak clearly and loudly. With constant and determined practice sessions the individual is able to slowly build the required confidence it takes to be vocal.
Chapter 3:
Know What Kind Of people You Want To Spend Time With
The kind of people an individual mixes with on a regular basis will eventually dictate the kind of behavioral habits they adopt and practice. This will be evident almost always within a short period of time as people tend to conform to their peers.
Understand The People
Therefore being careful about the choices made when it comes to building relationships with other people is actually choosing to be wise and prudent. A lot to undesirable and even damaging traits are picked up from the people around an individual, socially and in the work environment.
If an individual wants to get ahead in the work environment then it would be prudent to always be in the company of people who are in the position to recognize the potential of the individual and thus be able to put in a good word when the time is appropriate.
Socially though, it can call for a more focused and yet different technique. If the desire is to be socially relevant then mixing with people in the "know" is perhaps the best way to go. Sometime even name dropping can achieve the desired results and move the individual a notch higher is the rung to social success.
However if the idea of choosing friends who are genuine is the prerequisite of any intended relationship then looking into one's self is the very important first step to take. Understanding one's own individual needs and likes will allow for the connection made through friendship ties to bloom and blossom.
Time is something that should not be wasted or taken for granted; therefore choosing carefully the kind of friends an individual would like in his or her life would also depend on the type of lifestyle and work of the said individual.
Other Details
- 1 Ebook (PDF), 33 Pages
- 2 Graphics (PNG)
- 1 Salespage (HTML)
- Year Released/Circulated: 2017
- File Size: 2,547 KB
License Details:
[YES] Ebook Can be given away against an email address
[YES] Can sell the WHOLE product and keep 100% of the sales
[YES] Can sell the WHOLE product with Resale Rights
[YES] Can sell the WHOLE product with Master Resale Rights
[YES] Can edit the Squeeze & TY + MRR Upsell Pages
[YES] The WHOLE product can be packaged with other products you sell
[YES] The WHOLE product can be offered as a bonus with other products you sell
[YES] The WHOLE product can be added to paid membership sites
[YES] The WHOLE product can be offered through auction sites
[NO] WHOLE Product can be given away
[NO] WHOLE Product can be added to free membership sites
[NO] Ebook can be modified in any way
[NO] Can sell with Private Label Rights