Salespage Snapshot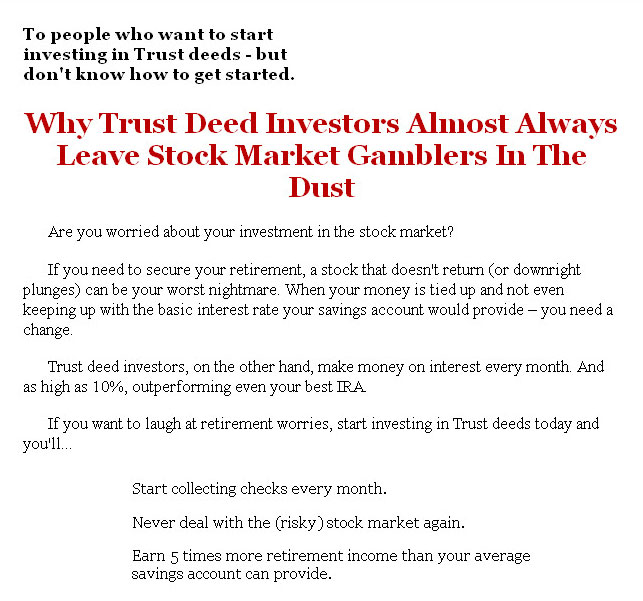 >> Click Here To View Sales Page...
Ebook Table Of Contents
Legal Statement    2
Table of Contents    3
Introduction    5
Chapter 1    11
Coppercrest Funding    11
Coppercrest Funding and Trust Deed Investing    13
Chapter 2    16
The Basics of Trust Deeds    16
The difference between trust deeds and other investment types    18
Chapter 4    22
Typical Borrowers    22
Chapter 5    25
Legal Issues for Investors    25
Real Estate Law    25
TILA – Section 32    26
Chapter 6    28
Loan Underwriting    28
Loan-to-Value    29
Borrowers    30
Chapter 7    32
Title Insurance    32
Chapter 8    38
Collection and Distribution of Loan Payments    38
Chapter 9    43
Lien Priority    43
Chapter 10    46
Loan Documents    46
Information Regarding Notes    49
Construction Loans    50
Chapter 11    54
Escrow    54
Escrow instructions    55
Important facts about escrow to keep in mind    57
Closing Escrow    60
Chapter 12    63
Loan Enforcement    63
Foreclosure    63
Bankruptcy    68
Chapter 13    70
Pitfalls for Investors to Watch For    70
Chapter 14    74
Frequently Asked Questions    74
Conclusion    79
PLR Ebook Sample Content Preview
Introduction
Today there are a number of ways in which investors can invest their money.  From the stock market to savings bonds to deeds of trust, there is something for every investor looking for a way to grow their money.  While most investments are made with the same end in mind, the main difference between each investment type are the strategies and the level or risk involved.
However, although there is always some degree of risk involved when making an investment, trust deeds happen to be one of the safest investments available today, because unlike other investments, a trust deed is secured by actual property – homes, buildings and land.
Aside from the security of real property, with a trust deed investment, the other advantage is the investor receives higher than average rates of return.  This is due to the fact that borrowers are willing to pay a higher interest rate because private investors are flexible with their loans, as they are not limited by traditional rules of bank loans.  Without the constraints of such rules, private investors can provide quicker loans that do not follow the same rules as is required for traditional lending.
Furthermore, deeds of trust are safe investments because borrowers are generally a good risk to take.  The following are two excellent reasons why:
1.    The borrower could loose their property (home, land, etc.) if they fail to pay the loan.
2.    If the appropriate research has been done, the investment will have a more than sufficient loan to value (LTV) ratio.  In other words, the loan amount is exceeded by the real property value.
Other Details* Sales Page:
Included, HTML
* File Format:
MS Word Doc, PDF, RTF
* Number of Pages:
70
* Download File Size:
601 KB