Salespage Snapshot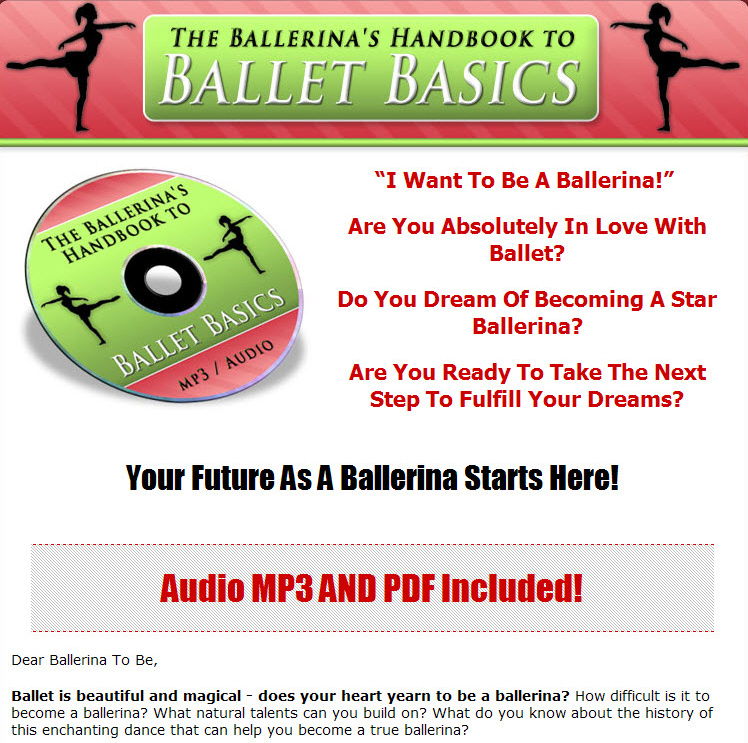 >> Click Here To View Sales Page...
PLR Ebook With Audio Table Of Contents
Five of the Most Famous Ballets    4
World Famous Ballet Schools    6
World's Most Memorable Ballerinas    8
History of the Ballet    10
The Levels of Ballet    12
The Commitment of Ballet    14
An Overview of Ballet Attire    16
Basic Ballet Moves    18
Posture and Alignment    20
Foot Positions    22
Hand and Arm Positions    24
Warm Ups and Stretching    26
Basics of Working with the Barre    28
Learning to Use Pointe Shoes    30
How to Prevent Injury    32
PLR Ebook With Audio Sample Content Preview
Five of the Most Famous Ballets
Over the years there have been many beautiful ballets, so it is really hard to choose between them. The beautiful Swan Lake – danced to Tchaikovsky's music – springs to mind as one that everyone would know about, even if they had never attended a ballet. It tells the story of a maiden who was turned by an evil spell into a swan during the day, while turning back into her human form for the night. While it doesn't really have a happy ending, at least the maiden and her true love were united after death.
There have been many versions of Swan Lake over the years. Some were boringly repetitive; others refreshingly different. Ballet dancer David Nixon danced in eleven versions before choreographing a different one. He includes the Russian dance that is missing in others and changed the structure to two acts and four scenes.
The Sleeping Beauty is another beautiful ballet that uses music by Tchaikovsky. Created in 1889, it was the famous composer's first monumental compositional work. In fact the director of the Imperial Theatres in Russia, Ivan Vsevolozhsky, commissioned him to write the music especially for this ballet. It was first performed in 1889. While many elements of the original choreography are now left out, the music remains and is at least as important as the dance.
Giselle is another famous ballet that tells the story of true love lost by lies, deception and jealousy. A count, disguised as a peasant falls in love with a dancing village girl, and she with him. The local gamekeeper who also loves her ruins things by exposing the count's lie. Countess Bathilde adds fuel to the fire by claiming that the count is going to marry her. Poor Giselle promptly dies, but later makes up for this weakness when – as a fairy spirit or wilis – she saves the count's life.
Giselle was conceived by French poet and author Theophile Gautier especially for Carlotta Grisi, the ballerina he was in love with. It was first performed in Paris in 1841 and was a great success. Today's versions differ considerably to that first performance of course, as choreography tends to change over the years.
The Nutcracker is arguably one of the most famous ballets of all times. First staged by Marius Pepita using Tchaikovsky's music, the first performance in 1892 was a dismal failure. But when George Balanchine restaged it in 1954 it became more popular – in fact, it is now claimed to be the most danced ballet of all time.
A Midsummer Night's Dream is a ballet set to the story by William Shakespeare, using music by Mendelssohn. It was Balanchine's first full-length ballet in the US, being first performed in 1962, a relative baby compared to some of the others. There are so many other wonderful and famous ballets it is hard to choose which should be mentioned…
Other Details* Sales Page:
Included, HTML
* File Format:
MS Word Doc, PDF
* Number of Pages:
33
* Included Graphics:
Ecovers, PSD, JPG
* Download File Size:
36,888 KB