Salespage Snapshot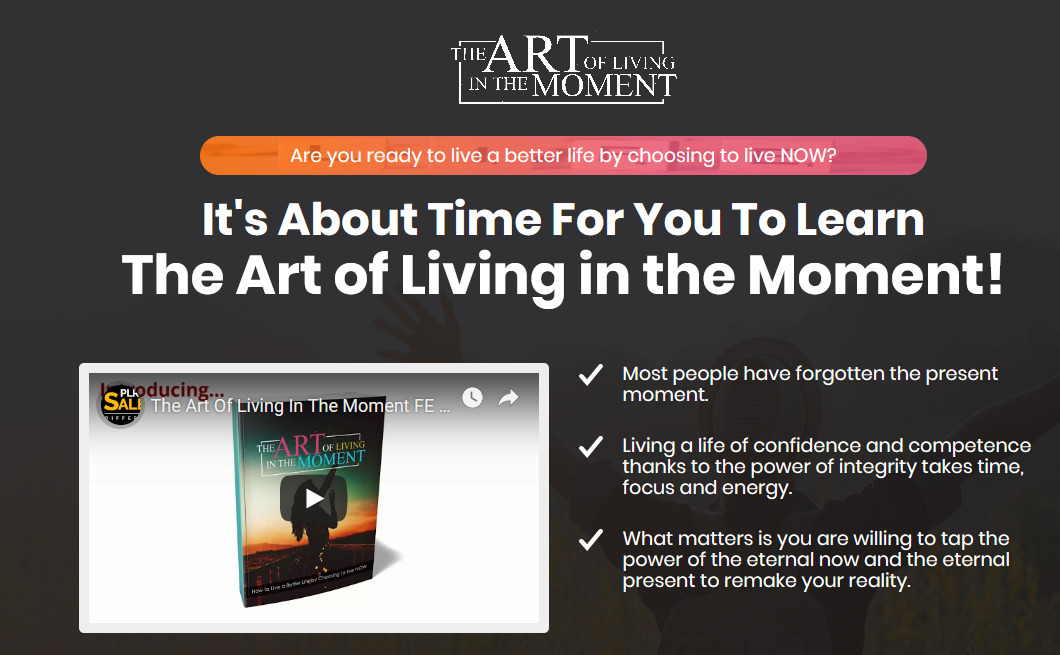 >> Click Here To View Sales Page...
Sample Content Preview
Focus means directing your attention. Because where your attention goes, your time, resources and personal energy flows. And it all boils down to something that you have a tremendous amount of control over: your attention.
This is why it's really important to rediscover the concept of "The Eternal Now." Believe it or not, you are always living in the present moment. When a second passes, the next second is the present moment. Once that's up, the next second is the present moment.
Now, a lot of people think this is pointless. After all, that's how time is supposed to work. But they miss the big picture. They miss the fact that when you are in the moment, there are a lot of things that are actually possible within that frame of time.
We're not just talking about time and space. We're talking about mental, spiritual and physical states.
If you don't believe in the present moment and you think it's just a means to an end, it's easy to blow through your time. Seriously. It's easy to live through time in a way that you're not really paying attention to the things you should be focusing on.
Sadly, most people have forgotten the present moment. They're all in a rush to be somewhere. They're all in a rush to become somebody else. They start looking at themselves primarily as transitory beings.
In other words, who you are right here, right now, is something that you're not really all that happy with. Instead, you want to be somebody who is 50 pounds lighter, 10 years younger, $10 million richer, and so on and so forth.
Your focus is burned up by the overarching need to go somewhere and become somebody else. The concept of the present moment completely escapes you except for certain schedules or dates or appointments. But other than that, it's just some sort of temporal stepping stone to who "you are supposed to be."
This is why so many people seem so busy, preoccupied and obsessed with motion. They can't wait to get from Point A to Point B. The problem is, desiring motion and that alternative identity of who we could be exacts a heavy price. They leave us empty.
The Eternal Now, which is one of the greatest gifts anybody can give us, is worthless to us. We look at it as basically a byproduct of living and not really a goal in and of itself. This is really too bad.
How come? The Eternal Now is the foundation of your future. It is the birthplace of who you can be and what you can become. In other words, it is the foundation of possibility and being.
Meditation Reveals the Power of the Eternal Now
When you practice meditation and mindfulness, you tap into the power of The Eternal Now. First of all, you become aware that you are living in a present moment. Once you are able to do that, you then slowly but surely come face to face with the power of your mind to shape your reality.
Instead of constantly trying to zip from one mental place to another, you realize that there's power where you are. You realize that you have all that it takes to get out from under whatever it is that's frustrating you.
It doesn't matter how stuck you may feel, if you are able to tap into the power of The Eternal Now, you can use the present moment to achieve important changes in your life. Best of all, you're able to this right here, right now.
You break away from the old and familiar game of kicking the can of your happiness down the road. You can choose to be happy, fulfilled and content right here, right now. All it takes is to train the way your mind is already configured to rediscover and celebrate The Eternal Now.
Remember That the Big Picture is the Eternal
Before I jump into the blueprint you can follow to tap the power of your mind for greater personal productivity, results, success and happiness, I need to establish one key principle. It's easy to look at mindfulness and meditation as simply tools that you use on your journey to get what you want. Fair enough. But it's very important to understand what it is you want in the first place.
Let's put it this way, even if you were equipped with the most powerful equipment in the world, if you don't know where you're going, your trip would be pointless. Chances are, you would be chasing your tail and be going around in circles.
The world existed before you, it exists now while you're in it, and will continue to exist long after you're gone. You have to be at peace with this eternal truth.
To fully wrap your minds around this, I need you to understand certain truths about how human beings have historically looked at the world and their place in it. With this understanding, your mind should be big enough to see your real place.
Other Details
- 20 Articles (TXT, DOC)
- 1 Ebook (PDF), 32 Pages
- 5 Graphics (PNG)
- 1 Salespage (HTML)
- 10 Ecovers (JPG)
- Promotional Ad Material (Emails, Banners)
- Resource Report, Cheat Sheet, Mindmap, Social Media Images, Legal Page, Sales Video
- Year Released/Circulated: 2018
- File Size: 147,903 KB
License Details:
[YES] Can be packaged
[YES] You Can Use This Product Yourself
[YES] Can be sold as it is not less than $7 price tag!
[YES] Can pass on the Resell Rights privilege to your customers.
[YES] Can Add This Product to a Membership Site or Bundled Within a Product Package as a Bonus.
[YES] Can be used to create audio/webinar/video products
[YES] Can Give Away The Product (NOT The Source Code Files) To Your
Subscribers, Members or Customers as a Bonus or Gift.
[YES] Can change sales page and/or graphics
[YES] Can be added to paid membership sites
[YES] Can sell master resale rights
[NO] Add to a free membership sites
[NO] You can't just pass away the product to anyone
[NO] Contents of the product can be edited, modified or altered.