Salespage Snapshot: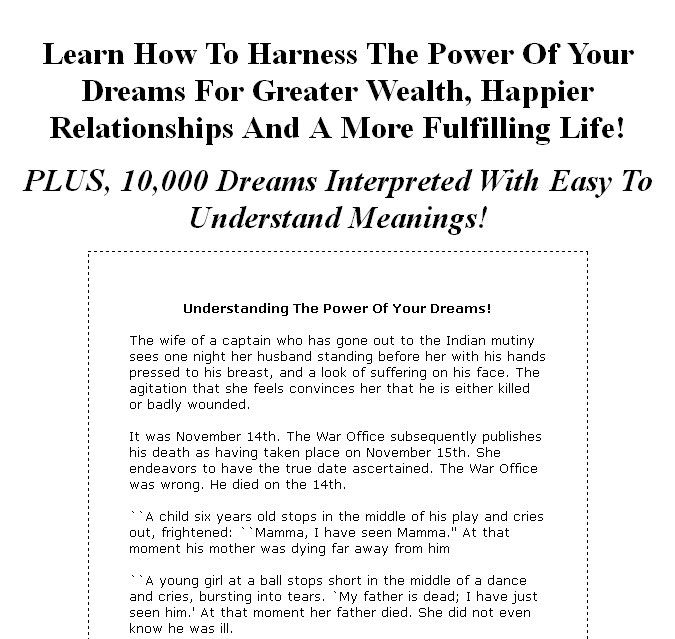 >>> Click Here To View Full Sales Page…
Table Of Contents
Introduction 6
Chapter 1 8
Let us roll the RSS ball 8
Limitations of current E-mailing technology: 12
Features of RSS: 13
How to go about it? 14
Understanding RSS Document 14
Chapter 2 18
Why do the existing technologies suck? 18
Loopholes of the existing marketing technology: 18
The search Engines 20
Will E-mails last long? 20
Checking on SPAM: 21
RSS as a marketing tool 22
Chapter 3 23
A Peep into the RSS Terminology 21
Chapter 4 23
Why RSS remains hot now? 26
Unleashing the power of RSS in marketing and publishing 26
Prompt delivery of your Internet content to end-users 27
Improving the old and discovering the new 29
Update your content as often as you want 29
Chapter 5 30
The technologies that crowns RSS 30
Pod casting and video casting: 30
Pod casting 31
How to Record Your Content 33
Launching Your Audio Files – Hosting 33
RSS for personalized/customized database listings: 36
Chapter 6 37
Marrying the new without divorcing the old 37
Honing your existing content delivery efforts 37
RSS in Direct Marketing 37
Improve your Search Engine Rankings 40
Make your contents reach other Web Media 41
Branded RSS Aggregators 42
Branded RSS Readers in Real-life 43
Developing your own RSS reader 43
Enhance Your web presence 46
Advertising through RSS 47
The power of the emerging tool – RSS 46
Grab the power of RSS – free or at rock-bottom prices 50
Chapter 7 51
BLOGGING: Who knows, it can be your goldmine 51
Six most unique ways to get connected with readers for dollars 53
Businessman without a story? 54
Are you not interested in politics and current affairs? 56
The ethics you need to know before landing on the blog world 57
a) Stick to the topic: 57
a) Post on current, hot topics: 57
b) Be informative: 58
c) Clarity and simplicity: 58
d) Adhere to a schedule: 58
e) Not only quality, but also quantity matters: 59
f) Frequency: 59
g) Catchy keywords: 59
h) Spell-checking and proof reading: 60
i) RSS 60
j) Choose hot titles 61
Why people go for blogs? 62
Positive Reflections of blogging: 62
Developing ideas: 63
Developing relations with others: 64
Representing oneself and tracing a path: 64
Spotting experts and cross-disciplinary connections: 65
Bonding, building and maintaining connections with others: 65
Blogging for 'dollars' using RSS: 66
A. Affiliate Programs (Product Endorsements) 66
B. Product Promotion 67
C. Banner Ads: 67
D. Advertisements in blog contents: 67
Chapter 8 69
Let us sail the RSS Boat 69
How to go about with RSS? 69
Which Version of RSS is more Popular? 71
Basic Elements of RSS: 71
Commonly Used Attributes: 72
Creating your own RSS feed: 74
So what do I need to know to create a RSS feed? 74
Step 1: Decide the content that you want to publish 75
Step 2: Creating the XML document 76
Step 3: Publishing your RSS feed 80
RSS Creating Software: 81
How Do I Read RSS Feeds? 107
Conclusion 114
Sample Content Preview
Introduction
"We cannot live for ourselves alone. Our lives are connected by a thousand invisible threads, and along these sympathetic fibers, our actions run as causes and return to us as results."
– Herman Melville
Herman Melville lived in 19th century and the word internet, and RSS would not have come into his mind even in his wildest dreams. Still, a lot of writers have come and gone after him – I haven't found a better statement to present our context before you. Money has stirred an honest nest around us and although money can't be said to be everything in our life, it's a fact that none of us can't live without dollars. We all crave for dollars and run after that using different means. It's these "means" that we select to run our business that matters. Putting it in simple words, modern day business is all about connecting people. Needless to say, those who connect to people in a better way, often succeeds. Paradoxically, those who are armed with the latest technologies are capable of connecting to people more successfully. Before the advent of RSS and blogs, these technologies used to burn out a hole in your pocket. All those days are gone. Now, if you have a website you only need some knowledge to make things happen for you. It's this vital knowledge that I am going to pass on you through this book.
Other Details
- 1 Ebook (PDF), 117 Pages
- 1 Salespage (HTML)
- Source Files
- Year Released/Circulated: 2008
- File Size: 6,159 KB
License Details:
[YES] Can be packaged
[YES] Can be offered as a bonus
[YES] Can be sold at any price
[YES] Can be added into paid membership sites
[YES] Can put your name and website on sales page
[YES] Can convey and sell Personal Use Rights *
[YES] Can convey and sell Resell Rights *
[NO] Can be given away for free
[NO] Can add to free Membership Sites
[NO] Can extract the graphics for use elsewhere
[NO] Can convey and sell Private Label Rights
[NO] Can Claim Copyright