Salespage Snapshot: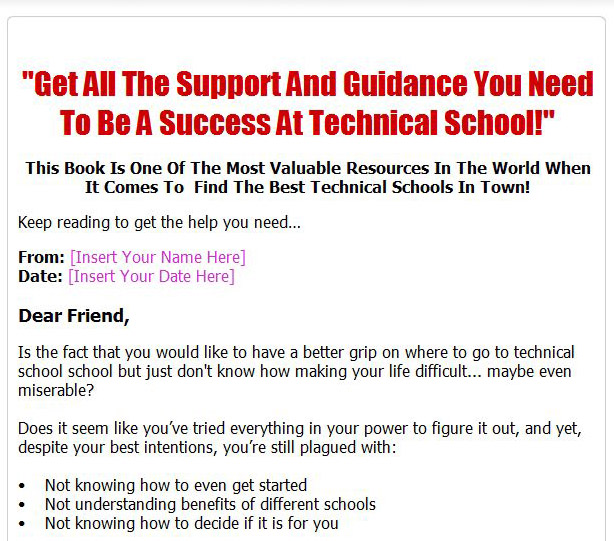 >>> Click Here To View Full Sales Page…
Table of Contents
Foreword
Chapter 1:
Why Getting Into Technical School Is The Right Decision?
Chapter 2:
Deciding Your Career Path First
Chapter 3:
Search For Technical School With Accreditation
Chapter 4:
Understanding Admission Requirement In Important
Chapter 5:
You Can Pay A Visit To The Campus
Chapter 6:
Make Sure There Is Sufficient Class Available
Chapter 7:
Seeking And Research On Technical School From Internet
Chapter 8:
Is Online Technical School For You?
Chapter 9:
Checking Out The Course Fee To Ensure You Can Afford
Chapter 10:
Choosing Technical School With Occupational Guidance
Sample Content Preview
Chapter 2
Deciding Your Career Path First
Synopsis
Entering a technical school is not a spur of the moment decision. Before you apply, you need to be sure first if this is really the path that you want to take, if it is really the one thing that will lead you to the kind of life that you want. In this chapter, you will learn tips on how to best determine the career path that you need to take.
As you fill up the college application forms, you will surely wonder if you are really making the right choice, if this is really the career path that you want to take. Choosing the correct career path is truly confusing and hard, more because with the current state of economy, competition has soared higher. Should you join a regular university or will a technical school be a more practical choice?
For this task to be much easier, there are some tips that can help you in your decision making.
Choose the Best Career Path That Suits You – Tips to Help You Out
Stick to What Interests You
When you choose the right career path that suits you, the very first and most vital thing that should be remembered is your interests. Forget about the high paying and in demand jobs first as it might make you choose the wrong path. If your interest lies on the bottom of the list of high paying jobs, follow what your heart dictates you. Cheesy as it may sound, it has been proven time and time again that doing something you love increases your chances of excelling in your chosen field, and before you know it, money is going to follow right after.
Know Your Qualities and Skills
It is one aspect that is usually taken for granted by most people. Some might even assume that they lack the skills, something that is completely untrue. There are those who have inborn leadership skills, while others are meant to become followers. No matter which category you belong to, you are still meant to excel in the field that you chose.
As for the qualities, focus on how you respond to specific situations. Do you aim for perfection? Is pressure something you find easy to deal with? The answers you make to the questions can help you in figuring out the next step once you have identified your interests.
Don't Rush
Never choose a career path only because your friends are going for it or your parents are pressuring you. As much as possible, take time out so that you can figure out what you would really want to do. Clear your mind and do whatever it is that you need to do to identify the kind of career that will give you fulfillment and true happiness.
Remember these tips to know if the programs offered in technical school are really the right career path for you to take.
Chapter 3
Search For Technical School With Accreditation
Synopsis
Why is it that you need to look for technical schools that have an accreditation? What does an accreditation signify? Does it have anything to do with the kind of education that you can expect to get from a school? Learn why you need to search for accredited technical schools in this chapter.
If you have finally decided that the career path that you want to take will be easier when you enter a technical school, the next thing that you need to do is to search for schools that have been accredited.
Accreditation can actually offer various essential benefits, including the following:
Why Accreditation Matters
• This can put an approval stamp on the graduates. When you have graduated from accredited institutions, it will indicate that you are prepared to practice at certain levels.
• This will provide educational programs that have opportunities for self-reflection and self-definition, together with feedback on the program direction and content.
• This paves the way for the chance of continuous improvement of both educational programs and institutions.
Accreditation serves as the protection of the interests not just of students but also their parents, the academic institution itself, as well as the potential employers through assuring that all educational programs being offered were able to successfully attain a level that can meet or even exceed the standards that have been developed by the field's experts.
Even though joining an accredited technical school will ensure that you will be a successful professional after you have graduated, still, it can guarantee that as a student, you were able to demonstrate a particular set of abilities and skills as reflected on the criteria of accreditation. While this is not an adequate condition for a professional success, in majority of disciplines, this acts as a necessary condition. That is why when you look for a technical school, always check if it is accredited or not in order for you to enjoy the benefits that it offers.
Other Details
- 1 Ebook (DOCX, PDF), 30 Pages
- 1 Salespage (HTML)
- Ecover (JPG)
- File Size: 20,360 KB