Salespage Snapshot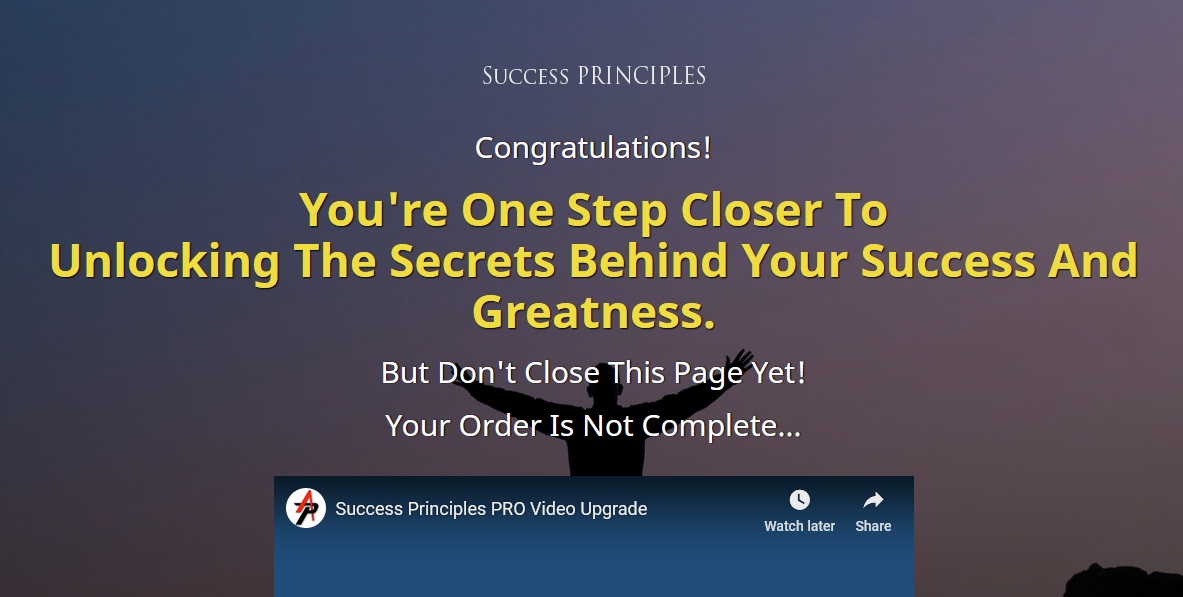 >> Click Here To View Sales Page...
Table of Contents
Introduction …. 5
Chapter 1 … 7
Set Big Goals …. 7
Better To Aim High And Miss, Than To Aim Low And Achieve .. 8
Set Purpose Driven Goals .. 9
Give Yourself A Timeframe To Work With …. 11
Chapter 2 .. 15
Make Real Decisions .. 15
Make Smart Decisions 15
Carry Out Your Decisions . 17
Don't Look Back … 19
Chapter 3 . 22
Consistency is Key ….. 22
Be Committed And Persevere ….. 22
Have A Routine For Success . 24
Create Good Habits … 25
Chapter 4 . 29
Nothing is Impossible 29
Condition Your Mind to Think Positive .. 29
Attitude is Key to Success . 31
Learn to Take a Blow . 33
Chapter 5 . 36
Be Accountable …. 36
Take Responsibility … 36
Say It Out Loud That You'll Do It 37
Be Honest. 39
Chapter 6 . 43
Live in the Moment…. 43
Be Present And Mindful .. 44
Meditate … 46
Practice Gratitude 48
Chapter 7 .. 51
Be Adventurous …. 51
Step Out Of Your Comfort Zone .. 52
Be Open Minded And Learn From Experiences ..53
Prioritizing Adventure Over Convenience And Safety …. 55
Chapter 8 . 58
Words of Success . 58
Beliefs Are Shaped From The Words You Use … 58
Mind Your Vocabulary …. 60
Use More "I can" Rather Than "I can't" … 61
Chapter 9 . 65
Be a Lifelong Learner 65
Embrace Learning And Constant Improvement 66
Never stopping learning … 67
What Stops You From Becoming A Lifelong Learner? .. 70
Chapter 10 ….. 73
There's No Such Thing as Failure 73
Don't Be Afraid of Rejection .. 73
Failures Are Stepping Stones For Success ….. 75
As Long As You Learn From The Experience, It's A Success 76
Conclusion …. 79
Sample Content Preview
Chapter 2
Make Real Decisions
Everyone has to make decisions in their daily life. While some of them are small, others are big and have a profound impact on your life. So, it's very important to evaluate all aspects of an issue before coming to a decision. There are a few things that, if considered, can help you make good decisions that you won't regret later in life.
Make Smart Decisions
Most people don't realize the importance little decisions have in life. When you make a decision, it initiates events in your life that unfold into either something good or bad, depending on whether your decision was smart or not.
You must make smart decisions. It often happens that we make decisions based on what others think or how a certain thing is "supposed" to be. The people around you have a huge impact on your decision making skills. Surround yourself with positive presence.
There is no right way to make a smart decision. The process of making a smart decision varies from person to person. For some people, their gut plays a role in making the best decision. The first thought that they have is the best for them. If they overthink the issue, they end up blowing the problem out of proportion and making decisions that are unnecessary.
But for others, thinking is an important part of decision making. They need to think about a problem and make sure they've got everything covered before they decide something. Whichever of the two you are, make sure to cover every aspect of the decision.
If you make smart decisions, your life will be much better and easier. Most people suffer the consequences of decisions made poorly or in haste. Take your time and get to know the issue in depth. Once you are content with your decision, proceed to its application. Just don't rush into making a decision.
If you decide to move into a new house, make sure you ask yourself whether it helps you. Will you be paying more rent? Is this house close to your workplace? Is it too big or small for you? When you make a smart decision, you have no regrets later. Think everything through when you decide to move into this place. Otherwise, you'll face with problems like transportation issues, extra expenditure on rent and waste or lack of space.
Carry Out Your Decisions
People are always making decisions about the changes they want to bring in life but often end up ignoring them. You must carry out your decision. If you have strong willpower and you're dedicated about something, you'll surely be able to carry it out.
For example, if you decide to join a book club in your local library, push yourself to do it as soon as possible. When you delay something, the chances of it never happening increase. Schedule a day to visit the library today and accomplish your task on that given day no matter what.
A very common example in this regard is of smokers. There are so many people out there who want to quit smoking. They've searched everything and they've planned everything out but they fail to carry out their decision. If you keep postponing it, you'll never be able to achieve it.
Why start tomorrow when you can do it today? You can quit smoking if you put your heart and mind to it. Just go cold turkey.
There are so many others who've done it. Read the stories of people online or join a help group so that you have the motivation you need. Interacting with people who have succeeded in carrying out their decisions will help you immensely.
Don't give up if you fail the first time. Learn from the mistakes you make in the first attempt. Ask yourself how you can succeed the next time? Remember that you can do it. Nothing or no one can stop you if you put your mind to something. Learn from your past mistakes, buckle up and act on it until it is done.
It's the first step that counts the most. Most people put off their important tasks to 'Tomorrow', 'Next Week' or even 'Next Year'. In their mind, they even subconsciously tell themselves that they are not ready. But the truth to the matter is, we can never be 100% ready. In other words, they procrastinate. Remember that there is never a better time to start than now. Just take that first step and the road will lead on. Page | 19
Don't Look Back
It's not always easy to carry out your decisions. Sometimes, there will be hurdles along the way. If you want to quit smoking, you might be peer-pressured to derail from this decision. Or people around you could tell you that one smoke a day doesn't do any harm.
You need to remember why you started in the first place. Before you made this decision, you must've thought a lot about the health and social changes it'll bring in your life. Every time you feel like you are derailing from your path, remember why you started the journey in the first place.
You might even have to cut off things and people in order to carry out your decisions. Cut out people from your life who pressure you into smoking. It might be hard at first but you need to remember that these people are toxic for you. If someone's bringing negativity in your life, why keep them close? Why did you decide to volunteer at a shelter? Because it made you content and you wanted to spend your time doing something good.
Don't let laziness or lack of a proper schedule derail you from this decision. Don't let your laziness stop you from doing things that are good for you. Sometimes, you make mistakes when you carry out a decision. Don't let that stop you from continuing. Make amends and carry on. So start making smart decisions and carry them out without stopping for anyone or anything. You'll be thankful to yourself for the positive impact real decisions have on your life.
Other Details
- 1 Ebook (PDF), 80 Pages
- 5 Part Autoresponder Email Messages (TXT)
- 2 Graphics (PSD, PNG)
- 1 Salespage (HTML)
- Checklist, Mind Map, Landing Page, Lead Magnet, VSL
- Year Released/Circulated: 2019
- File Size: 42,839 KB
License Details:
[YES] Can be sold
[YES] Can be used for personal use
[YES] Can be packaged with other products
[YES] Can modify/change the sales letter
[YES] Can be added into paid membership websites
[YES] Can put your name on the sales letter
[YES] Can be offered as a bonus
[YES] Can be used to build a list
[YES] Can print/publish offline
[YES] Can convey and sell Personal Use Rights
[YES] Can convey and sell Resale Rights
[YES] Can convey and sell Master Resale Rights
[NO] Can modify/change the main product
[NO] Can modify/change the graphics and ecover
[NO] Can be given away for free
[NO] Can be added to free membership websites
[NO] Can convey and sell Private Label Rights