Salespage Snapshot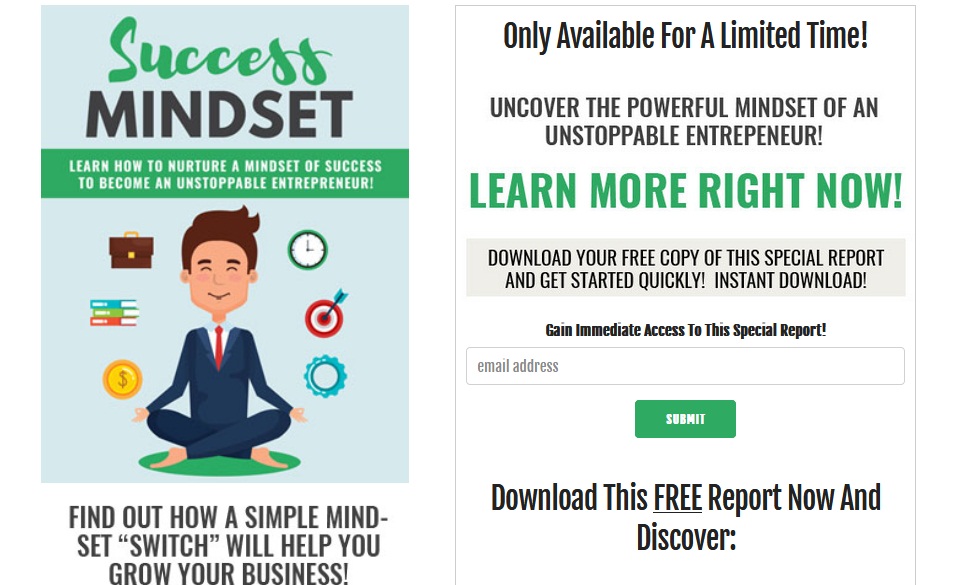 >> Click Here To View Sales Page...
Table of Contents
Table of Contents 3
Introduction 5
Step 1: Believe in Yourself 6
Step 2: Testing Ideas to Prove Them Worthy 13
Step 3: Learning from Mistakes 20
Step 4: Focus on Your Customers 27
Step 5: Building Your Success Team 34
Final Words 38
Resources 40
Sample Content Preview
Step 2: Testing Ideas to Prove Them Worthy
You probably have tons of ideas. Some are good and – let's face it – some aren't. How can you tell the difference? By testing them!
Why Testing Ideas and Products is Important
Testing your ideas and products is essential – and it's not that hard to understand why. Which would you rather do:
Spend your time and money developing and launching a product only to find out that it doesn't sell the way you thought it would; or Spend some time testing and refining your idea first before you invest your hard-earned dollars in launching it.
The answer's clear, right? It's a better use of your time to test things out first. Once you've tested, refined your idea, and re-tested it, you'll have a pretty good idea of whether it's going to work.
Market Research
One way to improve your chances of success is to do market research before you spend valuable time and money trying to start your business. That might mean pitching your idea to a few valued friends or family members. It might mean asking your blog readers what they think of it.
With products, it's a little trickier. But you might do a Google search for products in your niche or spend a few minutes on Amazon seeing what's available. If there's a product that does exactly what yours will do, you'll need to reconceptualize it.
The most important thing with testing ideas is to make sure you've got a unique value proposition. That's the one thing your product or idea has that nobody else has!
Your value proposition could be about functionality or it could be about price. The main thing is to know how you'll differentiate your product from others on the market.
Identifying Problems and Finding Solutions
You're more likely to succeed if you identify a product or service that provides a solution to a problem faced by your target audience. People go online to find answers. They ask questions and look for products that will help them.
You can find problems by searching a common keyword in your niche and looking at Google's suggested searches. For example, say you want to create a project in the pet training niche and you're looking for an angle for puppy training product. You might search "How to house train a puppy" and see this:
You can see there are some ideas there, including focusing on training with a bell or training with a crate.
You might be able to carve out a niche for yourself by focusing on a training method for people who work during the day. That's a problem that might not be addressed by other products – and that means it could be your unique value proposition!
Setting Goals/Small Steps to Success
Do you know how to set goals? It involves more saying "I want a successful business." You may have heard about SMART goals. It means setting goals that are Specific, Measurable, Attainable, Reasonable, and Timely.
This book is about a success mindset, but "success" isn't a specific enough word when you're setting goals. Here are some examples of SMART goals:
Incorporate a new business
Generate $50,000 in revenue in the first year
Attract 10 new clients in the first quarter
What you'll notice is that these goals are all specific and achievable – and in the case of the revenue and client-based goals, they're measurable and timely, too.
When you set goals, ask if they're SMART and if they're not, fine-tune them until they are.
Planning for Failure
You're probably thinking it sounds strange to plan for failure. It does – but it's also a smart thing to do.
Everybody fails. Remember the story about Stephen King being rejected 30+ times by publishers? The reason he's the beloved (and highly successful) author we know today is because what he did after those rejections.
He didn't stop. He didn't give up. He learned to cope with rejection, and he persisted.
Before you start, ask yourself what you'll do if you fail. Keep asking and plan for it. Understand that you may fail – and know that you're still in the game unless you take yourself out of it.
Coming up next, we'll talk about the next step, which is related to failure. Successful people learn from their mistakes – and you'll learn how you can, too.
Step 3: Learning from Mistakes
Every cloud has a silver lining – and so does every mistake. It's a bit cliché to say that mistakes are learning opportunities, but the fact that it's a common saying doesn't make it untrue.
Just like failure, mistakes show us who we are. We all make them. It's what you do with them that marks the difference between success and failure.
Other Details
- 2 Ebooks (PDF, DOC), 36 Pages
- 7 Part Autoresponder Email Messages (TXT)
- 1 Squeeze Page (HTML)
- Year Released/Circulated: 2019
- File Size: 3,411 KB
License Details:
[YES] Can be sold
[YES] Can be used for personal use
[YES] Can be packaged with other products
[YES] Can modify/change the sales letter
[YES] Can modify/change the main product
[YES] Can modify/change the graphics and ecover
[YES] Can be added into paid membership websites
[YES] Can put your name on the sales letter
[YES] Can be offered as a bonus
[YES] Can be used to build a list
[YES] Can print/publish offline
[YES] Can convey and sell Personal Use Rights
[YES] Can convey and sell Resale Rights
[YES] Can convey and sell Master Resale Rights
[NO] Can be given away for free
[NO] Can be added to free membership websites
[NO] Can convey and sell Private Label Rights