Salespage Snapshot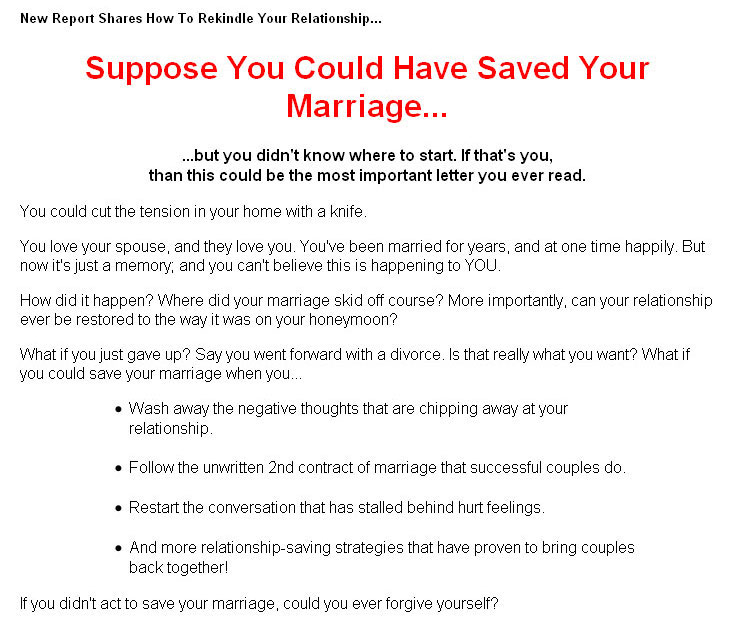 >> Click Here To View Sales Page...
PLR Ebook Table Of Contents
The Unpleasant Side of Divorce    7
The Dollar Costs of Divorce    9
The Emotional Costs of Divorce    10
Painless Divorce?    11
Divorce and Children    13
Some Eye-Opening Statistics    14
The Case for Staying Married (It's still the best institution there is!)    18
Marriage and Happiness    19
For Better or For Worse…    20
Marriage and Instinct    24
How to Save Your Marriage    27
Recognizing Gender Differences    27
A Word from the Cos!    29
Notice the Small Stuff    31
And What of Money?    32
And What of Politics?    33
Alone Time    34
Turning Points    35
Complimenting and Praising    36
The Concept of Friendship in Marriage    38
Friendship is EVERYTHING!    39
Conclusion    43
Ebook Sample Content Preview
Introduction
If you saw the emotional turmoil portrayed in the movies War of the Roses and Kramer vs. Kramer, you'd probably think twice about divorce.  Unhappy individuals who believe that ending their marriage would make them happier are often living a myth.
Chances are that they've attributed the failure of the marriage to their spouse, dispensing with self-examination.  Blaming the other instead of oneself becomes the favorite pastime, the most convenient means to walk away.
By failing to accept their own frailties, and not realizing that they've entered the marriage with unreasonable demands and unrealistic expectations, they unconsciously released the forces leading to a potential separation.
There's also the phenomenon of short memories.  For some reason, the same individuals who vowed to support each other during their time of wedded bliss have forgotten their commitment and vows to love each other through thick and thin.
Our modern society has indeed become a disposable society.  This is what Alvin Toffler had predicted almost two decades ago.
Other Details* Sales Page:
Included, HTML
* File Format:
MS Word Doc, PDF, RTF
* Number of Pages:
50
* Download File Size:
190 KB