Salespage Snapshot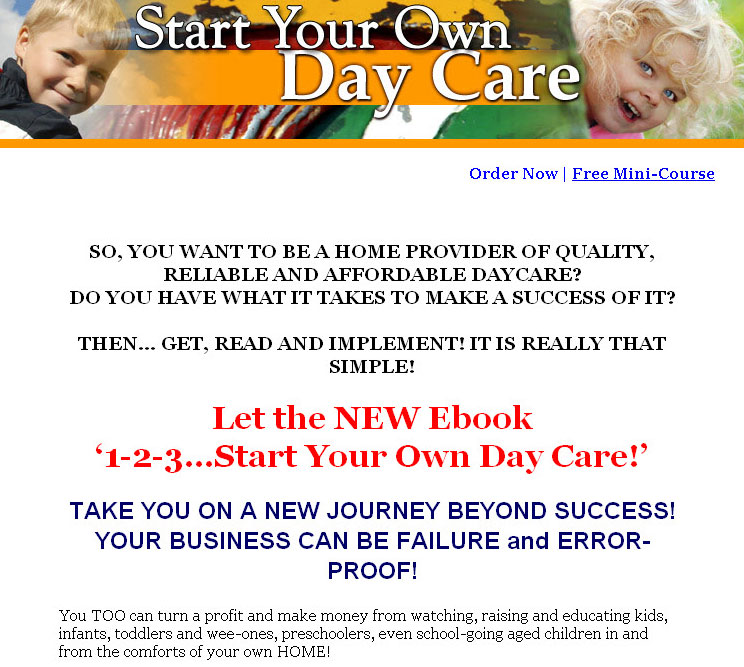 >> Click Here To View Sales Page...
Ebook Table Of Contents
Introduction: A needs-analysis and business case assessment for Day Care     3-10
SECTION 1: STARTING OUT / AN OVERVIEW   11-22
Initial Steps: Getting your location and business in order – How to make a success of your daycare plans, launch and operation
(type, size, space, licensing, registration, inspections, capital and other entrepreneurial challenges)
Balancing Feasibility and Affordability – Making dollar-value and investment capital go further  (funding-sources, business plans, start-up capital, marketing and promotion, location and other guideposts along the way of getting off the ground)
SECTION 2:  GETTING DONE WHAT NEEDS TO BE DONE        23-51
Practical considerations of/for the business, outlining, coordinating and streamlining the operational side of your business
Legal aspects, regulations, routines, guidelines and other stipulations  (routines, staff, tasks, etc.)
Day-to-day management, daily operational challenges, obstacles and opportunities for your Day Care Business
SECTION 3: MAKING IT! CHECKLIST FOR SUCCESS AND OTHER CONSIDERATIONS  51-61
Setting fees, payment methods, timing and schedules, Insurance needs, Financial accounting processes, recordkeeping and reporting, taxes, staff, parents and kids, support staff, handy helpers, transport, emergencies.
Spreading the word
Training, Education, On-going learning, Licensing, professional standing, Referrals, Networks and Word-Of-Mouth, Affiliations, Partnerships, Franchise
Final Thoughts        61
References, Resources and Online Links     62
Appendix # 1: HOME-DAY CARE, IN-HOME CHILD-MINDING GLOSSARY, CONCEPTS, DEFINITIONS, SET OF TERMINOLOGY USED IN THE TEXT AND ACROSS THE INDUSTRY   63-65
Sample Content Preview
Introduction: A Needs-Analysis And Business Case Assessment For Day Care
Before venturing down the entrepreneurial path to home-based, in-home day-care businesses, you need to consider it from all angles, taking particular care with things like suitability, training, staffing, space, operations, discipline, policies, nutritious meals, safety etc.
Are you ready to be a service providers and niche home-daycare specialist, dabbling in the field of child care to be or supplement your income?
Ask and answer for yourself what this type of business will be asking of you, others? What is it? Who uses it and why ? What are your/their expectations? How many kids can you legally and comfortably handle? What happens when you, they get sick? What about contagious diseases, quarantine, medicines, emergency contacts, pick-ups and drop offs, discipline issues, insurance, complaints? When you try to define day care, there are many definitions out there than minces no words and uncertainties, leaving no door open for misinterpretation, formal definitions, conceptualizations and even licensing guidelines and minimum registration stipulations to adhere to and look for when trying to find quality child-minding.
It could refer to anything from a physical location, house, school, room or facility, utilized, in space and purpose, staffed to provide all-day, part-time, emergency type childcare, minding, to even after-school and summer-programs. This type of childcare is in high and growing demand, especially during the day while parents work.
Childcare programs, initiatives and offerings abound. Pricing and affordability will differ and vary greatly. Myriads of different families, unit, individuals require the provision of these types of services, so they can earn a living, in order to provide for their families. There are many pressing reasons women, men and single parents, even couples where both the parents have to work, leans and relies heavily on these service providers, whether individuals, independents, public, private etc.
Other Details* Sales Page:
Included, HTML, MS Word Doc
* File Format:
MS Word Doc, PDF
* Number of Pages:
67
* Included Graphics:
Ecovers, PSD
* Extras:
5 Part Autoresponder Email Message Series
* Download File Size:
10,648 KB