Salespage Snapshot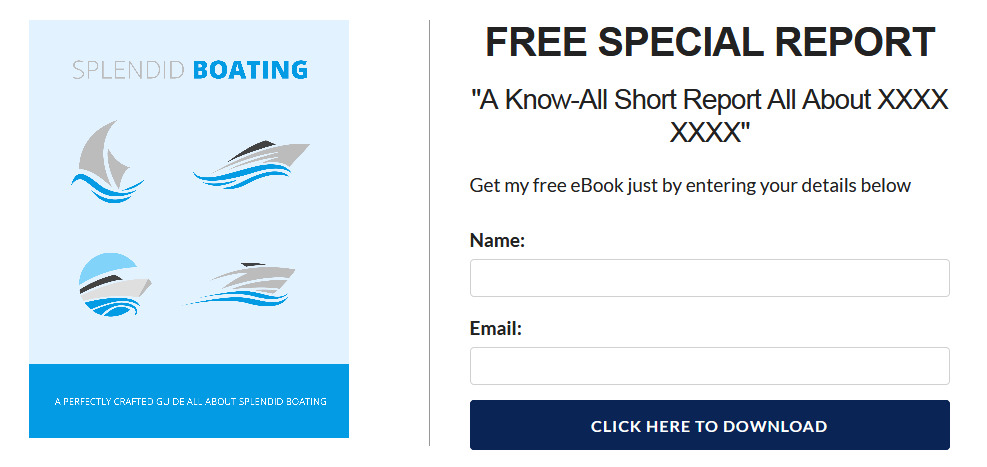 >> Click Here To View Sales Page...
Table of Contents
Introductory … 4
Chapter 1: Boating Holidays …… 6
Chapter 2: Boat Towing …. 8
Chapter 3: Boat-Buying Tips to Save Time and Money .. 11
Chapter 4: Boat Docking Techniques Made Easy.. 13
Chapter 5: Boat Care …… 15
Chapter 6: Boat Loans …. 17
Chapter 7: Houseboat Rentals . 19
Chapter 8: Picking Out The Ultimate Fishing Boat …….. 21
Sample Content Preview
Chapter 1: Boating Holidays
Boating holidays are a wonderful way to spend the summer!
Just pack your bags and float around on a houseboat or a yacht for a few weeks, enjoying the sunshine, fishing and swimming and visiting towns along the shoreline. It's comparable in cost to staying in a hotel, with so much less hassle.
And it's great for the whole family, especially the kids. Children always find entertainment on and around water. They swim and snorkel, while adults relax in a fold-up chair with a cool drink and a book.
Boating holidays, as opposed to travel on large cruise ships, offer a more intimate and relaxed voyage without the bustle of thousands of mega-ship passengers all around you. And the venues are more intriguing than the tourist traps visited by the big cruise ships. The smaller boats are surprisingly well-serviced, with features such as showers and sometimes bicycles for tours around the countryside during stops.
Many online services throughout the world offer trips on local canals and lakes surrounded by historic locations. What about a canal trip throughout Holland? This seafaring nation was built on marshland, and vestiges of the marsh still remain in the form of canals crisscrossing the whole country connecting quaint towns (with architecture carefully preserved, thanks to Dutch laws against the remodeling of historic buildings) to cosmopolitan cities such as Amsterdam.
England and Wales also have canals, are a multitude of tours are available, such as Langley, Four Counties and Cheshire Rings, Oxford and Avon canals, and the river Thames. Unknown to most tourists, there is a network of waterways that traverse England from Yorkshire to Avon and into Wales.
See different historic towns without battling holiday drivers on Europe's crowded roads (and believe me, if you are used to driving only on North America's wide freeways, European traffic will give you a shock).
In Scotland, how about a boating holiday on 23-mile long Loch Ness? There's no guarantee Nessie will show up, but you are bound to be impressed by the rugged grandeur of the Great Glen and the battle-scarred castles surrounding it. It is one of Europe's most spellbinding locations, and a pleasant surprise to those under the impression that there is no wilderness left in Europe.
Eagles, ospreys and other rare birds and even otters live in this pristine environment. Needless to say, opportunities for fishing abound. Visit the Loch Ness Center at Drumnadrochit to learn the in-depth history of the area.
Don't forget to consider a romantic boating holiday on the waterways of France. The canals of Brittany, Burgundy, Alsace, River Charente, River Lot and the South of France offer beauty, culture, and inimitable French food and wine enroute.
In North America, the Great Lakes region is so large it is impossible to see it all on one 2-week boating holiday. The St. Lawrence River is one of the most important rivers on the North American continent. It begins in the Great Lakes, leading to as vast estuary before ending in the Atlantic Ocean.
It is approximately 500 miles long, and forms the border between Canada and the USA for approximately 100 miles. Sail up the St. Lawrence canal on a tour into French Canada for spectacular northern scenery and wildlife such as Beluga whales.
While on the topic of North American boating holiday destinations, let's not forget Lake Tahoe. This is a perennially popular tourist destination, and every American who has the chance should visit this unique lake at least once. There are Emerald Bay sightseeing cruises on the Tahoe Queen, and rides on the M.S. Dixie II paddle wheeler. There is also a 44-foot trimaran and 55-foot catamaran. Small family boats are available for private family rental. Lake Tahoe offers many upscale resorts and restaurants as well as historic tours.
Chapter 2: Boat Towing
Boat towing or trailering across the United States is subject to different state laws as far as maximum speeds, trailer equipment requirements, trailer dimensions, brakes, insurance, and accessories such as reflectors are concerned. A separate permit for boat towing in each state is also required.
Most Americans live within 100 miles of boatable waterways, and boat trailering is something of a national craze. Statistics show that the easiest boats to tow on a regular basis measure within twenty-five feet in length, since these allow for easier maneuvering on highways. Boat-towing vehicles and trailers differ quite a bit from other kinds because of the unique shape and dimensions of these crafts.
There is a mind-boggling array of towable boats available on the market today. These include air boats, fishing boats, bow riders, canoes, cuddy cabins, day sailor's, deck boats, sailing dinghies, flats boats, jet boats, inflatable boats, and a host of others.
If one isn't an expert, it is important to follow a trailering-safety checklist while towing. The checklist should include guidelines to loading, leveling, driving, unloading, and launching. Probably one of the most common and dreaded hazards that all boat towers face is compromised tightness of the nuts on the trailer wheels. These tend to loosen with distance covered. Wheel maintenance in all its aspects should be a primary concern of every boat trailer owner.
As with most other kinds of towing, each state has its own set of trailering laws that will prescribe limits to weight, speed, and minimum equipment. These are strictly enforced, and it is wise to be prepared for all eventualities.
Other Details
- 1 Ebook (PDF), 23 Pages
- 1 Squeeze Page (HTML)
- 2 Ecovers (JPG, PNG)
- Year Released/Circulated: 2019
- File Size: 977 KB
License Details:
[YES] Each product to be sold for no less than $7.00 each.
[YES] Can be sold
[YES] Can be re-branded as your own
[YES] Can be used for personal use
[YES] Can be packaged with other products
[YES] Can modify/change the sales letter
[YES] Can modify/change the graphics and ecover's
[YES] Can add to ANY membership site (MRR Only)
[YES] Can be offered as a bonus
[YES] Can be given away free to build a list
[YES] Can print/publish offline
[YES]Can convey and sell Personal Use Rights
[YES] Can convey and sell Resale Rights
[YES] Can convey and sell Master Resale Rights
[YES] Can be given away for free
[NO] Can convey and sell Private Label Rights
[NO] Can be given away in PLR format
[NO] Can sell or giveaway the FULL package