Salespage Snapshot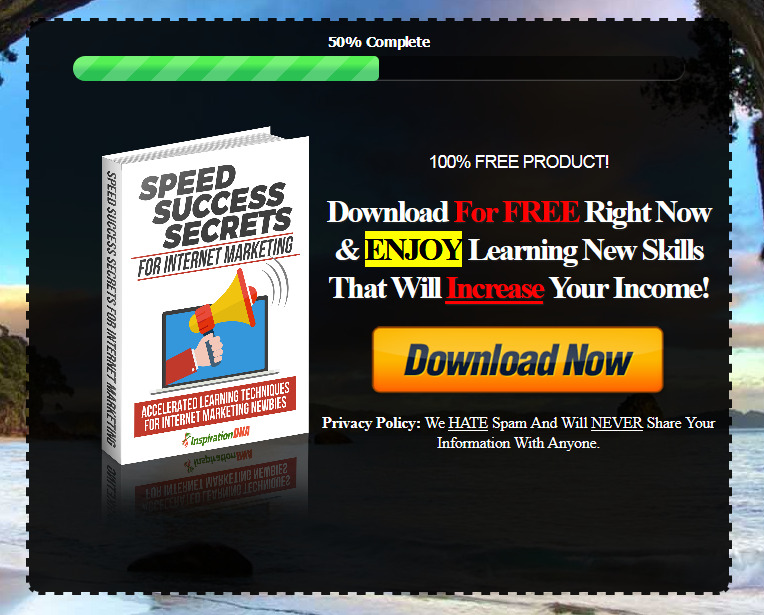 >> Click Here To View Sales Page...
Table of Contents
Foreword
Chapter 1:
Where To Get Started
Chapter 2:
Your Product
Chapter 3:
Getting The Word Out
Chapter 4:
Buyers And JV Opportunities
Chapter 5:
The Selling
Wrapping Up
Sample Content Preview
Chapter 4:
Buyers And JV Opportunities
Let me ask you a question: do you believe it's simpler to sell your product or services to a complete unknown or to an individual you've had contact previously; whether it's an e-mail conversation, forum participation or even an existing buyer relationship (i.e. He's purchased something from you).
Beyond any doubt, it will be more difficult to sell to a total unknown who doesn't know whether or not you're an honest seller, and whether or not they ought to trust your words and trust that your product or services will really benefit them.
This is exactly why you ought to construct a buyer base — a group of individuals who trust you and will most likely buy a product that you provide to them. This will ensure that you've a recurring and consistent source of revenue. Once you release a product or make an endorsement, you've a group of individuals always ready to hear what you have to state.
Teaming Up
There are a lot of sources that you are able to tap into to begin establishing a buyer base. For instance, you are able to participate in a net discussion forum and give advice and help free of charge. It won't be long before individuals begin to recognize your name and stop and listen every time you've something to say.
You'll become a valuable acquaintance and instructor, and gain the trust of these individuals. Will you purchase something your close acquaintance advocates?
A different way to construct a buyer base is to construct a mailing list. There are a gazillion techniques to amass subscribers, but when it's boiled down to the real essence, it's all about proving your worth to the crowd and providing an incentive to make individuals become part of your e-zine.
A typical illustration will be a site cram full of freely available, helpful and quality articles on a particular subject plus a "special report" that may be downloaded free of charge provided you provide your e-mail address. The rich content supplies worth, and the "special report" is the additional incentive.
Yet a different source for your buyer base, which is frequently forgotten, is your existing buyers. If you bought this product from this certain individual and he answered patiently to your every question, will you purchase from him again in the future? Decidedly. When a buyer has given you his cash, that's not the end of the affair as by keeping in touch with him and developing an expanding relationship with him, you'll have a life source of income.
Imagine if 100, 1000 or even 10000 customers are waiting to grab your newest products even before they are released! Hence, it's vital to construct a buyer base because it simply saves a lot of time and effort.
Advantages of Joint Ventures
Let's conceive of a situation where we have two Net marketers who know one another. One has a great product that will sell really well but he has no mailing list, no associates, nothing.
The other is an awesome marketer with tens of thousands of subscribers in his list, but the issue is he has nothing to sell to them. The really obvious solution here is to give the product to the awesome marketer with lots of contacts, and divide the profits between them. This, my friend, is the very nitty-gritty of Joint Ventures. As more and more individuals begin their own home based businesses online, the market is going to get more and more drenched and the rivalry will grow fiercer by the minute. The fastest, most effective and simplest way to construct your own net business empire
is through joint ventures. That is, collaborate with other marketers to distribute your product.
Once you joint venture with another marketer, you are able to ask him (or her) to send an sanction of your product to his existing list, so you don't have to worry about accumulating subscribers from scratch. You already have a simply accessible target market.
The trick is to discover the correct marketer whose subscribers will be interested in your product. When you accomplish that, you won't even have to fret about yielding traffic to your sales letter or discovering affiliates to further your product. All of that is already finished for you.
Once you joint venture with a hearty player in the field, your sensed value and reputation will at once increase as if this well-known individual in the field is willing to work with you as a team, you must have a little substance!
Therefore, once you manage to hook up a joint venture with somebody who's a "regular player" in your niche market, your position will instantly alter from "total fledgling" to "guru position" overnight!
Last but decidedly not least, you'll get a chance to construct a lasting relationship with a bountiful figure in your niche market, and that alone will worth more than the earnings you pull in over that single
Joint Venture. When you've a dominant figure in the market as your acquaintance, you'll gain numerous privileges and perks that no fledgling like you may ever get their hands on – for instance new insights into concerning product ideas and marketing techniques. You can't even purchase that for hard cash!
So, begin looking up a potential Joint Venture partner and try your best to convince him or her to strike up a business with you!
Other Details
- 1 Ebook (PDF), 26 Pages
- 2 Graphics (PNG)
- 1 Squeeze Page (HTML)
- Year Released/Circulated: 2017
- File Size: 2,396 KB
License Details:
[YES] Ebook Can be given away against an email address
[YES] Can sell the WHOLE product and keep 100% of the sales
[YES] Can sell the WHOLE product with Resale Rights
[YES] Can sell the WHOLE product with Master Resale Rights
[YES] Can edit the Squeeze & TY + MRR Upsell Pages
[YES] The WHOLE product can be packaged with other products you sell
[YES] The WHOLE product can be offered as a bonus with other products you sell
[YES] The WHOLE product can be added to paid membership sites
[YES] The WHOLE product can be offered through auction sites
[NO] WHOLE Product can be given away
[NO] WHOLE Product can be added to free membership sites
[NO] Ebook can be modified in any way
[NO] Can sell with Private Label Rights