Salespage Snapshot: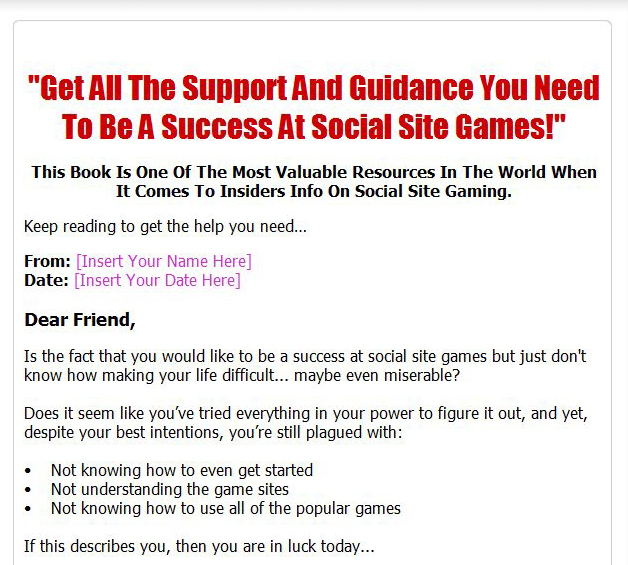 >>> Click Here To View Full Sales Page…
Table of Contents
Chapter 1:
Social Site Gaming on Your Phone Basics
Chapter 2:
How to Use the Application Launcher
Chapter 3:
Facebook Farmville
Chapter 4:
Facebook Words with Friends
Chapter 5:
Social City
Chapter 6:
Finding Free Social Games
Chapter 7:
Being A Hero In Social Site Game
Chapter 8:
The Best Social Site Games
Chapter 9:
Learning To Separate These Games From Reality
Sample Content Preview
Chapter 2
How to Use the Application Launcher
Synopsis
With the availability of social site games, the use for an application launcher became important as this assists gamers to enjoy the most of their preferred games without experiencing any inconvenience or issues. Due to this, it is essential that gamers know how to use an application launcher properly.
What is an Application Launcher?
An application launcher is a kind of computer program that helps users to locate and start other computer programs like games. This provides shortcuts to various programs and stores shortcuts in one place so that they are much easier to find. When compared to desktop application launchers, each section follows the guidelines for desktop environment.
How to Use Application Launchers?
There are many ways on how to use application launchers. But, the first thing that you need to do is to find one and install it in your computer or mobile device. You can pick any application launcher you want. However, make sure that your chosen one would benefit you in the long run.
Once you have installed an application launcher, the next thing that you need to do is to download your preferred social site games. There are various games you can download at present. But, see to it that you have chosen the right application launcher for you to reap off the benefits of your selected games.
When downloading games, ensure that your device's memory is still high. There are instances that some devices have small memory space. So, better check the system requirements of your device before you decide to install some games that will give you full entertainment and enjoyment.
Chapter 3
Facebook Farmville
Synopsis
If you are one of the million users of Facebook, you have probably heard about FarmVille and even tried to play this social site game. If so, it is wise to be knowledgeable about this game especially if you want to level up or master it. In this chapter, you will gain depth understanding about FarmVille and its features.
Facts about FarmVille
FarmVille is a simulation social site game that revolves around farming. It was created by Zynga in the year 2009. It is quite the same with Farm Town, Happy Farm, and several video games like the Harvest Moon series.
The gameplay of FarmVille involves various aspects of managing a farm such as planting, plowing land, harvesting and growing crops, harvesting bushes and trees, and livestock raising. In September 2012, FarmVille 2 was released. It is the sequel version of FarmVille.
FarmVille is available as an Adobe Flash application in social sites and to other mobile devices. Like most social site games, it comes for free. This just means that you don't need to spend any amount of cash in playing the game. However, players have options to purchase premium content. It was once considered as the most famous Facebook game, but recently, many have seen a decline in its popularity. In fact, as of the month of May in the year 2012, FarmVille does not belong to the top 5 of the best social site games.
Gameplay
Once players start a farm, the first thing they need to do is to make a customizable avatar that may be changed anytime. Then, the player will start with an empty farm as well as fixed amount of Farm coins, which is the major currency in the said social site game.
Players will earn XP or experience points for doing particular actions in the game including buying items or plowing land. The level of the player increases as the XP rises. In addition to that, animals and crops will become available throughthe market where items can be bought with the use of Farm Cash or Farm Coins. These are earned every time a player completed the offer or leveled up.
Crops
The best way for a player to earn Farm Coins is by harvesting crops or through visiting their neighbors. The players do this through paying coins for plowing a particular area of land. After plowing, the land is now ready for planting seeds, which will be harvested after a certain period of time. The amount of time to harvest crops and how much money you will get depend on the crop you planted. These details are noted in the shop where you have purchased the crop. If you haven't harvested the crops and the time for harvesting them has exceeded, the crops will wither and will not be used.
Farms
Every player has his or her own farm. There are various themes for farms that players can consider. Depending on the amount of coins or cash you have, you can choose any themed farms for you to get daily coins. Some of the themed farms released are the following:
• Home Farm
• Lighthouse Cove
• English Countryside
• Winter Wonderland
• Jade Falls
• Hawaiian Paradise
• Haunted Hollow
• Lavender Meadows
• Mistletoe Lane
• Sunflower Meadows
• Angler's Pond
• Atlantis
• Enchanted Glen
• Australia
• Hanging Gardens
• Celestial Pastures
• Mystical Groves
• Sweet Acres
• Emerald Valley
• Farmer's Square
• Fields of El Dorado
Decorations
There are various decorations you can purchase in FarmVille. You can even send a free gift to your friend. Some of the decorations included are hay bales, fences, buildings, nutcrackers, flags, gnomes, and many more. There are also limited edition items that celebrate the themes including Valentine's Day, winter holidays, Halloween, etc. Getting decorations also give players XP.
Expansions
For several years in the world of social site gaming, FarmVille has added tons of expansions where players' farm can be located in some areas including Japan, England, Atlantis, Hawaii, Australia, and so on.
What Others Say about FarmVille
Though FarmVille became the most popular social site game, it has received some negative reactions due to some reasons. But, despite of this, many people have enjoyed playing the game especially by those who are fond of gardening or farming.
Other Details
- 1 Ebook (DOCX, PDF), 33 Pages
- 1 Salespage (HTML)
- Ecover (JPG)
- File Size: 13,949 KB