Salespage Snapshot: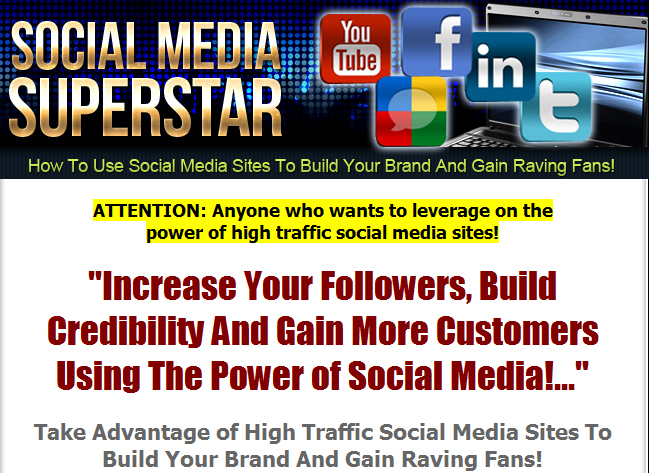 >>> Click Here To View Full Sales Page…
Table of Contents
Social Media Superstar….3
INTRODUCTION.5
Chapter I: WHY BECOME A SOCIAL MEDIA SUPERSTAR?……….7
Reach potential customers overseas………7
Gain credibility in the modern society…….8
Learn quickly what your customers are thinking……8
Run polls and surveys cheaply….9
Chapter II: THE FACEBOOK SUPERSTAR…. 11
Getting Started With Facebook.11
Setting Up A Group Account…..11
Promoting Your Facebook Page.13
Facebook Superstar Tip No.l: Use Facebook Ads..14
Facebook Superstar Tip No. 2: Page Liking………..17
Facebook Superstar Tip No. 3: Forming Affiliates…17
Facebook Superstar Tip No. 4: Maximizing Use of SEO……..19
How to make your Facebook Page SEO enhanced…………20
Facebook Superstar Tip No. 5: Advertise.21
Facebook Superstar Tip No. 6: Use Facebook Buttons/Plugins………..21
Like Button…………22
Send Button………..24
Subscribe Button….24
Facebook Superstar Tip No. 7: Boosting Your Posts…………24
Pinned Post…………25
Starred Post………..25
Chapter III: THE YOUTUBE SUPERSTAR…..27
Making Your Videos More Visible…………27
Add as many related tags as you can…28
Linking Your Videos.29
Using An Effective Title………29
Importance of quality videos.30
Outsource the task..30
Check the videos for errors before launching…..31
Match the theme and atmosphere of your videos31
High Res or Not?…..32
Adding Credibility To Your Youtube Page.32
Authentic page design……….32
Use of company logo…………33
Use of proper etiquette………33
Chapter IV: THE TWITTER SUPERSTAR…… 34
Know who to follow….34
Maintain a ratio of your followers and people you follow……34
Get subscription from famous Twitter users……….35
Be active…..35
Change your URL…….36
Choose your page name and icon wisely.36
Chapter V: GOING PROFESSIONAL WITH LINKEDIN..37
Disadvantages………..37
Advantages..37
Different Account Types………..38
Job seekers..38
Recruiters….38
Sales Professionals…..38
Chapter VI: MORE TIPS FOR BETTER EXPERIENCE….39
DODGING THE NEGATIVES……. 39
INVITING MORE TRAFFIC………40
CUTTING THE COST…41
Sample Content Preview
INTRODUCTION
The introduction of the World Wide Web revolutionized how people connect to one another. But just when we thought that chatting and emailing were the epitome of online communication, the so-called 'social media' was introduced to humanity. And then, the rest was history.
Thanks to social media sites, staying updated with what is going on with the people we know became a lot easier. In the past, we would probably ask them by email and wait for a response. But with social media, a member can simply post the latest news about him/her and everyone on his/her friend list will be able to see the update when they login.
It is so much more convenient.
We also no longer have to send photos to each of our contacts just to tell them about our last trip to Hawaii or our last visit to Disney Land. Simply upload these photos on your social media profile and it will stay there for everyone to see. This includes current people on your friend list and people you will add in the future.
As a result, people congregated to social media sites. It became so popular that as of February 2012, Facebook already has around 845 million active users. And Twitter, another popular social media sites, was recorded to have around 140 million users as of the year 2012.
After seeing this growth, it was only a matter of time until businessmen took notice. After all, business goes where the people are.
And so it happened that Facebook, Twitter, Youtube, and other social media sites soon became powerful tools for business. And there are even social media sites that specialize on business-making. One good example of such a social media site is Linkedin.
As a businessman yourself, social media sites might have also caught your attention. And if you are seeking ways on how to use these social media sites to boost your business, you came to the right place.
In this eBook, you will find tips and guides on how you can make use of these social media sites as effective business tools. If used correctly, they have the potential of increasing your sales.
For the most part though, this eBook will concentrate on how to make your social media account popular to users (how to get more views, more likes, more subscribers, more viewers).
This is because a social media account will serve its purpose as a business tool only if it manages to get views, likes and subscribers.
So without further ado, we present to you the simple guide to making your social media page a superstar!
Other Details
- 1 Ebook (PDF), 41 Pages
- 2 Salespages (HTML)
- 2 Squeeze Pages (HTML)
- Year Released/Circulated: 2015
- File Size: 5,535 KB
License Details:
yes you may giveaway this ebook.
yes you may resell this product. suggested retail price
yes you may resell this product.
yes you may edit the squeeze/salespage.
your customers only get personal use rights only. they may not resell this product.
you may not sell or giveaway private lable rights.
you may not re-title or edit the contents of this product.
you agree to handle any own customer support issues related to this product.