Salespage Snapshot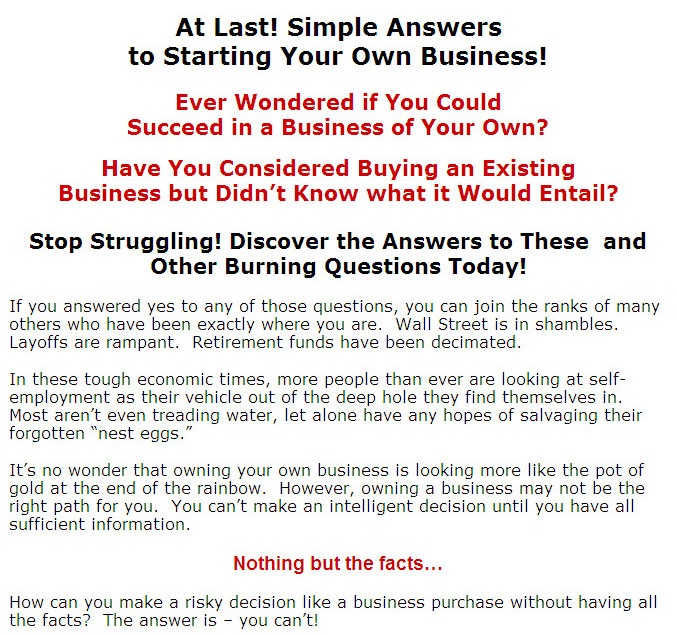 >> Click Here To View Sales Page...
PLR Ebook Table Of Contents
Why Go Into Business For Yourself
Choosing the Business Model
Buying a Business
About the Buying Process
How to Write an Offer
Negotiations
How to Value a Potential Business
Startup vs Buying
Selecting an Accounting Method
Sole Proprietor vs Incorporation
How to Negotiate Startup Costs
Hiring Personnel
Inventory
The Tax Man Cometh
Know When to Sell
PLR Ebook Sample Content Preview
Why Go Into Business for Yourself
Why Go Into Business For Yourself?
If you are sick and tired of working long hours for little pay you may be ready to become the owner of your own business. Many people are finding that owning their own business is the only way to truly declare their independence and survive these troubled economic times.
Why are people finding this so attractive? Let us give you some ideas how having a business of your own benefits you.
1. Independence – As you know, you will have no employer directing your every move. Instead you will have the autonomy to make your own decisions and be in charge of your own success. However, there is a trade off. You may no longer have a single boss, you now will have many customers each of which is your "new" boss.
2. Benefits solely for you – All profits of the business are yours. With the exception of Uncle Sam and your overhead, whatever is left is yours alone.
3. Manageable work time – You will no longer need to punch a time clock or be accountable to anyone but your customers. You control your time.
4. Develop creativity – Here you get a chance to be innovative and creative. Put your talents to good use.
Other Details* Sales Page:
Included, HTML, MS Word Doc
* File Format:
MS Word Doc, PDF
* Number of Pages:
85
* Included Graphics:
Ecovers, PSD
* Download File Size:
2,661 KB