Salespage Snapshot: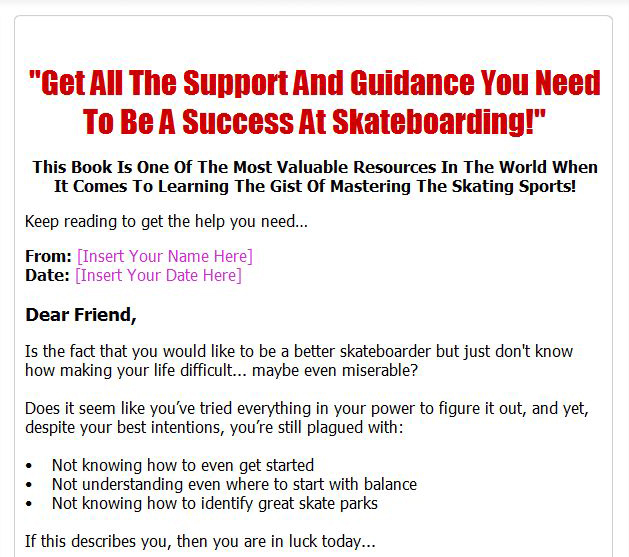 >>> Click Here To View Full Sales Page…
Table of Contents
Foreword
Chapter 1:
Introduction to Skateboarding
Chapter 2:
Choosing the Right Skateboard Ramps
Chapter 3:
Selecting Your Skateboard Deck
Chapter 4:
Things to Consider Before Buying Skateboarding Shoes
Chapter5:
How to Improve Your Balance
Chapter 6:
Finding Popular Skate Parks
Chapter 7:
Cool Tips to Skate Hills(highly dangerous)
Chapter 8:
Strategies for Skateboarding Faster
Chapter 9:
Jumping Tactics for Skateboarding
Chapter 10:
Safety Tips for Skateboarding
Sample Content Preview
Chapter 2: Choosing the Right Skateboard Ramps
Synopsis
When looking for a suitable skate board ramp, an individual should first take the time to find out as much as possible about the various different types of ramps available and their primary functions. As with all sports, there is a chance of getting injured while skating on ramps. It is very important that you wear all of the safety gear necessary and that you do not try to do anything out of your skill level.
Making the Right Choice
The following are some tips on how to go about choosing suitable ramps for skateboarding:
• Determining the style intended in the skateboarding experience should ideally be the first step to take before actually making a purchase. This is mainly because the style that is going to be used will have a direct impact on the choice of the ramp or rail. Therefore, having some knowledge before would help you to make a suitable purchase. Also the area where the individual intends to skateboard is another deciding factor in the type of skateboard ramp to purchase.
• The size of the ramp and its length is also directly reflected on the types of movement and tricks performed. Beginners may have difficulty even on an 8 foot half pipe ramp because of the size and speed required to perform the tricks or to simply skate on it. Taking on smaller ramps and shorter rails maybe a better option to start with for beginners.
• The right material should also be used to create the ideal conditions on the ramp and rails. The ramp should also be made from weatherproof material to ensure it is able to withstand any and all types of weather, such as rain, snow, wind and any others.
• The individual should also consider if there is a need to make adjustments to the ramp due to any unlevel conditions of the surface it is going to be placed on. Therefore, there would be a need to pick a ramp that can be easily adjusted or modified to fit into the space that is available.
Chapter 3: Selecting Your Skateboard Deck
Synopsis
There are many elements to consider when making a skateboard deck purchase. However with a little knowledge, an individual can make an informed decision that will be beneficial to their needs. Understanding the different sizes of the wheels, the types of boards and the hardness of the wheels should all be points of consideration when deciding on the appropriate board to select.
There is also a decision to make on what type of design you want on your board. There is a lot of really cool art work that comes on some decks. These decks may be a little bit more expensive but some of them are more than worth the price. You can even get decks that feature designs created by some of your favorite professional skaters.
You need to be aware of the fact that certain skateboards are used for certain things. For example, you would not want to try to use a long board at a skate park. It is important that you know what you are looking for before you make a purchase.
Choosing the Right Deck
The following are some useful tips to go by, when trying to make an informed decision on what skateboard deck to purchase:
• Skateboards can either be bought off the rack or ordered for custom specifications. This would invariably involve the budget the individual is willing to set aside for their purchase. Long boards can cost around $120 – $500, while classics are usually around $80 – $400 and then the street/verts can cost anywhere from $50 – $150.
• Buying off the rack or otherwise known as buying a complete is a popular option for most individuals who are really only interested in skateboarding as a leisurely activity. Thus it would be possible to make such a purchase at any reputable store. Buying online is also popular but has the disadvantage of not allowing the individual to test the item. Most completes would cost around $50 – $200 while custom made boards can range from $90 – $500.
• If the intended purchase is meant to be ridden on the streets, getting a 7.5 – 8.0 deck would be sufficient, however if the ride is meant to be vert, then 8.0 and upwards is probably better. Considering the height of the individual, is also another contributing point that should be considered while making a purchase on a skateboard deck.
• The trucks are also an equally important aspect of the skateboard and should be given due consideration. They should ideally be no more than 10 inches. The width would be 7.5 trucks on a 7.5 deck.
Other Details
- 1 Ebook (DOCX, PDF), 31 Pages
- 1 Salespage (HTML)
- Ecover (JPG)
- File Size: 136,434 KB