Salespage Snapshot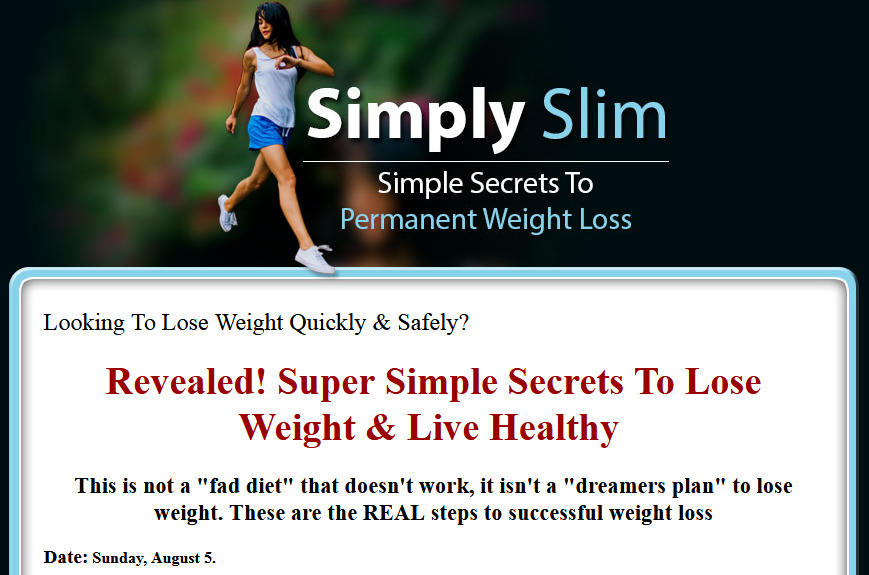 >> Click Here To View Sales Page...
Table of Contents
Introduction . 6
Dangers of Being Overweight 6
Why Lose Weight …. 7
Chapter 1 – Get Your Head In The Game . 10
You Think of Food the Wrong Way … 10
You're Not Willing to Change Your Habits ….. 11
Your Weight is Connected to Psychological Problems.. 12
Chapter 2 – Getting Prepared ….. 14
Get Your Health Evaluated .. 14
Write Out Your Goals … 15
Set Up Your Rewards … 16
Make Your Baseline ….. 17
Educate Yourself … 18
Chapter 3 – Nutrition & Diet Overview ….. 20
Macronutrients 20
Carbohydrates 21
Proteins … 22
Fats … 23
Calories … 24
Chapter 4 – Proven Principles of Long Term Weight Loss & Healthy Eating . 26
Track Calories and Macronutrients … 26
Meal Planning . 28
Get Support…. 29
Weight Loss Diet Accelerated …. 29
Simply Slim – Simple Secrets To Permanent Weight Loss
What is Ketosis?…. 30
Chapter 5 – Exercise 31
How To Boost Your Results From Traditional Aerobics/Cardio .. 32
Chapter 6 – Sample Weight Loss Meal Plan For A Week ….. 37
Monday …. 38
Tuesday … 38
Wednesday….. 39
Thursday .. 39
Friday 39
Saturday .. 40
Sunday …. 40
Breakfast Tip .. 41
Lunch Tips 41
Dinner Tip 42
Snack Tip . 42
Chapter 7 – Tips For Healthy Food Shopping .. 43
Always Have a List 43
Eat Before You Go . 44
Don't Linger…. 44
Check Labels .. 44
Chapter 8 – Beginner Mistakes To Avoid .. 46
Focusing Too Much on Avoiding Carbs …. 46
Getting Stressed … 47
Not Getting Enough Sleep .. 47
Trusting Food Packaging …. 47
Eating Artificial Sweeteners 48
Skipping Meals 48
Conclusion – Long Term Health Planning .. 49
Simply Slim – Simple Secrets To Permanent Weight Loss
Bonus Chapter – Resources & Apps to Aid in Weight Loss … 51
Keto Diet App . 51
Ketone Meter .. 52
Fitness Tracker ….. 52
Diet Coach ….. 53
Sample Content Preview
Chapter 1 – Get Your Head In The Game
For everyone that is overweight, there are one or more reasons that they can't seem to lose weight, but unless they have a legitimate medical condition that is preventing them from losing weight, then the biggest barrier is their mentality. There are several reasons that many people share that can make it difficult or even impossible to lose weight.
You Think of Food the Wrong Way
For many people, food is a way to comfort or entertain themselves. They eat not because they're hungry or because they need to sustain themselves, but because they're sad, happy, or bored. Often, the foods we eat when we're sad are high in carbohydrates and unhealthy fats, and are known as "comfort foods" because they comfort us.
Instead, you have to start thinking about food for what it actually is: a tool that you're using to provide nutrients to your body. It can make you gain weight or lose weight depending on how you use it. It can make you healthier and even cure various afflictions if you're using it right, or it can make you sick by causing new conditions or worsening existing ones.
You're Not Willing to Change Your Habits
Most of weight loss and weight maintenance is about having good habits. However, for many people, they feel stuck in their ways and aren't willing to change their habits for the long term. A crazy crash diet can help you lose weight fast, but you won't be able to keep it off for long since you most probably will go back to your old habits as soon as you've dropped a few pounds.
To lose weight and then keep it off, you have to be willing to change your habits, particularly when it comes to eating. Everything you are is a result of your habits, from where you are in your job to the way your house looks and how much you weigh. Cutting out bad habits and replacing them with good ones is the only way that you'll be able to get yourself healthy.
Your Weight is Connected to Psychological Problems
For some people, a bad relationship with food and bad eating habits are connected with deep psychological problems related to shame and a fear of getting close to people. They feel ashamed of being obese, but eat as a way of dealing with the shame. Or, they are afraid to be vulnerable with people and see their extra weight as a way to keep people from getting too close to them.
It may be hard to admit, but if you fall into this category of having these deep-seated issues, then you won't be able to start your weight loss journey until you get professional help to deal with these problems. Just as you would see a medical doctor for a medical condition that you can't solve yourself, you shouldn't feel ashamed to seek help from a doctor to get help from a psychological problem.
Once you get your head in the game and are mentally prepared to lose weight, it's time to move onto the next step in the preparation process before you can start your weight loss journey.
Chapter 2 – Getting Prepared
Before jumping into any new diet plan to lose weight, it's important to prepare yourself. For one thing, if you don't know where you're starting from, then it'll be hard to see the progress you're making since weight loss can often be slow and steady. So, here are a few things that you should make sure you do before you start your weight loss journey.
Get Your Health Evaluated
If you have not yet been evaluated by a doctor regarding your weight, now is the time to do it. For some people, it's impossible for them to lose any weight because they have an underlying medical condition. One of the most common conditions that causes weight gain is hypothyroidism.
With hypothyroidism, many of your body's processes are slowed down, including your metabolism, making it impossible for you to lose weight no matter what you do. This is because you will be working against your body. In order to lose weight, you will have
Simply Slim – Simple Secrets To Permanent Weight Loss
to work with your doctor first to correct the hormone problem with medication.
Another important reason to see your doctor before you get started is if you are going to be starting to exercise as part of your weight loss journey. Although food is the most important part, exercise can certainly help to boost your weight loss. For that reason, you'll want to make sure you get the all-clear from your doctor to start an exercise regimen.
Write Out Your Goals
You should have two basic types of weight loss goals, one primary, long-term goal and smaller milestones that will help you reach that goal and keep you motivated. Carefully evaluate where you currently are and where you want to be. Then, set a realistic long-term goal, whether you want to lose 30 pounds in a year, or 100 pounds in 5 years.
Once you have your long-term goal in place, then you can set up your milestones. Usually, the best way to do this is to divide the total weight loss that you're hoping for into 5- or 10-pound Simply Slim – Simple Secrets To Permanent Weight Loss increments. You should also set specific timelines for these as well. Something to keep in mind, however, is that you will likely lose weight faster at the beginning, so give yourself some wiggle room as you go.
Set Up Your Rewards
At each milestone and of course at the end of the long-term goal, you should set up a reward for yourself so it's something that you can look forward to. What's more important than the size of the reward is that it's not food-related. Letting yourself eat an entire chocolate cake because you lost a pound kind of defeats the purpose of having lost the pound.
Other Details
- 5 Articles (DOC)
- 1 Ebook (PDF), 53 Pages
- 1 Salespage (HTML)
- 10 Ecovers (JPG, PNG)
- 14 Promotional Ad Materials (Banners)
- Report Lead Capture, Keyword Report
- Year Released/Circulated: 2018
- File Size: 6,678 KB
License Details:
[YES] Can be sold
[YES] Can be used for personal use
[YES] Can be packaged with other products
[YES] Can modify/change the sales letter
[YES] Can be added into paid membership websites
[YES] Can put your name on the sales letter
[YES] Can be offered as a bonus
[YES] Can be used to build a list
[YES] Can print/publish offline
[YES] Can convey and sell Personal Use Rights
[YES] Can convey and sell Resale Rights
[YES] Can convey and sell Master Resale Rights
[NO] Can modify/change the main product
[NO] Can modify/change the graphics and ecover
[NO] Can be given away for free
[NO] Can be added to free membership websites
[NO] Can convey and sell Private Label Rights