Salespage Snapshot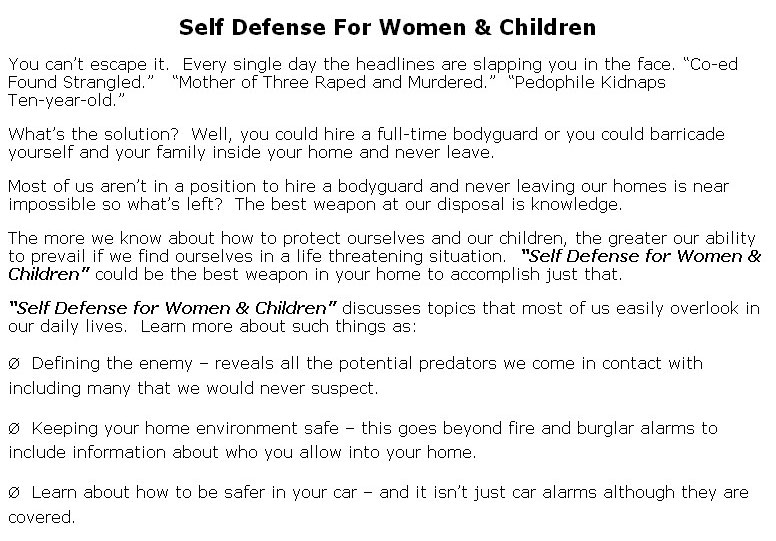 >> Click Here To View Sales Page...
Ebook Table Of Contents
Define the Enemy
All About Security at Home
How to Secure Your Car
Staying Safe in Public Places
Staying Safe in the Work Place?
How to Be Safe When Traveling
What to Do If Attacked
Do You Need a Weapon?
Your Child and Stranger Danger
Child-Proofing the Environment
Financial Safety and Security
Online Predators and Your Child
Identity Theft
Your Child and Daycare
Safety Plus
Sample Content Preview
Define the Enemy
Know Who Your Enemies Are
Ideally, we should be able to go through life without making any enemies. No sane person really likes the thought of being in conflict with other people, especially not ones who may be significant threats to life and personal security. Realistically, however, no one goes through life without making a few enemies.
Aside from making enemies who will hold grudges against you personally, there are also random human predators who see their own species as prey and nothing more. To people like these, you and your loved ones are simply another set of victims. Knowing how to clearly define and identify your enemies is the first step to protecting yourself and your loved ones from the people who would do you harm.
Here are some of the major categories of people who can be clearly defined as your enemies.
Other Details* Sales Page:
Included, HTML, MS Word Doc
* File Format:
MS Word Doc, PDF
* Number of Pages:
59
* Included Graphics:
Ecovers, PSD
* Download File Size:
900 KB