Salespage Snapshot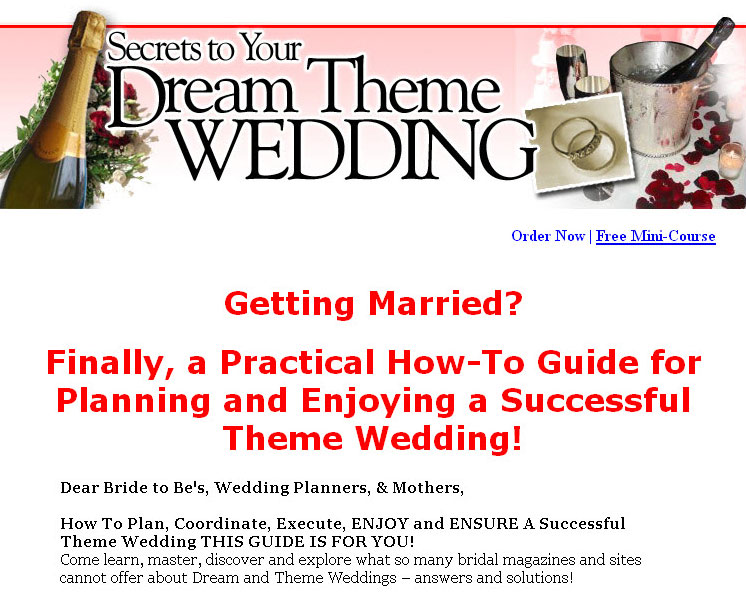 >> Click Here To View Sales Page...
Ebook Table Of Contents
A Word to Get us Started RIGHT – ON TOPIC – Dream and Theme Weddings: An Introduction           3
Affordable Weddings Ideas, Dreams and Themes Come to Life – ON BUDGET         5
SAMPLE THEME WEDDINGS            14
About Wedding Destinations and Locations                    16
Tips, Recommendations, Practical Advice for Themed Weddings     19
The Financial Aspects of a Themed Wedding:
Budgets, Fees and Costs                                 22
Shoe-string, Low-cost, Budget-Conscious, Money-Wise, Money-Saving Wedding Theme & Reception Ideas and Suggestions                35
Wedding Planners and Coordinators, Parties and Themed Wedding Details             39
Wedding To do's, Checklists, Planning Software, Other Theme Wedding Tools and Utilities for Brides, Planners and Families          42
Wedding Showers, Pre- and Post-Theme wedding Parties            49
Common Theme Wedding Mistakes and Pitfalls – DO and Do NOT's for Theme weddings    50
Seasonal, Spring and Informal Backyard Weddings         53
Final words spoken            56
Resources and Online Links         61
Ebook Sample Content Preview
An Introduction
A Word to Get us Started RIGHT – ON TOPIC – Dream Theme Weddings:
If you are looking for something special for this biggest day of your life, that is a little MORE than the rituals, rights, traditions and run-of-the mill wedding, special theme, exotic theme, location or destination wedding, multi-cultural, contemporary, modern, alternative and not the typical cookie-cutter wedding, then this guide is for you. You too can have your dream wedding in no time. Arrangements , coordination and planning for a theme wedding can be rewarding but also jam-packed with to do's and even mistakes and pitfalls to avoid.
The wonderful power of a theme is it unifying nature. All of a sudden all loose lists of things to do, buy, choose, synergize, come together and have a common goal/purpose, backdrop and atmosphere to it.
For those brides, moms, planners, family and helpers who do not want a typical, normal or more traditional wedding, there is always the alternative of a theme wedding like Hawaii, Beach, winter, seasonal, holiday weddings. You can step out of the mold of what a wedding is, should and ought to be and get exactly what you want and even more than you and or your guess expect or have experienced before at the ceremony and reception. It can be more than just that, it can be loads of fun for everyone involved as well, inviting them to celebrate and partake of something very special.
In this guide you will discover all the intricacies, challenges, promise, potential and opportunities, to do, checklists and more to make a theme wedding go without a hitch. Theme wedding packages and specials, personalized and customized to your style, budget and preference, personal choice is now within your very own reach. You can do it yourself, or you can get a third party, planner involved to give things that professional flair.  There are numerous theme weddings to fit all shapes, budgets and sizes. All-inclusive, resort, exotic island, cruise or extreme wedding packages are at your fingertips, right around the globe. If you want to bring the globe back to your home-town, hall, hotel or backyard, there are options there to create just the right ambience and a theme wedding is the perfect way to orchestrate and 'stage' the whole event, including the days leading up to, arrival of guests, pre-event parties, rehearsals, dinners, ceremony, reception and after-parties. Some theme wedding packages, can even include the flight reservations to hotel rooms for the honeymoon, themed, coordinated outfits for the entire wedding party,  smaller package, which includes the chapel service, flowers, and a cake can also be purchased for the budget-conscious or you can DIY all the way as well with great success, if you have the right tools and resources at your disposal. Planning and creativity is all that is required to make this dream wedding a reality.
Tours of the locations and checking out some of the packages they have on offer are all available – take someone with you for that extra set of eyes to note things you might miss, ask questions or check details that you might have forgotten. Lots of time upfront, spent on selecting the actual theme can save you lots of headaches down the road. Time, money will not now be wasted further, they will be optimized to give you MORE time to enjoy the process and not get to entangled in the mechanics and small-details of the process, planning, purchase, reservations and more.
Other Details* Sales Page:
Included, HTML, MS Word Doc
* File Format:
MS Word Doc, PDF, RTF
* Number of Pages:
64
* Included Graphics:
Ecovers, PSD
* Extras:
5 Part Autoresponder Email Message Series
* Download File Size:
13,623 KB