Salespage Snapshot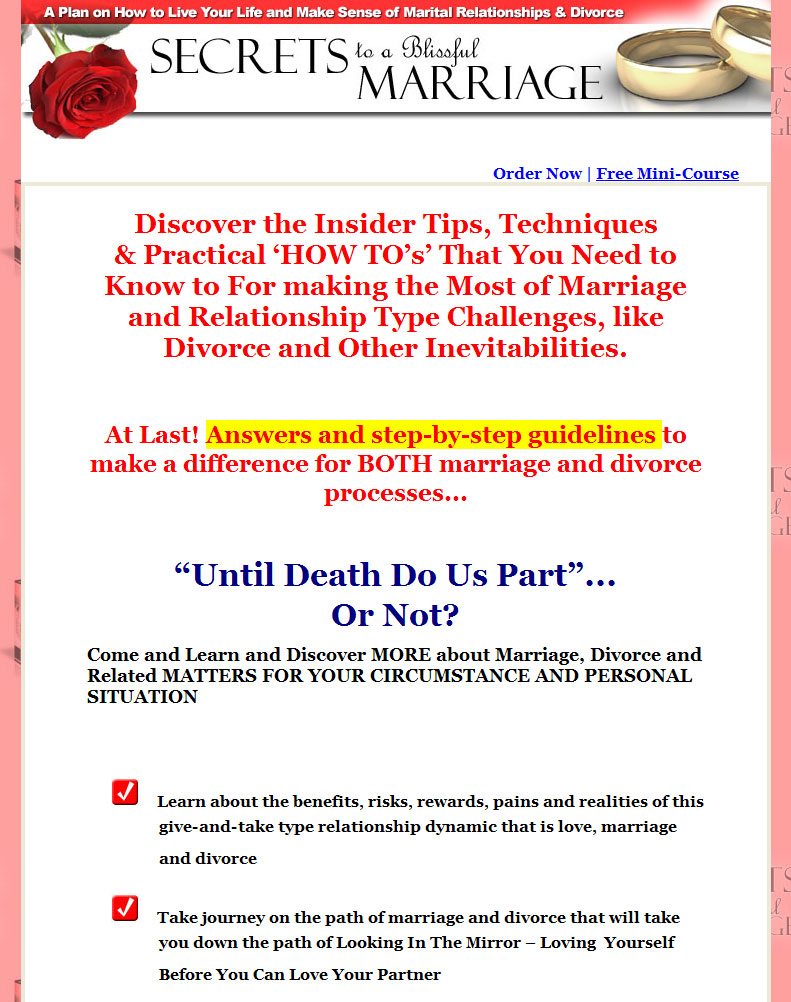 >> Click Here To View Sales Page...
PLR Ebook Table Of Contents
-> Introduction                                3
-> Looking In The Mirror: Loving  Myself Before I Can Love My Partner                7
-> For Better Or For Worse                        12
-> Interaction, Dialogue And Communication            21
-> Communication And Dialoguing Skills: Moving Forward Towards Results                     26
-> Conflict And Anger                            27
-> Forgive And Befriend!                            33
-> Sex                                        38
-> Gender Differences And Expectations                47
-> Reality Check                                54
-> Divorce – Hell Or Bliss                            54
-> Dollar Talk                                    59
-> Emotional Impact                            61
-> Kids In The Crossfire                            62
-> Conclusion                                    67
-> References                                         76-77
Ebook Sample Content Preview
Introduction
Are you there… where shattered dreams of your knight in shining armor brought him tumbling off his horse … where notions of  "happily living ever after" disintegrated into an after taste of a lovely fresh breeze turned stale, where growing resentment has overtaken your  intense longing for true fulfillment in your most precious relationship on this earth.   Did this gnawing sense of depravity and failure leave you staggering under loads of mixed emotions, milling around in endless circles, clutching desperately at feeble straws of "if only's" for your last shot at the elusive pot of gold at the end of the "simply wanting to be happy" rainbow in marriage? Is fulfillment too much to ask in life, or is it just reserved for some fortunate souls?
Are you slowly drifting, drawn increasingly stronger downstream towards the inevitable that you are dreading deep inside? Are you exhausted, worn out emotionally to the point of giving up your labored struggles and just wanting to let go – over that cliff to where it wouldn't keep hurting so much anymore… Where the tangible, searing sense of being "lost" will not be so vivid but mercifully be swallowed up in the violent thunderous waterfall that will maul you under and abruptly end the misery.
Have you been there … where some slight provocation sends you erupting like a volcano, spewing embers all over those you are supposed to dearly love and tenderly nurture … followed by the guilt, like molten lava slowly cremating your bare soul … Have you been …  where the undiluted pain, deep down inside, has you winding wearily along the barrenness of your desert road … where unnamed shadows and indulgences beacon tantalizingly towards escape for a blissful while,  but then may suck you down even further…
Other Details* Sales Page:
Included, HTML, MS Word Doc
* File Format:
MS Word Doc, PDF
* Number of Pages:
77
* Included Graphics:
Ecovers, PSD
* Extras:
5 Part Autoresponder Email MEssage Series
* Download File Size:
7,930 KB