Salespage Snapshot: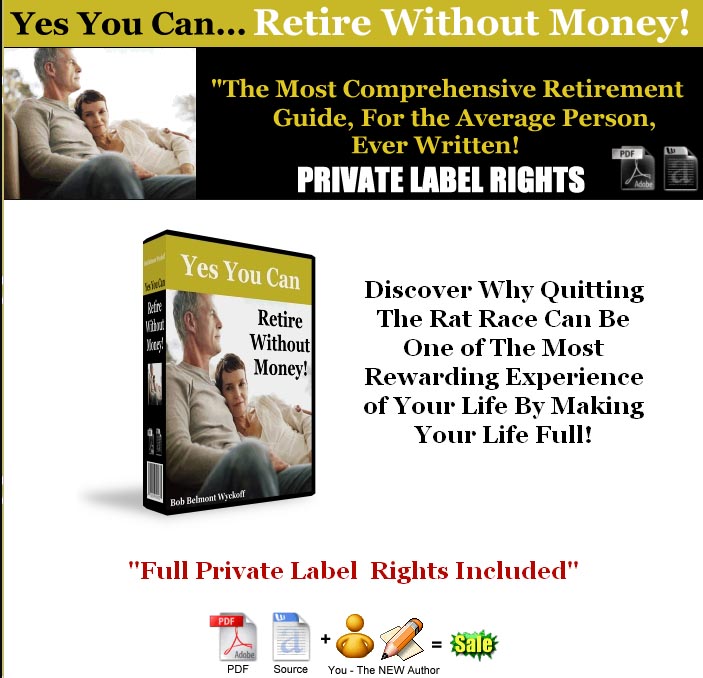 >>> Click Here To View Full Sales Page…
Table Of Contents
1- Why You Should Consider Retirement …………….. 15
2- Where to Retire …………… 25
3 -When to Retire ………… 35
4 -Retiring on a Small Income …………. 45
5 -America's Bargain Paradises ……….. 51
6 -America's Art Colonies ……………….. 63
7 -In Your Own Home Town ……………. 75
8- Mexico ………………. 93
9 -Spain ……………………… 115
10- France …………. 141
11 -Italy …………… 161
12 -Austria ……………………. 177
13- Great Britain ……………. 195
14 -Greece ………… 209
15- Morocco ……………. 225
16 -Japan …….. 245
17 -Here, There and the Other Place ……….. 177
18 -How to Get Started—NOW ……. 255
19 -Principles of Wealth Acquisition ………. 280
20- How to Get Retirement Ideas—and Spot Ideal Situations 288
21- Odds & Ends …. 298
22 -Last Word ………… 309
Sample Content Preview
INTRODUCTION
WHEN I first considered writing this book I chose as a title "How to Retire at Age 21" but on consideration realized that this might drive away anyone above this age when actually the book is meant to be of value to a reader of fifty as well as one just reaching his majority.
Had I used my first title I am sure there would have been some who would have gone no further than the title itself. "Retire at the age of 21?" they would have said. "Nonsense! The average American is lucky to retire at 65—if ever." But while I could agree with them that the average American is lucky if he ever retires at all, I still contend, in fact, I insist, that it is quite possible to retire at just about any age given no more than the usual basic education and an average American intelligence.
Why am I so sure of this? Partly because I have met hundreds, possibly thousands, of Americans who have done so both in our own country and abroad. But mostly because I myself called it quits with the rat-race when in my early twenties and have led the good life ever since.
Possibly the word retirement means different things to different individuals. If you mean by retirement a life of complete withdrawal from the world and no activity beyond a 24 hour day loafing, then you need read no further because I can't help you. The only manner in which to achieve this, so far as I know, is to inherit a sizable fortune and I doubt that the average reader of this book has done so. I might mention that such persons, who have retired in this manner, are seldom happy. I have met them all over the world, and they are seldom happy. Retirement, to me, means escape from the rut in which most find themselves today not only in our own country but in the civilized world as a whole. It means a comfortable life and one in
Other Details
- 1 Ebook (PDF), 309 Pages
- 1 Salespage (HTML)
- Source
- Year Released/Circulated: 2013
- File Size: 2,541 KB
License Details:
[YES] Include Professional Sales Letter.
[YES] Can edit the sales letter and graphics.
[YES] Can sell Master Resale Rights.
[YES] Includes Professional Graphics.
[YES] Can Put Your Name As The Author.
[YES] Can Be Edited.
[YES] Can Be Used As Web or e-zine content
[YES] Can be added into a paid membership sites.
[YES] Can Be Broken Down Into Articles.
[YES] Can Sell Private Label Rights.
[NO] Can be offered as a bonus.
[NO] Can be given away for free.
[NO] Can be offered through on any auction sites.
[NO] Can be added to a free membership.