Salespage Snapshot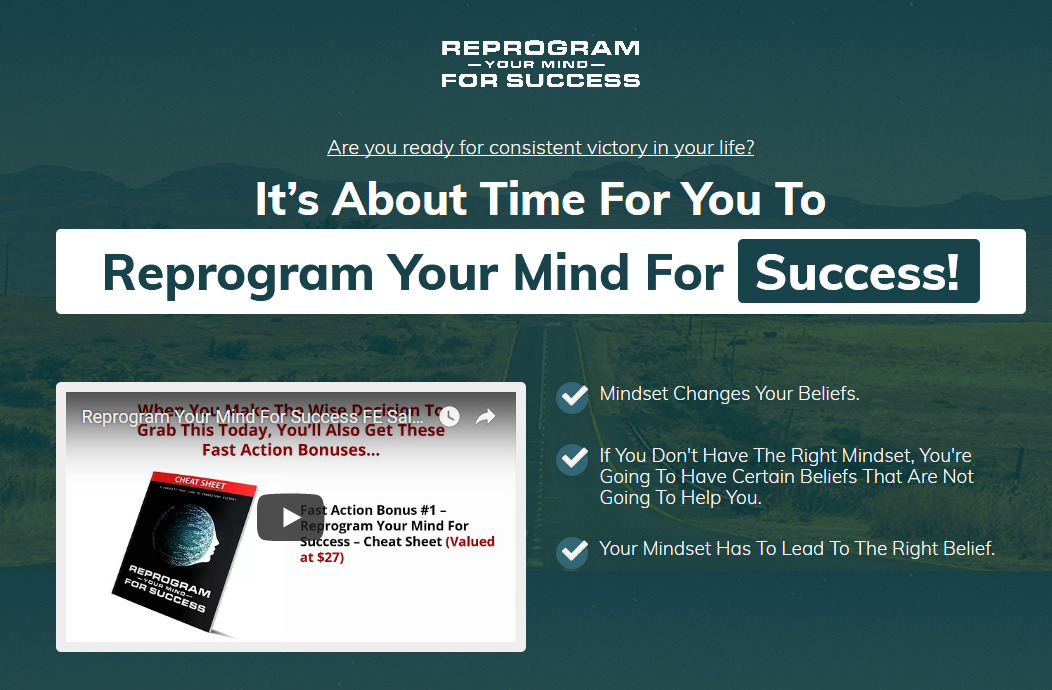 >> Click Here To View Sales Page...
Table of Contents
Introduction 04
Chapter 1: Do a Mental Detox Before You Seek to Adopt a Success Mindset 08
Chapter 2: Assume That You Can Change 22
Chapter 3: Failure is Not to Be Feared, But Prepared For 26
Chapter 4: Goals Reveal Your Objectives and Empower You to Achieve Them 32
Chapter 5: Actively Take Control 39
Chapter 6: Decide After Enough Deliberation and Stick to It 44
Chapter 7: Believe that You Don't Know Everything About Your Goals and Must Learn More 49
Chapter 8: Believe and Act Like There is Always a Way Through Any Problem 52
Chapter 9: Successful People Relish Calculated Risks 56
Chapter 10: Best Practices When Adopting a Success Mindset 59
Conclusion 63
Sample Content Preview
Because you've already made mistakes, you've already screwed up, either way, both versions lead you to the same place: you don't even bother making a change. You discourage yourself from even trying. In your mind, it's a foregone conclusion before you even start.
Well, the good news is that the past does not define you. You may have failed an infinite number of times before, but that does not prevent you from getting it right this time.
The only way you will fail is when you read your long record of failures as something so discouraging and so debilitating that you don't even try. That's how you fail. You fail when you quit.
Mental Roadblock #4: I Can't Be Helped
This mindset assumes that you have to figure things out on your own. You get this idea in your head that for you to achieve success, things have to be revealed to you. You have to dig deep within. You're the only one that can fix things in your life. Well, at least this is what you believe. You feel that for whatever reason, the only person you can truly rely on is yourself.
Thankfully, this isn't true. Thankfully, a lot of the challenges that you are facing, believe it or not, have been faced by other people. Maybe they handled these at a different time, at a different place, under different circumstances. Regardless, these people can help you if you asked. They can help you personally on a one to one or some sort of mentorship arrangement. On the other hand, they can also help you through books they may have written or video courses they recorded. You can even be helped by simply reading blog posts or articles they have written.
No matter how you get the help, get it!
Your situation is not unique, nor is it special. Whatever challenge you're facing, others have faced it before and overcame it. You just need to find their experience. Either you reach out to them or you read stuff that they wrote.
A variation of this toxic mindset is the assumption that others won't help. Maybe they don't want their secret sauce coming out. Maybe they don't want new competitors. Well, those are just excuses you're giving yourself.
You really won't know for sure until you ask. And just because one person is stingy with information, it doesn't give you an excuse to stop. You can ask another person, and then another, and then another. Surely, not everybody will turn you down.
Mental Roadblock #5: I Don't Deserve Success
This is a very common toxic mindset. People, of course, would not admit to it, but deep down inside, they're thinking it.
Maybe they have failed a lot in the past. In fact, they think that they've screwed up so badly that they really do not deserve a break. They really do not deserve success. They end up defining themselves through the prism of their frustrations. They personalized their failures and setbacks in the rawest emotional terms.
For people with this mindset, failure is not just something that happens when people strive for greatness or goals, instead failure is some sort of cosmic punishment. It comes at the end of some sort of moral judgment and it burns deep. It cuts to the bones and cannot be escaped. Permanent. Final. Relentless in condemnation. Talk about stifling. Talk about paralyzing.
Others come from traumatic backgrounds. Their self-esteem is so low that they feel that they are not worth changing. They feel that others' needs come before theirs. They look at themselves as some sort of emotional doormat.
Please understand that the only person who can decide whether you deserve success or not is you. You call the shots. Nobody can judge you and say, "You don't deserve success. Somebody else does."
You have to claim that success and say that you deserve it because ultimately, this is self-judgment. You've been declaring yourself guilty all this time. Isn't it time to decide otherwise? You know how harsh it feels. You know the kind of lousy results you get when you do this. Why not change things up? Start today.
Mental Roadblock #6: I'm Perfect the Way I Am
Just as toxic is the mindset that you're perfect. You're the smartest person in the room, you're definitely the best looking, the whole nine yards.
While it's great to have a positive self-image and a healthy self-esteem, you should not let this trick you into thinking that you don't need help or that you don't need to make changes.
Make no mistake, on the road to success, you need to change. You're obviously not as successful as you would like now. You're not as capable as you think. It's hard to believe but it turns out that you haven't quite figured everything out like you believe.
Other Details
- 20 Articles (TXT, DOC)
- 1 Ebook (PDF), 64 Pages
- 5 Graphics (PNG)
- 1 Salespage (HTML)
- 11 Ecovers (JPG)
- Promotional Ad Material (Emails, Banners)
- Resource Report, Cheat Sheet, Mindmap, Social Media Images, Legal Page, Sales Video
- Year Released/Circulated: 2018
- File Size: 113,106 KB
License Details:
[YES] Can be sold
[YES] Can be used for personal use
[YES] Can be packaged with other products
[YES] Can modify/change the sales letter
[YES] Can be added into paid membership websites
[YES] Can put your name on the sales letter
[YES] Can be offered as a bonus
[YES] Can be used to build a list
[YES] Can print/publish offline
[YES] Can convey and sell Personal Use Rights
[YES] Can convey and sell Resale Rights
[YES] Can convey and sell Master Resale Rights
[NO] Can modify/change the main product
[NO] Can modify/change the graphics and ecover
[NO] Can be given away for free
[NO] Can be added to free membership websites
[NO] Can convey and sell Private Label Rights