Salespage Snapshot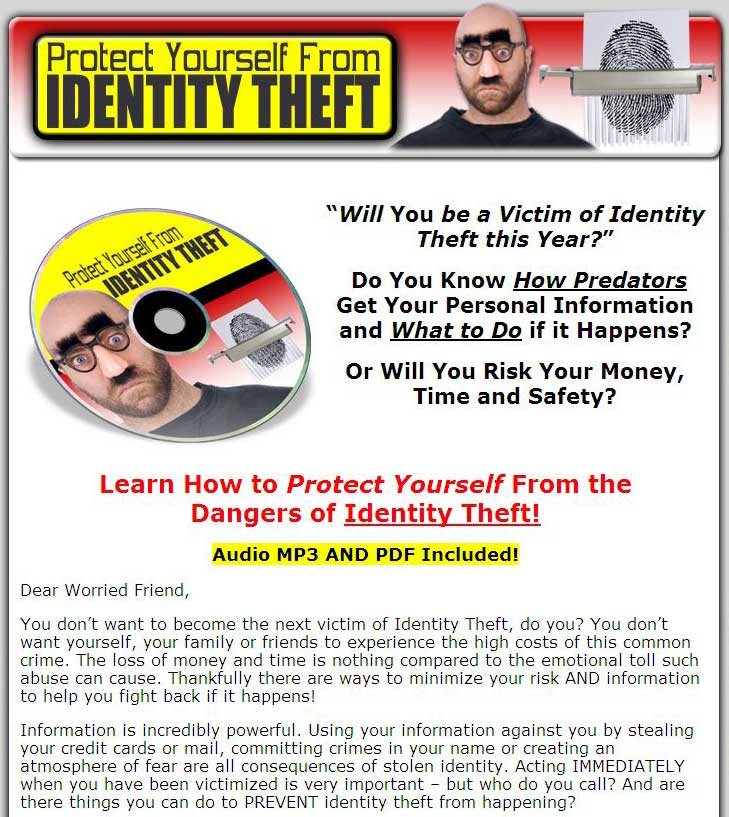 >> Click Here To View Sales Page...
PLR Ebook With Audio Table Of Contents
Who Would Steal Your Identity? 4
How to Check if Your Identity Has Been Stolen 6
How to Prevent 'Dumpster Divers' from Getting Your Information 8
How to Protect Your Identity in Public Places 10
Steps to Protect Your Identity Online 12
Questions to Ask Before Giving Information Over the Phone 15
Who Should Have Access to Your SSN? 17
How to Access and Understand Your Credit Report 19
Who You Should Call When Your Identity has been Stolen. 21
Can the Police Help Fight Identity Theft? 23
How to Talk to the Bank When You've been Victimized 25
How to Open New Accounts After Your Identity has Been Stolen 27
How to Put an Alert on your Credit and Prevent Further Victimization 29
Why You Need to Take IMMEDIATE Action to Recover Your Identity 31
Organizations that Help You Fight Identity Theft 33
PLR Ebook With Audio Sample Content Preview
Who Would Steal Your Identity?
You're just an average person, with small savings and a regular wage. You couldn't be a target of identity theft could you? Who would want to steal your identity?
The fact is millions of people each year are falling victim to the crime of identity theft. Average people all over the world are targets. Identities are bought and sold worldwide, where criminals use fraudulent information to steal money or commit other crimes using these stolen identities (e.g.: terrorism, violent crimes). Everyone is at risk. Billions of dollars will be lost to these thieves.
Identity theft is when someone gives another person's details as their own. These details might be your driver's license, Social Security number, date of birth or credit card information. The identity thief may have fraudulent documents showing your identity to be theirs, for example your birth certificate, a counterfeit license or ID card. They will then use the information gained illegally to assume this person's identity and do one of two things – spend as much money as possible before being caught or commit a crime using that identity (armed robbery, drug trafficking, money laundering – you name it, it's been done). The most common forms of identity theft are:
1. Using a credit card illegally, opening cell phone or utility accounts fraudulently. This is known as Account Takeover. You tend to find out about this type of theft when you receive your monthly statements (if you check them). There will be a number of purchases on there you don't remember making.
2. Opening new bank accounts in someone else's name or passing bad checks or getting loans in another person's name is known as Application Fraud. You may not find out about this crime for quite a while, because the monthly account statements are mailed to an address used by the thief.
Other Details* Sales Page:
Included, HTML
* File Format:
MS Word Doc, PDF, Mp3
* Number of Pages:
34
* Included Graphics:
Ecovers, PSD
* PLR Articles:
Doc, Mp3
* Number Of PLR Articles:
25
* Download File Size:
127,519 KB