Salespage Snapshot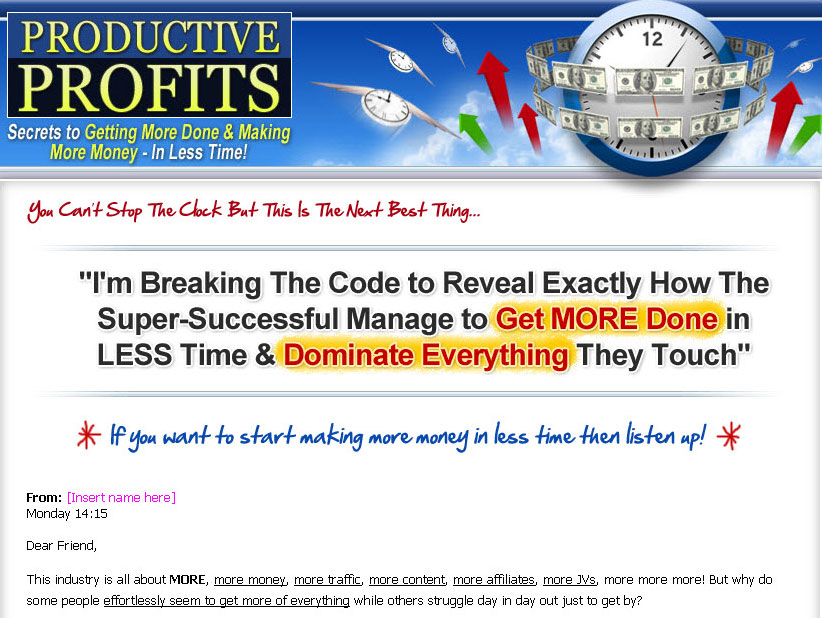 >> Click Here To View Sales Page...
Ebook Table Of Contents
1.  Introduction
2.  Are You Full Time Yet?
3.  Motivation & Energy Levels
4.  The Power of Routine
5.  Planning, Goals & Lists
6.  Focus, Batching & Being Busy
7.  Procrastination
8.  Using Pareto Power
9.  Burning Out
10.  Cutting Your Hours Down While Increasing Your Profits
11.  Final Thoughts
PLR Ebook Sample Content Preview
Introduction
Ok first of all congratulations on your purchase!
Managing your time and being more productive is not a 'sexy' topic, I can't put a big spin on it about how you'll make tens of thousands of dollars from it, I can't put much 'hype' into it, yet it is a silent success system, the people who can produce the most work and make the most of their time can make MORE money in LESS time.
Spending all night sitting in front of the computer and actually only writing one article is depressing, it wastes valuable time, time you will NEVER be able to claw back – meanwhile the progress you make is equally as depressing.
You see all this effort you are putting in and the results just don't match up.
I've been there and I don't want to go back there ever again!
Instead think about making every minute be productive, sitting down and effortlessly getting through the tasks that will take you closer to your goals, that will push your business forward and make you money, imagine the satisfaction you get from seeing your dreams become a reality.
That is what I hope to help you achieve here, this is all the time management tips I use on a daily basis to help me churn out websites, reports, videos, whatever I need, no longer am I a slave to my computer, I make it work for me!
"Nothing is so fatiguing as the eternal hanging on of an uncompleted task."
William James
As you learn to manage your time and tasks better then you will start to move forward at a pace that will surprise you, now let's get stuck in and stop wasting time with an introduction.
Other Details* Sales Page:
Included, HTML
* File Format:
MS Word Doc, PDF
* Number of Pages:
28
* Included Graphics:
Ecovers, PSD
* Extras:
Book Preview
* File Format:
MS Word Doc, PDF
* Number of Pages:
5
* Extras:
Miscellaneous Files [My Motivation.doc, My Project Planner.doc, My Success Planner.doc, Worksheets.xls]
* Extras:
5 Part Autoresponder Email Message Series
* Extras:
Banners, PSD
* Extras:
Blank Header & Footer
* Extras:
Squeeze Page
* Download File Size:
15,930 KB