Salespage Snapshot: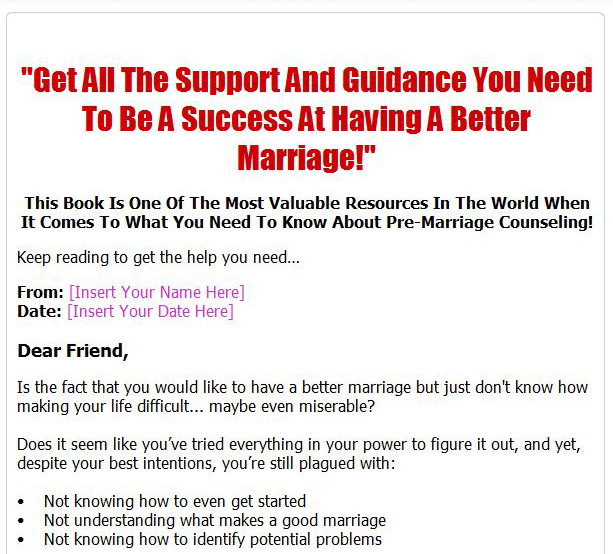 >>> Click Here To View Full Sales Page…
Table of Contents
Foreword
Chapter 1:
Counseling basics
Chapter 2:
Discussing finances
Chapter 3:
Discussing children
Chapter 4:
Discussing religion
Chapter 5:
Coming up with ground rules
Chapter 6:
Discussing expectations
Wrapping Up
Sample Content Preview
Chapter 2: Discussing finances
Synopsis
Finances are usually a very delicate subject to approach and discuss especially if the couple are still in the early stages of the relationship. This is still difficult even when both parties are contemplating a more stable commitment with each other. A lot of questions should be asked and ideally alot good and intelligent answers should be given, as this will eventually give both parties a clear idea of how each individual handles money issues.
Money
There are several different issues that should be discussed and the pre marital counseling session usually conducts such discussions to ensure both parties face the realities of financial elements within the eventual partnership. Some of the issues based on finances should include how each party sees and prioritizes financial choices made.
These could include payments towards accumulated debts, payments towards retirement plans, payments toward establishing an emergency fund and any other such payments which very few people consider and certainly even less actually start.
These are all very important financial commitments that would require the cooperation of both parties in order to ensure harmony within the relationship.
Other more simpler issues that should also be discussed within the pre marital counseling sessions on finances would be the seemingly simple daily expenses, weekly expenses and monthly expenses both parties are currently committed to or have grown accustomed to spending on.
These expenses may seem acceptable and even necessary to each individual but would most certainly not be shared by the other party. This could eventually be an area of contention if these feelings and perceptions are not discussed and understood by both individuals.
Coming up with a suitable budget together is also something that will be taught during these counseling sessions and it could prove to be very useful indeed as the advice given is usually from tried and true methods already successfully in use..
Chapter 3: Discussing children
Synopsis
Most people tend to go into a relationship with preconceived notions on how things should be. This can have its own advantages and disadvantageous, especially if both parties have very different views on certain subjects and are unable to comprise satisfactorily.
This is where pre marriage counseling can come in very handy as the couples explore various topics and find some level of acceptance and compromise.
The topic of children is usually an area that presents a lot of challenge and it not tackled well, it will eventually lead to serious problems within the future relationship. This is what the counseling session would ideally like to avoid, thus making it possible to give the couple a better insight to the upbringing and handling of children.
Children
Relationships already have to put up with a lot of other challenges in order to make it work, and having children added to the equation does not make things any easier. In fact it could even be the actual cause of many marriages eventually breaking up.
Therefore it would be wise to explore this particular platform when attending pre marriage counseling sessions. One counseling session would start this particular discussion by encouraging both parties to talk about their childhood and how they were raised.
This would give everyone a better picture of how the individual views children and the general upbringing process. This is a good starting point as the counselor will be able to guide the couple through the various encounters they would most likely have to face as a couple when children are part of the equation.
This is also important when the couple in question have very different views on how things should be done and how the issue of child upbringing should be tacked. Therefore in order to limit any possibility of problems these counseling sessions would be a good place to start the understanding process of children.
Chapter 4: Discussing religion
Synopsis
Taking as much care as possible to avoid as many pitfalls will help the marriage get off to a good start and stay that way for much of the time. Pre marital counseling is one way to getting off to a good start because at this juncture the couple will learn about almost every different aspect of how to work at a marriage and what they can expect to encounter.
Religion
One of the more topics explored would be the one on religion. This of course for most seems to be rather a simple matter and if both parties are not really practicing any particular religion they may not see any real importance in this particular area within the marriage. However for the pre marriage counselor, this is a very important area that should be thoroughly understood for the benefit of both parties and for the eventual well being of the marriage and future children the couple would intend to have.
The aim here is to create some level of clear understanding and respect for all the various religious elements so that both parties will be better able to avoid any future conflicts that may arise successfully and without damaging the relationship in any significant way.
This is especially important for those intending to be part of, or are already in an interfaith relationship. This particular type of relationship has the potential of presenting even more problem than any other normal relationship, thus needing even more pre marital counseling care and guidance. In the initial stages both parties will not be able to understand the possible impacts of being in an interfaith relationship, but as time goes by it may become more difficult to cohabitate peacefully and happily while still wanting to practice one's own religious beliefs, thus the need to explore and discuss matters pertaining to religion openly..
Other Details
- 1 Article (DOC)
- 1 Ebook (DOCX, PDF), 20 Pages
- 1 Lead Magnet Report (DOC, PDF), 11 Pages
- 1 Autoresponder Email Messages (TXT)
- 1 Salespage (HTML)
- Ecover (JPG)
- File Size: 22,233 KB