Salespage Snapshot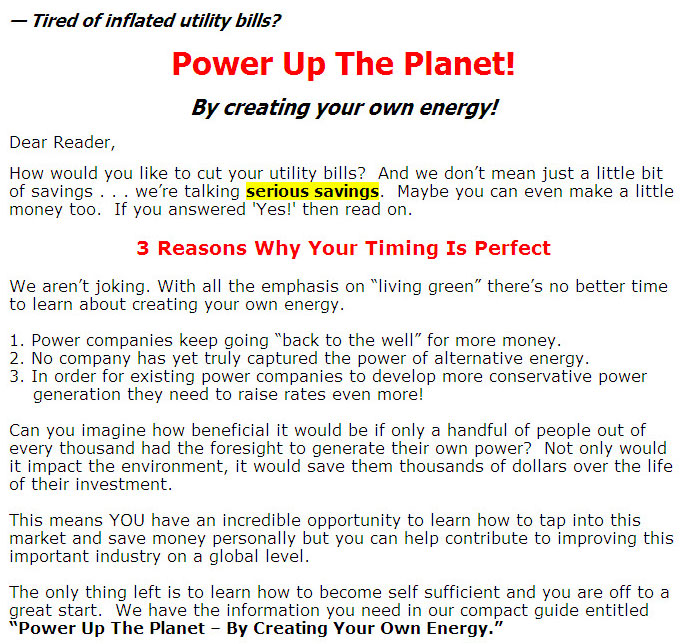 >> Click Here To View Sales Page...
Ebook Table Of Contents
Why Have Home Made Energy
How to Build a Home Made Motor
How to Build a Home Made Turbine
How to Build a Home Made Generator
How to Create Home Made Electricity
How to Create Home Made Heat
How to Build a Portable Wind Generator
How to Build a Home Made Solar Cell
Home Made Hydrogen
Home Made Windmill Energy
Natural Alternative Energy
Green Energy for Your Home
Home Made Energy Resources
Beware of Home Made Energy Scams
PLR Ebook Sample Content Preview
Why Have Home Made Energy
Energy Production
We all know that Energy can neither be created nor destroyed. It mainly comes from the Sun and only changes into different forms as Energy is passed on to different living and non-living things. This type of energy that comes from the Sun is called Solar Energy.
Energy is generated, as well, from Fossil Fuels like coal, natural gas, and oil. These are used to operate factories, farm, infrastructure, transportation, and other industrial plants. This is apart from the many types of energy like geothermal, biomass, etc.
Energy may also travel in the form of electromagnetic waves like that which is used in televisions, radios, ovens, hospital equipment, and other electronic devices.
Energy Production in Humans
Most people may not be aware that the slightest movement of the body is sourced from a certain type of energy (e.g. like when you lift a finger) because energy is most often associated with doing massive work like running heavy machinery or equipment.
The body also needs sustainable energy to keep it moving and to be able to execute tasks that require effort. Simply put, we use energy to do work. This energy is taken in by the body through the consumption of food. The cycle begins with the photosynthesis of plants, which are consumed by primary consumers. The energy is eventually passed onto the secondary and tertiary consumers. Without this energy, nothing can be produced.
Other Details* Sales Page:
Included, HTML, MS Word Doc
* File Format:
MS Word Doc, PDF
* Number of Pages:
42
* Included Graphics:
Ecovers, PSD
* Download File Size:
1,779 KB