Salespage Snapshot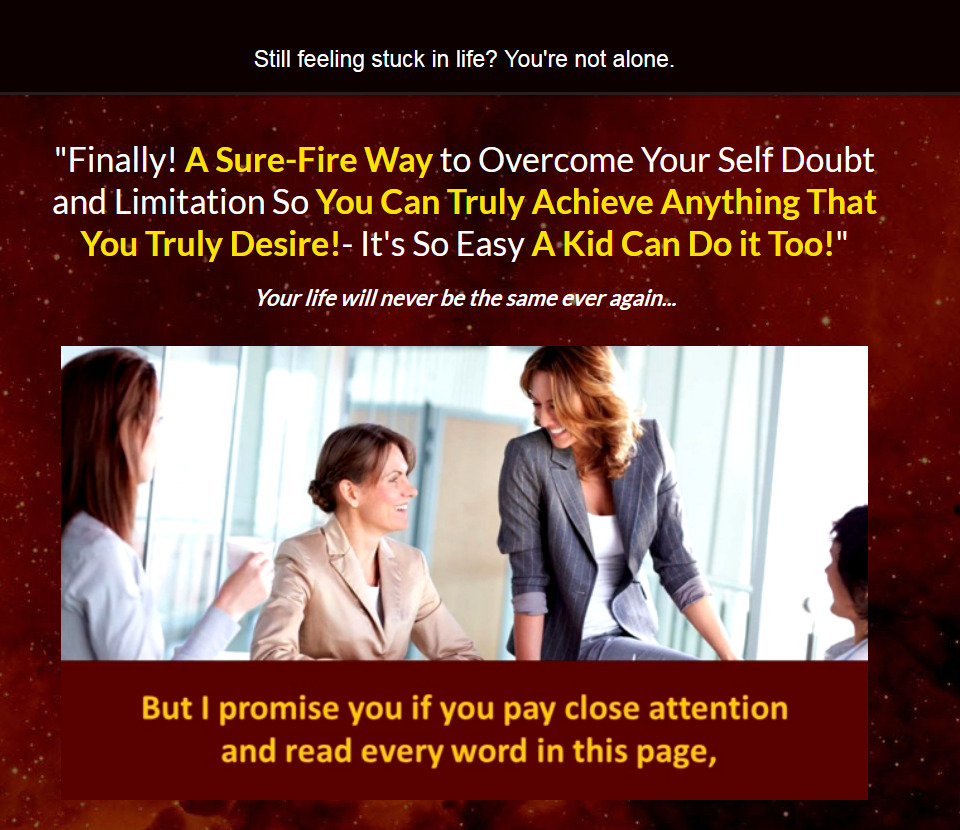 >> Click Here To View Sales Page...
Table of Contents
The Journey Of Self-Discovery 1
Chapter 1: The Path Of Self Discovery…. 2
Chapter 2: Who Are You? 19
Chapter 3: The Little Voices In Your Head . 23
Chapter 4: The Conflict Between Good And Bad. 32
Chapter 5: Self-Love: The Start Of It All 39
Chapter 6: Self-Renewal: The Pillar Of Strength .. 50
Chapter 7: Your Life Teacher . 61
Chapter 8: The Law Of Attraction … 71
Chapter 9: Learn To Manifest Your Dreams … 76
Chapter 10: Embrace The Changes Of Life 83
Here's To A Powerful Manifestation …. 90
Sample Content Preview
This is not something entirely new.
We know that humanity has always considered these dimensions. We have been informed through Roman and Greek mythology, Roman astrology and ancient religion how spirituality has played an important role in human development.
We perhaps can relate best with moments like witnessing a sunrise or an amazing act of nature that leaves us in a state of awe and wonder, admitting there are things in our life that are beyond our ability to explain and control. We may consciously or unconsciously acknowledge the desire to discover this power and it is what we can term "spirituality".
When we talk about spiritual well being, we inevitably think of God. Whoever or whatever we conceive "him" to be. Some consider him a supreme being and others consider him as "the man upstairs" a father figure. Some may reject the concept of any sort of being, and find their spirituality elements through earth, or in Mother Nature.
So how do we discover the spiritual side of our personalities?
There are various ways in discovering the spiritual side of our personalities. Some people seek spirituality by embracing formal religion; others discover it through yoga or some other form of meditation that enables them to focus on themselves. Others go on a journey of self-discovery and call this a religious experience.
Some have compared this spiritual awakening with a heightened sense of experiencing. As we consciously allow our inner selves to experience life at a deeper level as compared to what seems obvious around us, we begin to relate to things in a different way.
On the other hand, some of us subconsciously or consciously seek help and shelter from a higher being or some of us may refer to as "god" when we find ourselves in a dire position. For many people, this moment is also considered a spiritual awakening.
In order to embrace our spiritual side, we need to acknowledge it exists. As we embark on a journey of spiritual self-discovery, we often discover aspects of our personality and our character we have not come across before. Most of us find that it awakens our inner elements and fills a void in our lives.
Some people perceive having faith or spiritual awareness is like following something blindly without proof, as it is intangible. This is common in the early stages of spiritual awakening, where for many people it is an uncomfortable place to be in. But by the end of the day most of us come to accept there are many things in our lives we accept without proof.
When we discover the spiritual aspect of ourselves, we also discover our place in the universe. We often ask ourselves, "Why am I here" and "Where am I heading." Whatever we call our spiritual reality; these are two fundamental questions we ask ourselves. Spirituality helps us discover the answers to these questions. Spiritual self-discovery can be a journey that fills us with a sense of personal "completion" and contentment.
4. Self-Discovery – The Key to a Happier Life
"Success is not the key to happiness. Happiness is the key to success. If you love what you do, you will be successful."
– Albert Schweitzer
The term "Self-discovery" means identifying yourself and your needs. Self-discovery is very important. If you do not discover yourself, and know exactly what you want from life, you have no idea what you are living for.
A step to self-discovery is identifying your needs. Most people are clueless of what they want. To identify your needs, you first need to take a step back and think thoroughly.
Then, when you are in a relaxed state of mind, meditate and focus on your thoughts.
Ask yourself questions like what makes you happy, what makes you sad and so on. Along with the question of what, also ask why it makes you feel certain emotions. Seek a deep and strong reason behind it, not a common or general answer.
When you have identified what makes you happy and sad, you can focus on the things that make you happy and stay away from moments that make you sad.
After you have the answer to all of your questions, write them down on a piece of paper so it will be easier for you to view it whenever you need to.
5. We Are Responsible For Our Own Happiness
"Don't ever feel bad for making a decision that upsets other people. You are not responsible for their happiness. You are responsible for your happiness"
– Dr. Isaiah Hankel
We spend a lot of time looking outside of ourselves in search of happiness. We might feel the happiest when we are under the influence of alcohol or other substances. We might need our family or friends around us to feel happy or we might even think that losing weight or becoming fit is the way to achieve happiness.
Whilst these things may contribute to our happiness, our true happiness lies within us and as we find ourselves, accept ourselves and embrace ourselves only then can we find true happiness that is not dependent on external substances or factors.
This can be one of the most liberating thoughts of all self-discoveries.
Once we learn this fundamental lesson, we determine how we react when things are not going the way we plan. Until that moment, our happiness is mostly dependent on other factors rather than ourselves.
Many people perceive happiness as positive emotions. We associate happiness with feelings or emotions that can range from contentment to pure joy. A lot of us tend to put a lot of expectations on external factors to make us feel those positive emotions.
Until we can come to terms that we are our own source of happiness, it's likely our relationships will never live up to our expectations. They may add to our happiness, but they can never be the source of it. Henry Miller said, "I have no money, no resources and no hopes, but I am the happiest man alive."
How do we search for our own happiness?
Other Details
- 1 Ebook (PDF), 93 Pages
- 1 Salespage (HTML)
- 6 Ecovers (PNG)
- Promotional Ad Material (Emails)
- Special Report, Sales Video,
- Year Released/Circulated: 2017
- File Size: 22,969 KB
License Details:
[YES] Can sell and keep 100% of the sales.
[YES] Can edit the sales letter.
[YES] Can be bundled into another paid package and sell at a higher price.
[YES] Can be used as a bonus to another product you are selling.
[YES] Can be sold in a Dime sale event.
[YES] Can be added into a PAID membership.
[YES] Can pass on the Master Resell Rights privilege to your customers.
[NO] Can be given away for free.
[NO] Contents of the product can be edited, modified or altered.