Salespage Snapshot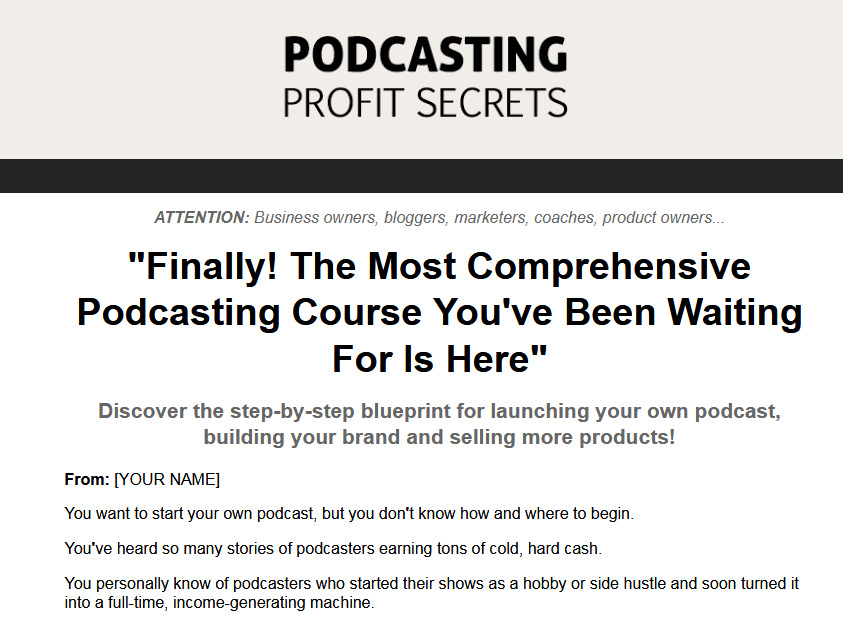 >> Click Here To View Sales Page...
Table of Contents
Introduction ……. 5
Chapter 1: How To Choose A Podcast Niche That Fits You ……. 7
People trust authority ….. 8
Picking the right niche ….. 9
Chapter 2: Branding Yourself For Success From The Start …… 13
What's your podcast's mission and vision? …… 13
Establish your podcast's voice and personality 14
Consistency matters …… 15
Build a community around your brand …. 15
Chapter 3: Get Your Podcasting Equipment In Order …. 17
The most essential podcasting tools …….. 18
Chapter 4: Plan Your Podcast Episodes With A Purpose 24
Commitment is key ……. 25
Organizing your content 26
Chapter 5: Record And Edit Your Podcast Audio Like A Pro …. 30
Recording done correctly ……. 30
Editing audio like a pro .. 33
Stitching your final audio file . 34
Chapter 6: Finding A Suitable Host For Your Podcast …. 35
Using a web hosting service … 35
Using a podcast or media hosting service 37
Chapter 7: Launch Your Podcast Like A Rocket Ship …… 40
Podcast directories …….. 40
Your personal network .. 41
Your blog ….. 42
Get an influencer to promote you .. 43
Interview experts . 43
Pay for ads … 44
Chapter 8: How To Plug Your Products And Services ….. 45
Be subtle …… 46
Always give value . 47
Give alternatives .. 48
Chapter 9: Growing Your Audience Like A Chia Pet ……. 50
Reviews and ratings matter … 51
Hold contests …….. 53
Promote, promote, promote . 53
Chapter 10: Getting Advertisers And Sponsors For Your Podcast …. 56
A solid following … 57
Listener engagement ….. 57
Your integrity …….. 58
Customer service .. 59
Conclusion ……. 60
Sample Content Preview
Chapter 2: Branding Yourself For Success From The Start
Branding is so much more than just choosing an awesome name for your podcast or designing the perfect podcast cover art. Branding is essentially how you want people to know your podcast. Build your brand just right, and you'll reap the benefits for a long time to come.
What's your podcast's mission and vision?
It's important to identify your podcast's mission and vision when you're just starting out. Knowing these will allow you to create the right kind of content. Before we go any further, let's define what mission and vision statements mean.
Your mission statement outlines your podcast's goals and how you intend to achieve those goals. Your vision statement, on the other hand, is what you want your podcast to become in the future. In short, your mission statement is all about the present while your vision statement is all about your podcast's future.
With that said, you need to make sure every episode you publish is aligned with your mission and vision. This is how you build your brand, this is what you want to be known for. Establish your podcast's voice and personality
You're unique and there's no one else like you. You don't want to sound like anybody else, but yourself. You're your own special brand. So, how do you do that? Well, you can start by acting as naturally as possible. When you're recording your episodes, speak like how you would in real life. No one's going to censor you, though, depending on your audience, you may wish to exclude some choice words from your vocabulary.
Unless, of course, you want your show to be known as the profanity-filled podcast on craft making or drop shipping or whatever your niche is!
You can also come up with a catchy tagline for your show. Think of a tagline that will represent your show well. Be unique. Be creative. Bring your voice and your personality to each of your episodes!
Consistency matters
Your branding activities shouldn't be limited to your podcast. In fact, your brand should be consistent across all platforms you use. Whether it be your blog, your YouTube channel, or your Facebook fan page, your branding should remain consistent.
You can use your podcast cover art as a banner on your website, or you can use it as your profile picture on social media. The point is that you don't want people to feel a certain disconnect when they find you on other platforms. You want people to recognize your brand wherever they go!
For example, you're promoting your podcast on your blog. But when people visit Apple Podcast or Spotify or TuneIn, they don't recognize your brand right away. When they go on social media, you use a different name which leaves people even more confused. For best results, be consistent in your branding activities, and you'll have people following you on multiple platforms!
Build a community around your brand
People love the feeling of belonging to a community. If you've ever listened to John Lee Dumas' podcast 'Entrepreneurs On Fire,' you'll notice that he addresses his listeners as 'Fire Nation.' That's branding in action right there!
You can follow the same strategy once you've built a nice following for your podcast. If you've already got an established brand elsewhere, then you can simply call your listeners what you already call them on your other channels (if you're not on other platforms, then you really should set up your profiles ASAP).
Building a community around your brand allows your listeners to feel like they 'belong.' You build a relationship with your audience, you make them feel special. Now, this is made possible when you do your homework up front, that is, you take the time to know who your listeners are. When you do this, you're able to provide the right solutions to the right people!
Chapter 3: Get Your Podcasting Equipment In Order
Your podcasting journey won't be complete without getting the right equipment in order. And when I say equipment, I mean the kind of equipment you need to spend some money on. If you thought you could get away with spending nothing to start up your podcast, then you have another think coming.
The truth is that while you don't need to spend a small fortune on podcasting equipment, you'll still need to spend some cash to get the ball rolling. When you're just starting out, you don't necessarily need the best tools that money can buy. In fact, many podcasters have managed to get by on less than a $100 for their new shows!
The most essential podcasting tools
Here are some of the most important tools that you need to acquire or purchase. You don't need to buy any of these brand new, you can go on Craigslist or eBay and get a huge discount on used podcasting equipment.
Don't get me wrong though, a thousand-dollar setup will sound much different than a hundred-dollar podcast setup. There's a reason why many podcasts sound good – that's because they use the right kind of (expensive) tools!
Other Details
- 20 Articles (TXT, DOC)
- 1 Ebook (PDF), 60 Pages
- 2 Graphics (JPG, GIF, PNG)
- 1 Salespage (HTML)
- Promotional Ad Material (Emails)
- Checklist, Resource Cheat Sheet, Mindmap, Optin Page, Social Media Images
- Year Released/Circulated: 2018
- File Size: 37,784 KB
License Details:
You're granted master resell rights, resell rights or to resell with personal use rights.
You may add this product to your PAID membership site
You may giveaway the product as a bonus when people buy through your affiliate link
You may edit the included sales page and opt-in page
No, you may NOT edit the contents of the eBook(s) & videos
No, this product does NOT include private label rights. You are granted Master Resell Rights only
No, you may NOT giveaway the eBook(s) & videos for free.