Salespage Snapshot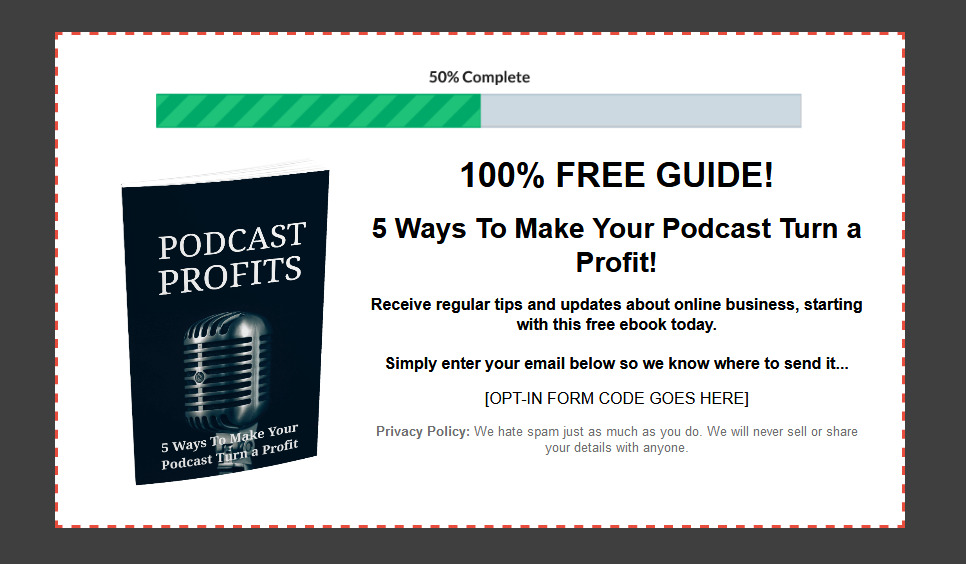 >> Click Here To View Sales Page...
Sample Content Preview
Let me give you an example. If you want to make it in the Internet Marketing niche, then you need to create a podcast that talks about this topic. Your podcast is not going to be known as a top Internet Marketing podcast if you also talk about how to take care of animals, how to make pottery, how to become a good parent, and so on, in your shows! In short, you don't want your podcast to talk about everything and nothing!
Now, Internet Marketing is a very broad subject area. There are many different sub-niches, so you can niche down and talk about these different sub-niches. Just remember, you don't want to be trapped in a too-small niche where the possibility of running out of things to talk about is high.
The Top 5 Ways To Make Your Podcast Turn A Profit
Alright, so now you've arrived at the meat of this article. If you've just scanned this report to get to this section, then know that there are two essential components if you want to maximize your conversion rates and your profits. These are (1) choose the right niche, and (2) target the right audience.
With that said, here are the top 5 ways to monetize your podcast:
1. Affiliate marketing
Affiliate marketing isn't all that complicated at all. If you've ever searched for product reviews on the Internet, clicked on a link and found yourself on Amazon, then chances are you clicked on an affiliate link. This means that if you bought anything on Amazon, then the website which published that product review got a commission from your purchase!
So, how does affiliate marketing work?
In a nutshell, you simply need to sign up as an affiliate for the product you want to promote. If you want to promote Amazon products, then you need to sign up for Amazon Associates.
If you want to sell Udemy courses, then you can sign up to be a Udemy affiliate. There are thousands, if not millions, of affiliate products and programs you can join. Now that you know affiliate marketing is relatively easy, it's important not to be trigger-happy and sign up for every affiliate network you can think of. Put yourself in your audience's shoes.
How would you feel if you were listening to a bass fishing podcast and the host suddenly recommends you check out a toy for toddlers? You'd probably scratch your head and think, "What on earth did he just say?"
With affiliate marketing, you should ideally only promote products you yourself have used. But it's not unethical either if you promote something you haven't used yourself if you know for a fact your audience is going to benefit from it!
For example, for your bass fishing podcast, you can recommend the equipment and tools you use when you go fishing. You can tell your users that if they want to support your show, they can simply click on the affiliate link in your podcast show notes or episode description. They're not going to get charged extra, but you will earn a small percentage from the sales.
You want to drive traffic to your affiliate links, so make sure you tell your listeners where they can find it. Don't be shy. If you truly provide value in your show, then your audience will be more than happy to support you!
2. Sponsorships
If you take our advice of niching down and targeting the right audience, then you can potentially earn a ton of money from sponsorships. These are basically brands and businesses who are willing to pay you a good sum so you can mention them on your podcast!
If you're just starting out, you may not be on any good sponsor's radar, so you'd probably need to reach out to them first. Tell them about your podcast statistics, that is, who's your audience, where they're from, and so on. Tell them how their product or service can help your audience, and how they're going to benefit from sponsoring your show.
The good news is when your podcast becomes popular, then you don't need to reach out to brands – they'll be the ones reaching out to you! They'll be vying for your attention, so you can basically pick and choose the right sponsors to bring on your show.
This is, of course, a nice problem to have, but to get to this stage, you'd need to grow your audience to a good size first – probably in the 10,000+ level!
Just like with affiliate marketing, you don't want to promote sponsors who aren't going to add any value to your show. If you do that, then you're going to alienate your listeners. Unsubscribing or unfollowing your show is as easy as clicking on a single button! You worked so hard to grow your audience, you don't want to lose all that work for a few more dollars in your pocket.
3. Sell your own products
There are many different types of products you can sell to your audience. You can sell books, eBooks, audiobooks, online courses, coffee mugs, shirts, and so much more! The sky's the limit actually when it comes to selling your own products on your own show.
If you've already got an established brand and you're using your podcast as a marketing tool, then you're using a great strategy. This means you probably already have a solid fan base, so they'd be more willing to tune in to your podcast and help you promote your show.
Just remember that people hate it when you aggressively sell to them. So, if you're trying to capture a new audience, then it's best to think of ways you can put your product in front of them without being too 'salesy.' I know this is easier said than done, but if you do it right, then you can potentially increase your sales and your conversion rates!
Here's an idea: if you're selling an eBook or online course on how to build profitable niche websites, then you'd want to teach people a few methods on how to go about building these kinds of sites. But you don't want to give all your secrets away.
So, you can tell them that if they want all the specific details, then they can check out your premium eBook or your course. Tell them what they stand to gain from buying your book, but also reassure them that the free info you shared on your podcast is also a good start.
You can also try giving away a few items to build some buzz around your products. Tell your listeners to send in their feedback to your show, and the best and most creative responses will get featured on one of your future episodes!
4. Mentorship and coaching
You're already giving away a lot of valuable information on your podcast. The next step is to start offering mentorship and coaching to your most interested followers. These are the people who are serious about following your advice and actually taking action.
Now, not everyone's going to be able to afford these kinds of 'upgrades,' but for those who can, then make it super valuable for them. Sure, you can give away free information, but you want to reserve your most important techniques to the right people, that is, the paying kind.
For the right price, people may be willing to invest in a 1-hour call to pick your brain. You can package your services into weekly sessions, monthly sessions, etc. It's totally up to you. The important thing is that you have the time to actually offer this service, so make sure you come up with a system that will allow you to manage your time effectively.
Other Details
- 10 Articles (TXT, DOC)
- 1 Ebook (PDF, DOC), 10 Pages
- 1 Audio (MP3)
- 4 Graphics (PNG)
- 1 Salespage (HTML)
- Year Released/Circulated: 2020
- File Size: 8,971 KB
License Details:
You may add this product to your PAID membership site
You may giveaway the product as a bonus when people buy through your affiliate link
You may edit the included opt-in / squeeze / landing page
You may giveaway the eBook for Lead Generation purpose
No, you may NOT edit the contents of the eBook
No, this product does NOT include private label rights. You are granted Master Resell Rights only