Salespage Snapshot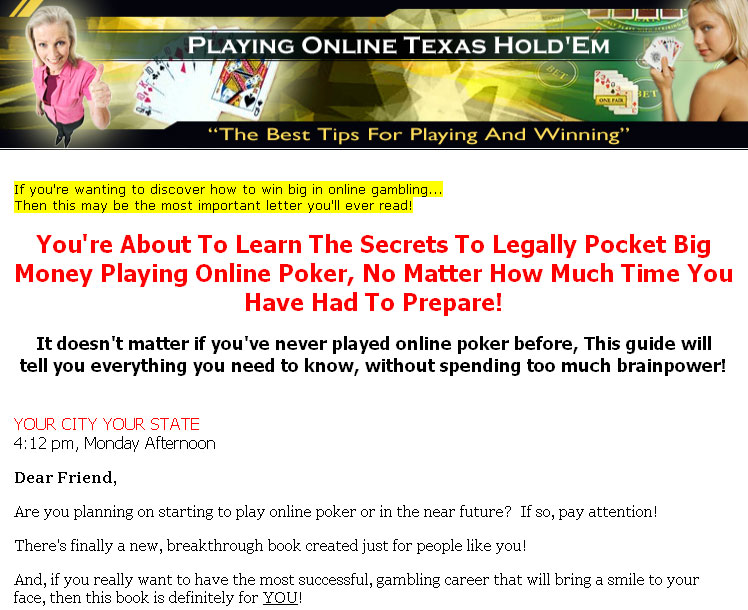 >> Click Here To View Sales Page...
Ebook Table Of Contents
3    Introduction
5    History of Poker
7    History of Online Poker
9    Poker 101
18    Playing Texas Hold 'Em
20    Position
23    Pot Odds & Outs
26    Playing the Flop
31    Playing the River
32    Betting
35    Strategies
38    Tells
42    Bluffing
45    Multi-Table Tournaments
49    Sit and Go's
53    Limit Poker
57    Some Things To Keep In Mind
60    When Things Get Out of Hand
62    Conclusion
Ebook Sample Content Preview

INTRODUCTION
It's becoming almost as big as baseball, football, hockey, and other sporting events.  Television has increased its popularity.  With the Internet, it's coming into our homes at a lightning fast rate.  The rage that's sweeping the nation – poker!  Although the game has been around for years played in family recreation rooms, smoky bars, casinos, and even retirement homes, these days, poker has become the game of choice for hundreds of thousands of people.
Family game night used to mean getting out the Monopoly board and battling over Park Place and Broadway.  Now, family game night is more likely to be characterized by breaking out the poker chips and battling each other for the best hands.
More and more people are talking about their bad beats, their great hands, and their prowess for play.  Popular on college campuses, fraternal clubs, and even retirement homes, poker has become our new game of chance, and our new game of choice.
What has led to the rise of this game?  Most likely, it has been television and the media.  On any given evening, the average person can flip on the TV set and find a poker game being aired.  The World Series of Poker, Celebrity Poker Showdown, and Ultimate Poker Showdown are rising in the ratings as we tune in to see professionals battle it out and compare our play to theirs.
Nearly every home these days has at least one computer.  The Internet has become our lifeline, in ways, for information, contact with the outside world, and – yes – our portal to the world of poker beyond our kitchen table.  Now ordinary people can log on and play poker with people other than our parents, kids, and friends.  Many professional players sponsor online website where they are required to play allowing Average Joe to match his poker skills with the likes of Howard Lederer and Chris Ferguson.
Perhaps the biggest rise in poker popularity – specifically online poker – stems from one man's $40 online buy-in leading to the Cinderella story of the industry.  Chris Moneymaker qualified for The World Series of Poker main event through a small buy-in satellite event at Poker Stars.  At the Series, he outlasted a field of 839 entrants – the largest in World Series of Poker history at the time.  He pitted heads against some of the most well-known poker professionals in the world – and won!  Moneymaker's first-place finish netted him $2.5 million dollars, which wasn't bad considering it was his first live tournament.
Many people looked at Moneymaker's win as monumental.  After all, he was just an average guy.  He could be anyone's next door neighbor or co-worker, and he went up against the pros and won.  Chris Moneymaker opened the door for everyday people to dream about being the next professional poker player…
Other Details
* 60+ Page PLR Ebook
* Professionally Written Salesletter
* 50 PLR Articles
* 5 Part Autoresponder Email Course
* 1 Complete Adsense Website
* 5 Part Press Release
* Professionally Designed Graphics Set
* Highly Targeted Keyword List
* Pre Written PPC Ads
* PDF and MS Word Source File For eBook
* PSD Files For Graphics