Salespage Snapshot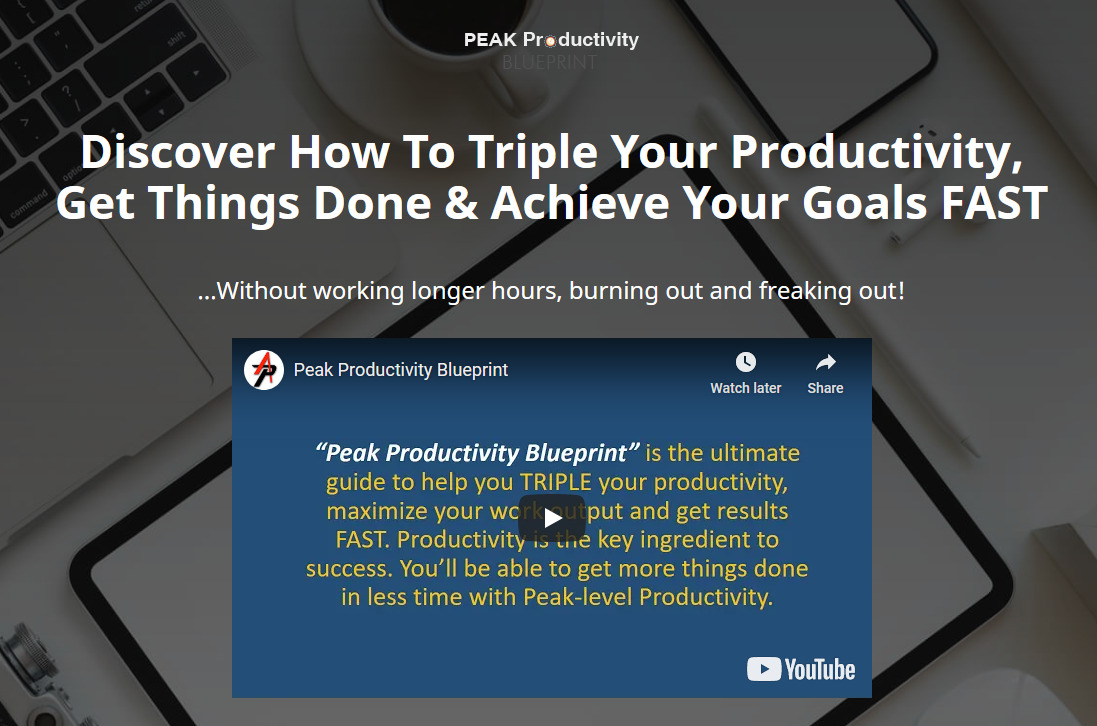 >> Click Here To View Sales Page...
Table of Contents
Introduction … 5
Chapter 1 – Creating the Right Environment for Productivity . 8
Top Tips for Setting up a Highly Productive Office . 8
Working from Home? How to set Your Workspace up for Maximum Productivity . 11
Avoid Distracting People …. 13
Chapter 2 – Developing a Productive Mindset ….. 16
Think Smart, Work Smart – The Importance of Your Frame of Mind 16
Plan Your Day … 19
Ditch the Procrastination … 22
Chapter 3 – Time Management Strategies – The Key to a Productive Day ….. 27
The "2-Minute Rule" … 28
Forget Multi-Tasking … 30
Take a Break ….. 31
Use the Commute … 33
Chapter 4 – Declutter Your Life .. 36
Clutter – The Enemy of Productivity…. 37
Eliminate Digital Distractions .. 41
Clear Your Mind ….. 45
Chapter 5 – Healthy Routines for Greater Productivity .. 48
Sleeping and Eating – Helping You to Stay Productive …. 48
Establishing Routines to Keep Your Day on Track 55
Identify Your Productive Times ….. 57
Chapter 6 – Recognize What's Important 61
Identify the Tasks You Can Ditch … 61
Use A "Do Later" List … 65
The 80/20 Rule 66
Chapter 7 – Delegate, Outsource and Utilize Tools …. 69
Chapter 8 – Increasing Productivity at Home 75
Create an Enjoyable Environment . 76
Celebrate and Reward Your Achievements 77
Conclusion …. 80
Sample Content Preview
Follow these top tips and you'll find that your work environment boosts your productivity.
Working from Home? How to set Your Workspace up for Maximum Productivity
If you work from home, there are multiple distractions that can affect your productivity. Avoid those distractions by setting up the workspace for maximum productivity. Here are some top tips to follow:
• Find the right workspace for you. Everybody works differently. You may find that you work better at your kitchen table or in your bedroom. You might prefer to work by a window or by a wall. Finding the best spot for you is key to getting more done. If you're setting up a home office, you can design a room that is a highly productive space.
• Set yourself up close to a power outlet. You'll probably be working from your phone and laptop. This means you need constant access to power. Don't waste time by having to charge up your devices in a different room or away from your desk.
• Choose a well-lit space. Working in the dark reduces your productivity. Whenever possible, choose a space with plenty of natural light. Make sure you also have a lamp nearby, so you don't strain your eyes.
• Add touches to motivate you. When you work at home, you aren't restricted by office rules. That means you can add anything you like to your workspace. Green plants are nice touches in workspaces to improve positivity. Add photos of your loved ones or motivational quotes; anything to make you feel good and keen to get to work.
• Remove the TV. If you're working in a public area of your home, make sure the TV isn't on. They reduce your productivity. Even if you can hear the television from your home office you can be distracted.
• Make yourself comfortable. Find ways to make your workspace as comfortable as possible to boost your productivity. Choose a chair that supports you and reduces back pain. Make sure your laptop is at the right height for you. Open a window or adjust the air conditioning.
Avoid Distracting People
There are many benefits to working from home. However, there are some negatives too. One of the biggest is that there are probably going to be other people around. This can be a major distraction. When you work in an office, everyone around you is focusing on the same type of tasks. This minimizes the distractions associated with other people.
At home, however, your children, pets, housemates or partner are all engaged in their own thing. It can be all too easy to get caught up in their activities rather than your own.
It's also very common for those around you to forget that you're supposed to be working. Children often come in asking you to play. Housemates may come and ask you about preparing dinner or household chores. Your partner might pop in to engage you in conversation. None of this is helpful for your productivity.
Even friends can be a problem. When you work from home, many people fail to recognize that you're working. They wouldn't dream of visiting you at work for a coffee and a chat. Yet, they think nothing of coming around during your working day. This isn't just distracting; it stops you getting work done. As a result, you become overwhelmed and non-productive.
Establishing boundaries for your home working life is therefore vital. Set rules for your loved ones. Make sure that they know they're not allowed to disturb you between certain hours. Make sure that you also adhere to those working hours. Don't allow yourself to be distracted.
If someone comes in to talk to you during this period, you must reinforce the rules. Don't give in and be persuaded to play or chat. Gently remind the disturber that you're working, and they need to wait until you're done. It isn't easy to establish these boundaries. However, when the message finally gets through, you'll find working from home becomes substantially easier.
Chapter 2 – Developing a Productive Mindset
Having a productive mindset is key to getting more done. Think smart instead of working harder. While most of us know that we should have the right mindset, we're not sure how to achieve it. What does a productive mindset look like? Here, we take a closer look.
Think Smart, Work Smart – The Importance of Your Frame of Mind
When you have a productive mindset, you can make the best use of all your resources. You'll maximize your efforts, your energy and your time. It isn't about working harder. It isn't about trying to accomplish everything. It isn't even about trying to get things done as quickly as possible. A productive mindset is about making the most of the things you have. It's also about enjoying the process. With this frame of mind, you'll think smarter and work smarter, getting more done.
What elements does a productive mindset have? Which elements do you need to nurture in yourself to become more productive? Here are some of the best:
• Curiosity – a willingness to question, explore and seek out new concepts and ideas. It's also the desire to learn and know more things.
• Motivation – without it, you cannot improve or make progress.
• Vision – if you can visualize the things you want to achieve you can focus on them better. When you have a clear picture in your mind you can strive towards those goals.
• Critical thinking – you need to assess situations objectively. Look at all the advantages and disadvantages then make appropriate adjustments.
• Self-confidence – believe that you're capable of achieving your goals. This allows you to achieve your potential.
• Persistence – a willingness to overcome adversity and obstacles allows you to achieve your goals. Don't allow others' opinions, setbacks or circumstances to make you feel as if you can't succeed.
• A positive outlook – your attitude makes or breaks you. With a positive attitude, you can meet any possibility head-on.
• Open-mindedness – if you have an open mind, you can generate innovative new ideas. You also become more receptive to new experiences.
• Balance – to function properly, you need to maintain balance in your life. It's important to work towards your goals. However, it's equally important to recharge your batteries from time to time. Pushing yourself too hard only leads to frustration and burnout.
When you integrate all these elements into your thought processes, you'll develop a productive mindset. As a result, you'll achieve your goals more effectively.
Other Details
- 1 Ebook (PDF), 81 Pages
- 5 Part Autoresponder Email Messages (TXT)
- 3 Graphics (PSD, PNG)
- 1 Salespage (HTML)
- Checklist, Lead Magnet, Mindmap, Landing Page, VSL
- Year Released/Circulated: 2020
- File Size: 127,296 KB
License Details:
[YES] Can be sold
[YES] Can be used for personal use
[YES] Can be packaged with other products
[YES] Can modify/change the sales letter
[YES] Can be added into paid membership websites
[YES] Can put your name on the sales letter
[YES] Can be offered as a bonus
[YES] Can be used to build a list
[YES] Can print/publish offline
[YES] Can convey and sell Personal Use Rights
[YES] Can convey and sell Resale Rights
[YES] Can convey and sell Master Resale Rights
[NO] Can modify/change the main product
[NO] Can modify/change the graphics and ecover
[NO] Can be given away for free
[NO] Can be added to free membership websites
[NO] Can convey and sell Private Label Rights