Salespage Snapshot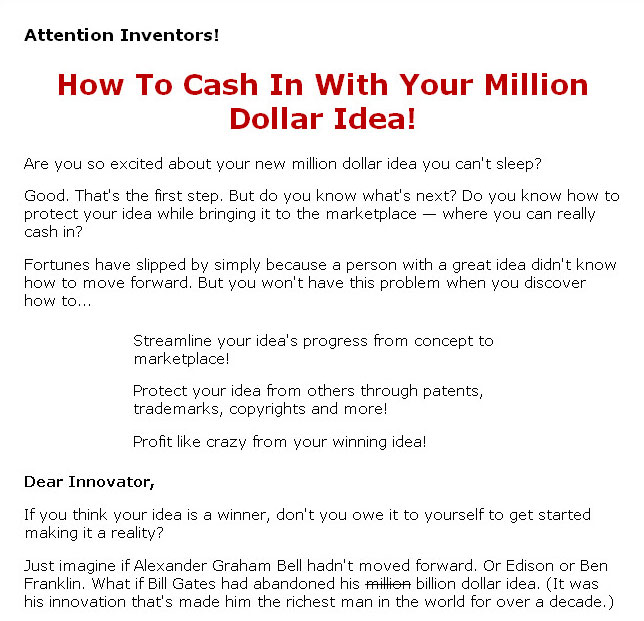 >> Click Here To View Sales Page...
PLR Ebook Table Of Contents
Introduction,  Foreword, Overview And Layout Of The Book    4-7
Creation And Birth Of Ideas, Innovations, Patents And Brilliant Million Dollar Thoughts, Products And Services (From Need To Needed!)  8-18
Defining And Protecting Innovation – THREE QUESTIONS      18
– Is There A Need For This?
– Is This A Truly Original Idea?
– What Is The Potential Of This New Idea Of Patent?
Patents, Copyright And Trademarks      20
Packaging,  Pitching And Presenting Your New Idea Or Patent      21
Securing Capital, Funding And Dollars      24
The Intricacies And Complexities That Are Contracts And Profits    27
New Economy And Online Marketing, Virtual Marketplace      30
How Licensing Helps You Optimize Your New Idea, Patent And Innovation      31
A Frequently Asked Question About Ideas, Patents And New Ideas  32
Conclusion 33-43
Glossary 44-50
Resources 50-54
Sample Content Preview
Introduction,  Foreword, Overview And Layout Of The Book
For most of us coming up with our ideas,  especially innovative ones sometimes seem like the easy part of doing things and making money off it, the harder, more challenging part of the equation and process! Both can be challenging.
These days, working smarter, NOT harder, seems to be the way to go. Commodities, products, as well as innovations change with the times and advancements in society. New needs and demands drive the market and many capitalize on these types of opportunities.
There are THREE main ways you can profit from a new idea:
Licensing to a manufacturer
Licensing to a full service firm
Manufacturing your product on your own
It is all about limiting your exposure and financial risk as the 'inventor' . This guide is about how to make the most of your patents and new ideas. How to capitalize (make it count FOR YOU!) on what the market has to offer, tapping your ingenuity, innovation and invention, for all it has to give and MORE! It would attempt to answer some of the more practical questions surrounding how to get a million dollar idea to market, profit and pocket!
But, what is an 'idea' and what does it have to be, in order for it to be considered 'NEW' or patentable? How can we make the most of these ideas?
These TWO questions will form the core of this brief musing provided here. Coming up with and making these ideas count, making money off them!
Other Details* Sales Page:
Included, HTML
* File Format:
MS Word Doc, PDF, RTF
* Number of Pages:
53
* Download File Size:
350 KB