Salespage Snapshot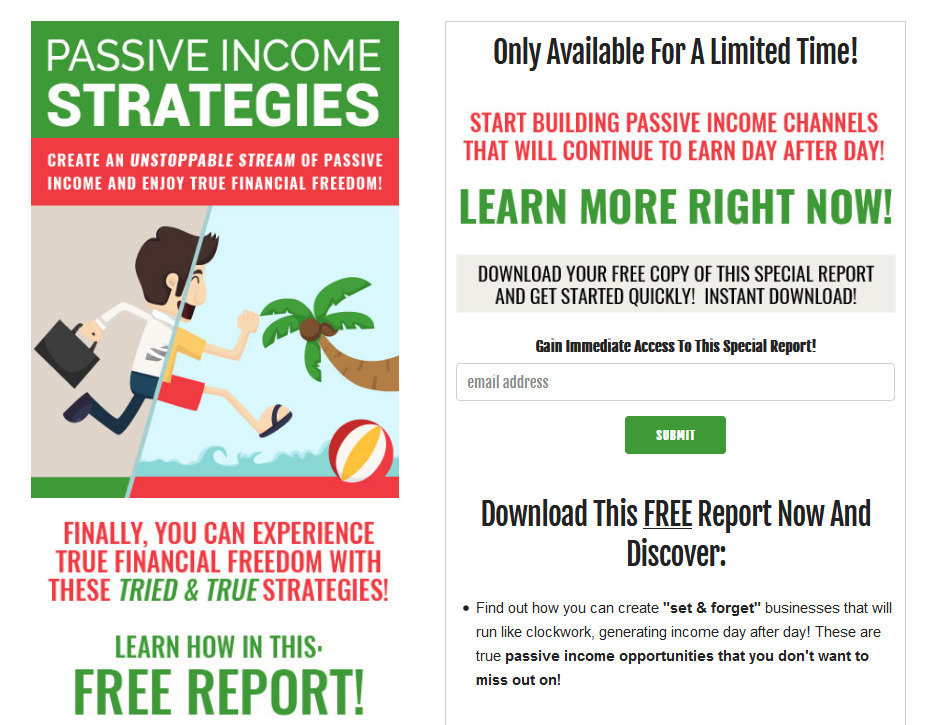 >> Click Here To View Sales Page...
Table of Contents
Introduction 5
Sell Your Knowledge 7
Property Rentals 11
Paid Ads & Affiliate Marketing 14
High-Yield CDs 18
Peer-To-Peer Lender 19
Dividend-Yielding Stocks 21
Save, Save, Save! 23
Invest in an REIT 25
Build a Bond Ladder 31
Rent Your Free Space 35
Conclusion 39
Resources 40
Sample Content Preview
You can find additional affiliate networks here:
https://bloggingwizard.com/affiliate-platforms-and-networks/
And if you have a large social media following, you could get paid to become an influencer. Check out https://www.brandsnob.co/influencers for details.
The effort involved in starting up this passive income stream involves building your platform. You need a relatively large following to make the most from this income opportunity.
In order to build that sort of platform, you'll need to put the effort into creating a website that gives followers something of value. This means, you'll be required to do quite a bit upfront work, such as: updating your website or blog regularly and giving your followers quality content they'll enjoy enough to keep coming back.
This is one of the streams that also requires upkeep, as you must maintain your website or social media account to keep the followers you have and continue to attract new ones.
Your website or social media account should be something you're passionate about, something you'll be motivated to post regularly about. You're not selling anything on your platform – your goal is to be original, be creative, be real, and attract followers.
There's really not much risk with this stream of passive income and it can be exceptionally lucrative; you just need to be willing to dedicate the time and effort upfront to get the ball rolling.
Here's some information to help you get started: https://guides.wsj.com/personal-finance/investing/how-to-invest-in-a-certificate-of-deposit-cd/
And here's a calculator that will help you determine what you could potentially earn:
https://www.nerdwallet.com/blog/banking/earn-with-best-cd-rates/
High-Yield CDs
Investing in a high-yield certificate of deposit allows you to take advantage of some of the highest interest rates in the country in order to generate a nice passive income stream.
First, you'll want to do a Google search of your country's top CD rates and check out the interest rates.
You'll probably want to use an online bank to get that top rate. So long as that bank is backed by the FDIC, your principal investment is protected (up to $250,000).
The only real risk with high-yield CDs is rising inflation, but at the moment, that doesn't look like much of a threat. Keep an eye on the market and you can easily avoid that risk in the future.
Peer-To-Peer Lender
This is a personal loan where you're fronting the money through a third-party intermediary like Prosper, Funding Circle, or LendingClub and making money through the interest paid by your borrowers.
P2P loans are conducted online, so you don't actually have to meet with your borrowers in person. It's a more streamlined process, too, but in order to make a P2P loan work out, you need to do a good bit of research and learn all about the market. This is a passive income stream that requires both time and money up front.
The best way to handle this stream is to diversify: invest smaller amounts over several different loans instead of loaning a large sum to one party.
At Prosper.com, you can loan as little as $25. You'll want to investigate your potential borrowers, too. Make sure they'll be a good risk by checking their past loan history.
It does take time to master the techniques of peer-to-peer lending, so plan on a bit of effort at the beginning until you learn the ropes. You'll probably be dealing with Millennials, for example, who are five times more likely to fund their small businesses with a P2P loan than Generation X. You'll also probably want to reinvest the interest on those loans and build up your income.
Risks with this income stream include being disorganized and missing payments – you have to keep up with all of those small loans and stay on top of the payments. You might run the risk of a default if the economy takes a downturn, too.
Dividend-Yielding Stocks
If you'd like to invest your money in a company with dividend-yielding stocks, you'll receive a dividend check a few times a year without having to do anything other than put in your initial investment. These dividends depend on how many shares of stock you own, so it's a good way to invest a larger sum of money.
You'll also want to put in some research effort for this passive income stream. Choosing the right stocks is essential. You want something that's going to increase in value over time, not decrease.
Spend at least a couple of weeks investigating each company you're considering, so you're familiar with their financial statements and can tell whether or not they're likely to go up in value.
John H. Graves has another recommendation for dividend stocks, especially for novices: try ExchangeTtraded-Funds (ETFs).
These are investment funds that hold assets such as stocks, commodities, and bonds, but they trade like stocks. They're easy to understand and inexpensive compared to regular dividend stocks. They cost less than mutual funds and are easy to liquidate when you need to.
Another big risk (besides picking the wrong stocks) is that stocks and ETFs can drop in value significantly if the market takes a downturn (as it did early in the global pandemic).
Other Details
- 1 Ebook (PDF, DOC), 41 Pages
- 7 Part Autoresponder Email Messages (TXT)
- 1 Squeeze Page (HTML)
- Year Released/Circulated: 2020
- File Size: 1,764 KB
License Details:
[YES] Can be sold
[YES] Can be used for personal use
[YES] Can be packaged with other products
[YES] Can modify/change the sales letter
[YES] Can modify/change the main product
[YES] Can modify/change the graphics and ecover
[YES] Can be added into paid membership websites
[YES] Can put your name on the sales letter
[YES] Can be offered as a bonus
[YES] Can be used to build a list
[YES] Can print/publish offline
[YES] Can convey and sell Personal Use Rights
[YES] Can convey and sell Resale Rights
[YES] Can convey and sell Master Resale Rights
[NO] Can be given away for free
[NO] Can be added to free membership websites
[NO] Can convey and sell Private Label Rights