Salespage Snapshot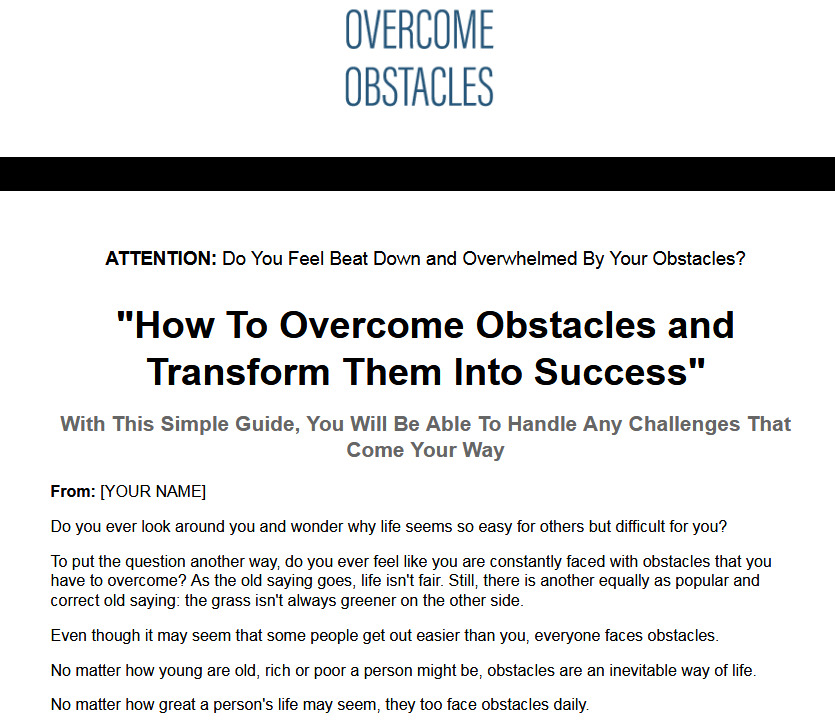 >> Click Here To View Sales Page...
Table of Contents
Introduction 6
The Truth About Obstacles . 9
Why Looking at Both the Negatives and Positives Matters ……. 9
Possible Negatives of Obstacles 10
Guaranteed Positives of Obstacles ….. 11
Forces You to Grow ….. 11
Helps You to Get to Know Yourself Better ……. 11
Improves Self-Esteem .. 12
Improves Relationships 12
Recap ….. 12
Perception Matters …. 14
What Psychology Says About Perception …. 14
Popular Mindsets ….. 15
Fixed Mindset …… 16
Growth Mindset … 16
Mixed Mindset ….. 17
Recap ….. 17
You're Not In Control 19
Knowing When To Let Go . 19
How to Let Go of Control … 21
Focus on What You Can Control … 21
Notice Your Reaction Pattern …….. 21
Mantras …… 22
Recap ….. 22
Identifying Obstacles 24
Common Obstacle Types .. 24
Facing the Unknown …. 24
Pressure to be Someone Other than Yourself . 25
Limited Finances . 25
Relationship Problems . 26
What to Do After Identifying the Obstacle …. 26
Recap ….. 27
Set Goals .. 29
SMART Goals . 29
What If I Can't Come up With a SMART Goal? ….. 30
Follow Through …….. 30
Be Flexible …… 31
Recap ….. 31
Focus On Yourself ….. 33
Why You Shouldn't Compare Yourself to Others .. 33
Comparing Yourself to Others Creates Unrealistic Notions …. 34
What Should You Do Instead? … 34
How to Stop Comparing Yourself to Others . 35
Be Aware of Your Triggers …. 35
Remember You Don't See the Whole Story ….. 35
Be Grateful for Your Life ……. 35
Recap ….. 36
Let's Talk About Emotional Resilience ……. 38
What is Emotional Resilience? … 38
How Does Emotional Resilience Help You Overcome Obstacles? .. 39
Elements of Emotional Resilience ……. 39
Building Emotional Resilience …. 40
Recap ….. 41
Turn Challenges Into Success … 43
Practice, Practice, Practice …….. 43
Don't Give Up .. 44
Stay Optimistic 44
You're Not In The Clear Yet ……. 44
Recap ….. 45
Conclusion …….. 47
Sample Content Preview
THE TRUTH ABOUT OBSTACLES
Before jumping into how to overcome obstacles, you need to know about the reality of them.
Everyone knows what an obstacle is, but most have an unrealistic and warped idea about it. Instead of viewing obstacles as opportunities for growth, people view them as events working against them. This unrealistic idea makes it much more difficult to overcome your obstacle and transform it into success.
With that in mind, you need to know the truth about obstacles: obstacles are not all bad. I know this idea might sound a little radical, but it is true.
Just like everything else in life, obstacles come with both positives and negatives. Recognizing both sides will help you overcome the obstacle quickly and efficiently.
Why Looking at Both the Negatives and Positives Matters Whenever an obstacle comes your way, it is important to remember this fact. If you only focus on the negatives, which most people do, it is much easier to get distraught, overwhelmed, and depressed by the situation. This will make it more challenging to overcome the obstacle and turn it into success.
However, if you look at the negatives and the positives, you see the obstacle in a much more realistic light. This realistic understanding of obstacles allows you to think rationally and clearly about the task at hand. From there, you can begin to overcome your obstacle instead of getting overwhelmed by it.
Not to mention, you take away most of the negatives of obstacles whenever you view the positives. This will make it much easier and more enjoyable to fight your obstacles, even if you aren't necessarily succeeding as quickly as you would like.
Possible Negatives of Obstacles
Obviously, obstacles come with several negatives. Even though you shouldn't get caught in the negatives, you should be aware of them so that you know how to best go about your situation and overcome the obstacle. Whenever you are aware of the negatives, more of the power is given back to you.
As a result, you can begin to master the obstacle because the negatives are your own. Acknowledging them simply makes them less scary.
The exact negatives of the obstacle will depend on the challenge. For example, your obstacle may be finding a new job. In this case, the negatives might be that you are under financial stress, need to move, or something else related to the actual job. These negatives are different from the negatives of a different obstacle, like relationship troubles.
In addition to the obstacle centered negatives, some negatives are common in all obstacles. Most notably, obstacles require you to work. If you already have a full-time job and other responsibilities, the added responsibility of overcoming the obstacle can take a lot of your time and energy, even for the most hardworking of people.
Not only that, but obstacles challenge you physically, mentally, and emotionally. Every time you find yourself in a new obstacle, you are forced to challenge yourself to grow as a person. This process takes up, once again, a lot of energy, and it can bring up a lot of negative emotions depending on the situation.
The required effort and emotional turmoil that come with most obstacles are what make obstacles so terrible. Most people don't like extra work. So, they grow to hate obstacles.
Guaranteed Positives of Obstacles
In addition to the negatives, obstacles have a lot of positives. Most people fail to see these positives, and they focus on the negatives instead. Though this is incredibly tempting to do, you should try your hardest to keep the positives in your mind. The positives will help you overcome the obstacles, stay motivated, and enjoy the process.
Forces You to Grow
The biggest positive of any obstacle is that it challenges you to grow. Even though challenges come with a lot of hard work and effort, it is the only way for you to become the person you want to be. In other words, challenges make you a better person.
Some obstacles may make you physically better, such as an unprecedented health scare, while others will make you emotionally more resilient. It doesn't matter how the obstacle makes you grow. What matters is that you grow and become a better person at the end of it all.
Helps You to Get to Know Yourself Better
Another benefit to come out of obstacles is that you get to know yourself better. We are often trained to get to know our coworkers, family members, and friends, but we often forget to know ourselves. This makes it more difficult for us to trust our own thoughts and know what we want out of life. Obstacles force us to reflect on ourselves and the world. It teaches us our strengths, weaknesses, and limits. This allows us to get to know ourselves in a way that would not be possible without obstacles.
Improves Self-Esteem
As we grow and get to know ourselves better, our self-esteem grows as well. So, obstacles lead to increased self-esteem, which is their third benefit. Self-esteem is what helps us to know our value outside of our accomplishments and talents. It is necessary for a happy and functioning life.
Improves Relationships
The last benefit of obstacles is that they can improve our relationships. You likely have noticed that people with shared hardships tend to be some of your strongest and most trusted relationships. As you go through obstacles, you become more empathetic and able to communicate with other people in similar situations.
Recap
All in all, obstacles are not a completely bad thing. Even though they are a lot of work and can put a strain on your life, they force you to grow, help you to get to know yourself, boost your self-esteem, and improve your relationships. Remembering these positives and the negatives will help you overcome the obstacle because of your realistic and rational mindset.
PERCEPTION MATTERS
One thing that we touched on in the last chapter but didn't explicitly discuss is the issue of perception. Our perceptions are how we interpret events or people based on our sensory experiences. Even though our perceptions are all we know, how we perceive an event may not be accurate to how it unfolds in real life.
Probably enough, we can never escape our perceptions, no matter how hard we try. In fact, perceptions alter every single aspect of our day to day life. How we perceive the world ultimately determines many of our situations and emotions.
Because of how important perception is in our life, your perception of the obstacle will largely determine how you handle it and whether or not you can overcome it. Enhance your perception of obstacles to help you turn any obstacle into success.
What Psychology Says About Perception
Psychology has done a lot of research on perception. As we already mentioned, psychology determines that our perception is determined by our sensory experience with the world, meaning our sense of sight, smell, touch, and more.
More so, psychology has found that it determines how we respond to our obstacles. For example, if we negatively view obstacles, we are more likely to give up and feel defeated by them. In contrast, having an optimistic mindset about the obstacle makes us more likely to overcome the obstacle and succeed.
The most useful thing that psychology tells us about perception is that we have some control. Though it is impossible to have complete control, we can slightly change our perceptions by paying attention, intentionally turning our perception into meaning, acting accordingly, and practicing with our new mindset.
● Pay attention: What is your perception of an event? How does it differ from reality? How do you know?
● Give your perception meaning: What does it mean to you? Do you agree with this meaning? Should you change the meaning?
● Act accordingly: How do my actions reflect my view of the situation?
● Practice: What are ways that I can incorporate this new mindset into my everyday life?
What this means for obstacles is that you can turn your negative perception or mindset into a positive one. Simply with intentional and dedicated action, you can find yourself more likely to succeed by changing your mindset.
As you are actively trying to change your mindset, it is best to measure your progress by taking notes or using some app. Continue to act in accordance with this new mindset and track your progress. Stay optimistic even when it's hard, and you will begin to see your mindset shift.
Popular Mindsets
Since perception matters, you are probably wondering what sort of a mindset you should have. There are three popular mindsets, but only one will lead to long term success. The fixed mindset, mixed mindset, and growth mindset are all three popular mindsets that people unknowingly have.
Other Details
- 1 Ebook (PDF), 47 Pages
- 2 Graphics (JPG, GIF, PNG)
- 1 Salespage (HTML)
- Checklist, Resource Cheat Sheet, Mindmap, Optin Page, Social Media Images, Email Swipes
- Year Released/Circulated: 2021
- File Size: 33,010 KB
License Details:
[YES] Can be sold
[YES] Can be used for personal use
[YES] Can be packaged with other products
[YES] Can modify/change the sales letter
[YES] Can be added into paid membership websites
[YES] Can put your name on the sales letter
[YES] Can be offered as a bonus
[YES] Can be used to build a list
[YES] Can print/publish offline
[YES] Can convey and sell Personal Use Rights
[YES] Can convey and sell Resale Rights
[YES] Can convey and sell Master Resale Rights
[NO] Can modify/change the main product
[NO] Can modify/change the graphics and ecover
[NO] Can be given away for free
[NO] Can be added to free membership websites
[NO] Can convey and sell Private Label Rights