Salespage Snapshot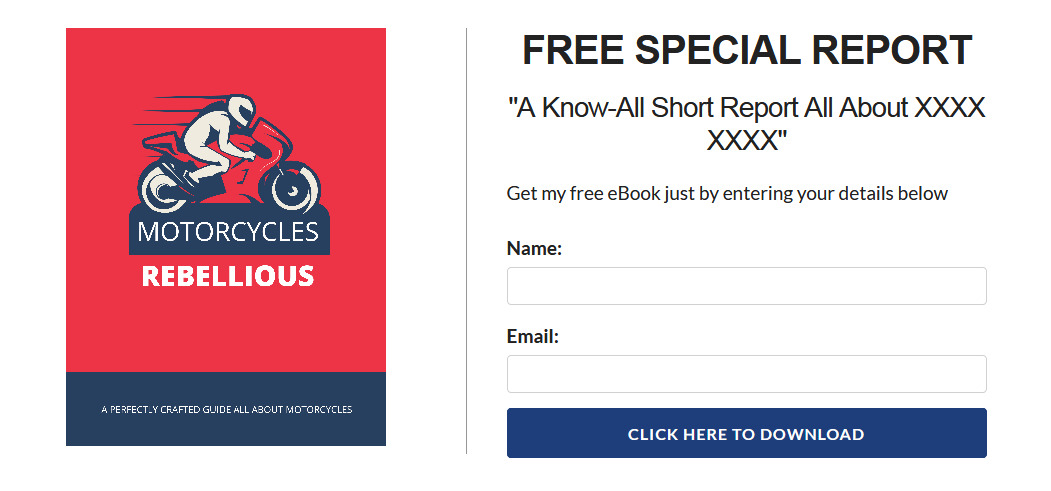 >> Click Here To View Sales Page...
Table of Contents
Introductory …. 4
Chapter 1: A Hazardous Sport … 6
Chapter 2: Have a Motorcycle Vacation …. 8
Chapter 3: When To Buy …. 10
Chapter 4: Wear the Perfect-fit Helmet .. 12
Chapter 5: The Right Pair of Rider's Protection 14
Chapter 6: Sleek and Powerful Personality Bikes .. 16
Chapter 7: Motorcycles Saddle Risks . 18
Chapter 8: Make Your Next Motorcycle Road Trip A Success. 20
Chapter 9: Donning Rider's Insignia . 22
Chapter 10: Smart Motorists Don't Trade, They Upgrade . 24
Sample Content Preview
Chapter 1: A Hazardous Sport
Quality motorcycle gear combines comfort, style, fit, durability, weather protection, and armor.
The bottom line with equipment is, you WILL eventually fall, and when you do, you will most likely become very close friends with the pavement. So, you need the "maximum impact and abrasion resistance" as possible.
Armor is extra padding sewn into the jacket or pants to cushion likely spots of impact. Road rash is the not so fun part about riding a motorcycle. It is painful and bloody, but impacts can cause serious and sometimes fatal internal damage.
So, shoulders, elbows, buttocks, and knees are spots that you want to be well protected, as they are the most common of impact points. In any serious crash it isn't hard to get a bruise on all of these body locations. Other common regions of impact are the chest, back, and collar bone. So, as you can see armor placement is crucial.
Material used for armor is another major concern. They are usually composites of plastic and foam. Simple plastic plates would slash through the material and expose you to injury, so they put hard plastic plates inside a thick layer of firm foam.
Some garments also have built in spine protectors. If not, however, and you feel that you are not properly protected, jacket liners with armor pads are available for purchase, which are called "body guard jackets".
For the most part, jackets off the rack consist of small, medium, large, and extra-large. But there is more to a well-fitting jacket than that. Your protection depends on how well your equipment fits. If you luck out and find a jacket that you like and fits well off the rack, you're in business. But if you don't you can order custom made leathers.
There is 5 companies worldwide that can do your custom fit; Langlitz, Bates, Z Custom Leather, Vanson, and Aero stitch. But don't expect to order up your jacket and have it in a week. Each company can only produce about 1600 custom jackets per year, so there is a waiting list as long as the dictionary. So, make sure you place your order well before you need to ride, or you could be hooped.
Chapter 2: Have a Motorcycle Vacation
Are you an adventurer? Do you have the spirit of a wanderer? If so, then the hottest new trend in vacation travel, a motorcycle vacation, may be just the ticket for you.
Whatever countryside you enjoy, and whatever bike you ride, a motorcycle vacation promises great fun and entertainment.
Imagine a history buff that uses a motorcycle to explore old Civil War battlefields. Wilson's Creek in southwest Missouri, Pea Ridge in Northwest Arkansas, and the site of the battle of West Port near the Plaza in modern day Kansas City are all easily accessible by bike. Or, if exploring the west is more your thing, take a trek out west, starting in Sedalia, the scene of the first recorded cattle drive in history.
Then on your bike trace the other cattle towns of the old west like Wichita, Parsons and Dodge City in Kansas. Then keep heading west to Colorado the mile-high state and visit Estes Park. Go a little south and visit Colorado Springs, park your bike for a day and take a tour of the Air Force Academy and look at the grounds of Cheyenne Mountain, home of Norad.
Still yearning for more western adventure, then you can ride your motorcycle to New Mexico and visit Lincoln County where Billy the Kid and his Regulators raised a ruckus in the 1880's. New Mexico has great camping in the mountains near Cloudcroft, so be sure to take the opportunity to visit and if you feel up to it, sleep under the stars, with your trusty motorcycle near you, like a cowboy's horse.
While in New Mexico the Apache reservation at Riodosa offers a chance to try your luck at slot machines and the wheel of fortune. Then a visit to a great Mexican restaurant and on to the town of Roswell, site of the 1947 UFO crash that some people say made history. When you get to Roswell you can either take your bike to a campground, or park it at a nice reasonably priced motor hotel so that you can spend some time in the UFO Museum and Research Center on Main Street.
While there you can visit with some witnesses to the crash and hear some fascinating stories, and take a side trip out to the ranch outside of town where debris was found, and some say small alien bodies were recovered. When you've seen all the UFO sites you feel like seeing, you can visit the Robert Goddard Museum next door to the Town's convention center. Goddard is the father of modern rocket science.
He performed many of his experiments in the desert near Roswell and the museum is great fun. When you get done in Roswell, then hop on the bike and go to Albuquerque near Holloman Air Force Base, and then on down to White Sands rocket test ground. New Mexico is full of interesting sites. If you head up north, be sure to his Santa Fe and appreciate the Native American arts and crafts on display.
Other Details
- 1 Ebook (PDF), 25 Pages
- 1 Squeeze Page (HTML)
- 3 Ecovers (JPG, PNG)
- Year Released/Circulated: 2019
- File Size: 1,401 KB
License Details:
[YES] Each product to be sold for no less than $7.00 each.
[YES] Can be sold
[YES] Can be re-branded as your own
[YES] Can be used for personal use
[YES] Can be packaged with other products
[YES] Can modify/change the sales letter
[YES] Can modify/change the graphics and ecover's
[YES] Can add to ANY membership site (MRR Only)
[YES] Can be offered as a bonus
[YES] Can be given away free to build a list
[YES] Can print/publish offline
[YES]Can convey and sell Personal Use Rights
[YES] Can convey and sell Resale Rights
[YES] Can convey and sell Master Resale Rights
[YES] Can be given away for free
[NO] Can convey and sell Private Label Rights
[NO] Can be given away in PLR format
[NO] Can sell or giveaway the FULL package