Salespage Snapshot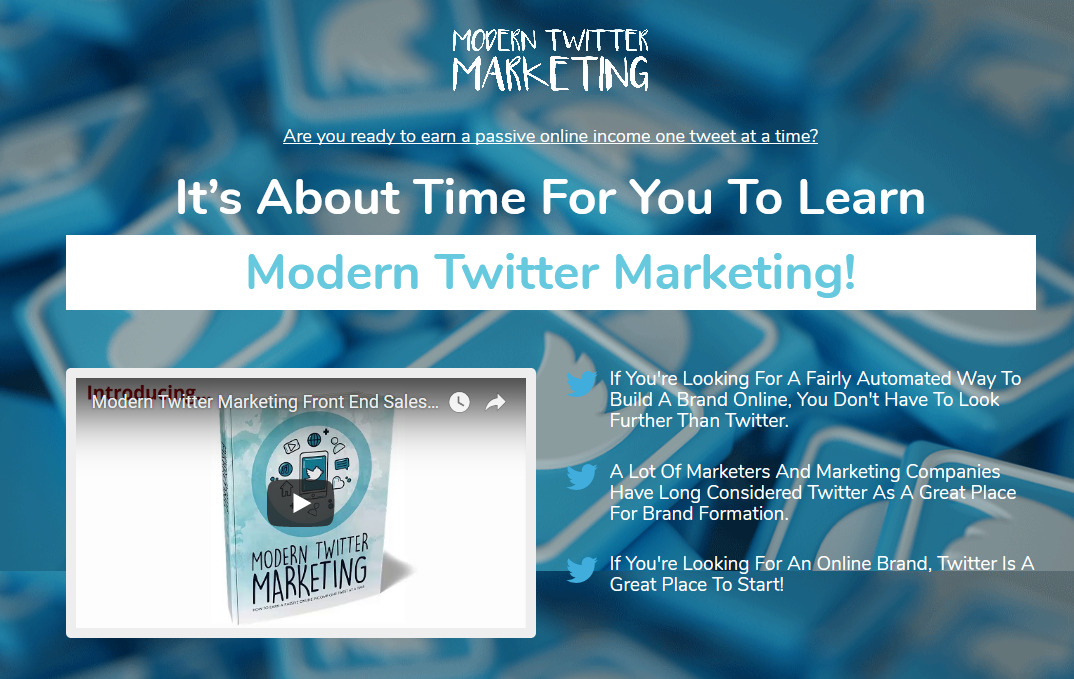 >> Click Here To View Sales Page...
Table of Contents
Introduction 04
Chapter 1: Do These First before You Start Marketing on Twitter 07
Chapter 2: Get Ready to Go Manual or Full Auto 17
Chapter 3: Manual Twitter Marketing 25
Chapter 4: Manual Tweeting: Pros and Cons 29
Chapter 5: How to Find the Right Niche Influence Leaders on Twitter 35
Chapter 6: Follow and Engage 39
Chapter 7: What Happens When You Reach High Engagement Levels? 45
Chapter 8: Always Optimize Your Content 51
Chapter 9: Leverage the Power of Questions 55
Chapter 10: Twitter Marketing Best Practices 58
Conclusion 62
Sample Content Preview
In fact, a lot of them think that they just need to buy a system that somebody else has built and they will make money. What they're really saying to themselves is that they're too lazy to think through their online business.
That's always a dangerous proposition because when you let another person do your thinking for you, you're going to have to deal with the consequences. You have to understand that when people build systems for others, they're usually trying to cut corners.
They're trying to make the most amount of money with the least amount of effort. Do you think they have your best interest in mind with that attitude? Of course not.
This is why it's a bad idea to let somebody else pick your business for you. You have to do it yourself. You have to know what you're doing. You have to know who you're going to be marketing to, what exactly you're going to be pushing and how you're actually going to be making money on the Internet.
You can't just buy some sort of "business in a box" and expect everything to work out smoothly. That happy ending that you may have been dreaming of may be a very distant and even impossible dream. Why? You just didn't step up. You have to do all of this yourself.
The most important is to pick a niche. A niche is a subject matter category or some sort of category for whatever collection of needs you are trying to address.
What kind of problems do the products you are promoting or the website you are building address? Pick that niche. Understand how that niche compares with other niches. Understand whether it fits your amount of resources and your expectations.
Build a Site
You can outsource this. You can create a site that addresses your niche. When you're building a website, you're not just putting up a nice-looking online destination. It must do something. It must convert the traffic that you drive to that site into cold, hard cash.
Create a Mailing List
Next, you have to create a mailing list. This is crucial. Your mailing list is actually the payload of your website. Sure, you may be putting up affiliate ads on your website. When people click these and they land on the sales or landing page, they may buy something. When they do that, you get a commission.
That's nice and everything but if you really want to make money over the long term, create a mailing list. Why? Whatever credibility, respect or trust you create with your website, you maintain with your mailing list. When you have an update on your website, you just publish the link on your mailing list and invite people to click through, and you have yourself a nice burst of traffic.
I've got some bad news to share with you. The vast majority of people who visit your website will never come back again. That's the harsh reality.
When you have a mailing list, you get to retain some of that traffic. You only need to set an update, and you get a nice little surge of traffic because people saw your e-mail and clicked on your link.
This enables you to retain some of the value of the hard work and time you put into branding and promoting your website.
To create a mailing list, you have to offer a premium. It's some sort of freebie. It's some sort of incentive for people to join your mailing list. Of course, you make this case on your squeeze page. You advertise the value of the freebie you're giving on a page called a squeeze page. This is where people enter their e-mail addresses to subscribe to your mailing list.
Please understand that there is a big danger here. This is a warning. Don't go overboard in promoting the freebie because if you do that, people will sign up for the free booklet, the free course or the free book.
They couldn't care less about the updates your mailing list will send them. In fact, if you push the freebie too hard, they might even think that the updates you send are some form of spam because you caught them by surprise. Do you see how this works?
There has to be a healthy balance between getting people pumped up to join your mailing list because they're getting something for doing it, but also letting them know that they are getting a better value by being on your list just because you will be sending them information that would enable them to solve all sorts of problems in their lives that are related to your niche. Do you see how this works? Do you see the balance?
Create an e-Book or Report or Some Sort of High-Value Giveaway
When you create a mailing list, there has to be some sort of incentive for people to sign up to your list. I wish it were as easy as saying that your website is so awesome that your visitors owe it to themselves to sign up to your list.
I'm telling you if that is your strategy, you're probably going to get very few list members. Why? People need a push. They may be impressed by your website, they may like what you're doing but this may not be enough to get them off the fence.
Other Details
- 20 Articles (TXT, DOC)
- 1 Ebook (PDF), 65 Pages
- 5 Graphics (PNG)
- 1 Salespage (HTML)
- 11 Ecovers (JPG)
- Promotional Ad Material (Emails, Banners)
- Resource Report, Cheat Sheet, Mindmap, Social Media Images, Legal Page, Sales Video
- Year Released/Circulated: 2018
- File Size: 147,782 KB
License Details:
[YES] Can be sold
[YES] Can be used for personal use
[YES] Can be packaged with other products
[YES] Can modify/change the sales letter
[YES] Can be added into paid membership websites
[YES] Can put your name on the sales letter
[YES] Can be offered as a bonus
[YES] Can be used to build a list
[YES] Can print/publish offline
[YES] Can convey and sell Personal Use Rights
[YES] Can convey and sell Resale Rights
[YES] Can convey and sell Master Resale Rights
[NO] Can modify/change the main product
[NO] Can modify/change the graphics and ecover
[NO] Can be given away for free
[NO] Can be added to free membership websites
[NO] Can convey and sell Private Label Rights