Salespage Snapshot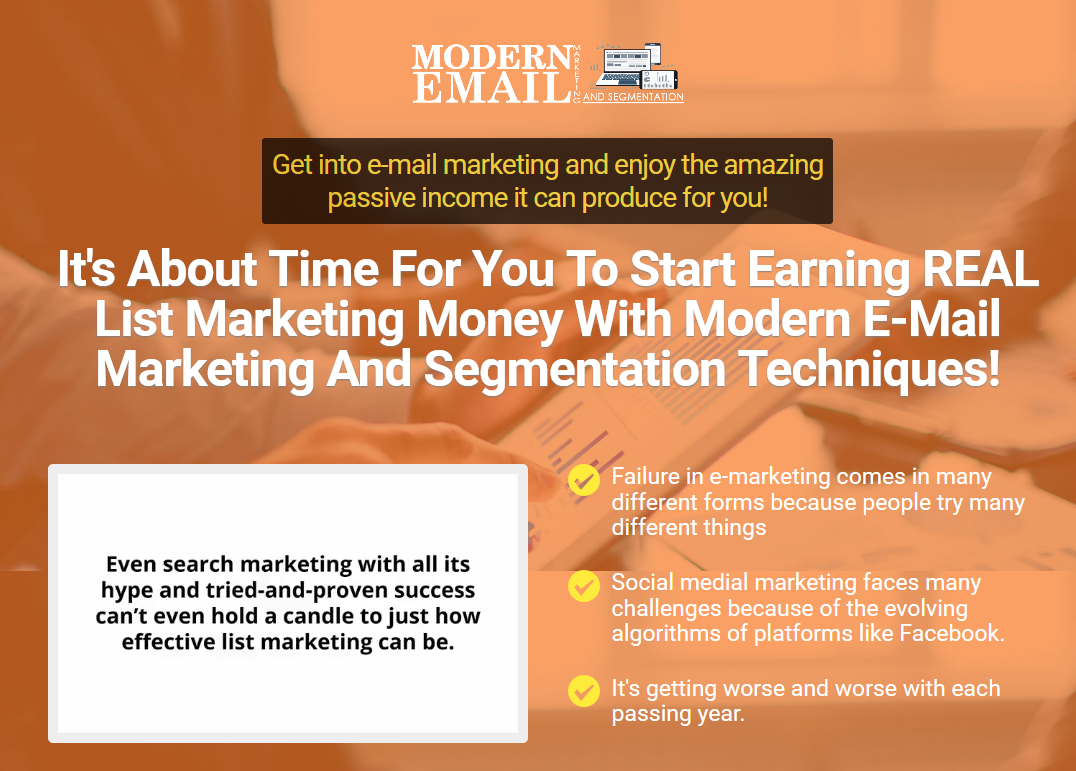 >> Click Here To View Sales Page...
Table of Contents
Introduction 04
Step #1: Be Clear on Who You Wish To Market To 08
Step #2: Find the Right E-Mail Marketing Platform 14
Step #3: Decide on your list incentive 19
Step #4: Create and feature topnotch list incentives 29
Step #5: Decide between updates versus pre-scheduled emails 36
Step #6: Optimize your list by targeting your traffic source 43
Step #7: Optimize Your Squeeze Page Sign-Up Rate 46
Step #8: Identify your list segmentation strategy 25
Conclusion 61
Sample Content Preview
Reverse Engineer Your Competitors
Once you have a clear idea of who your competitors are, reverse engineer what they're doing. How do they speak to the needs of the people you're trying to reach? What do their websites look like? What kind of social media accounts do they have? What kind of content do they use for marketing purposes? How are their pages designed? You have to keep these and other related questions in mind as you research one competitor after another.
After you've spent some time asking these questions and processing your competitors in a systematic and methodical way, you should have a clear idea of what your niche "industry standard" is. You would quickly find out that your niche competitors tend to look alike. They tend to address the same problems. They tend to have the same solutions. Their social media accounts tend to look similar to each other.
Be mindful of this. Look at these similarities and understand that this is the "industry standard" in your niche. Whatever website or social media account or mailing list you come up with must fit the industry standard.
Please understand that when you figure out the industry standard in your niche, it just gives you a place to start. You shouldn't start and end there. If anything, it just gives you a head start instead of fumbling around to come up with the right squeeze page or mailing list marketing materials for your niche. It gives you a place to start.
What "Industry Standard" Item Should You Look For
Pay attention to your competitor's squeeze page layout. This is the signup page your competitors use to get their target audience members to sign up for their mailing list. Pay attention to how they lay out these pages.
What kind of pictures do they use? What kind of text do they present? How did they format their text? Do they tell stories? Do they show videos?
Next, pay attention to their sales funnel layout. Your competitors have a standard way of getting people to sign up to their mailing list and also selling those list members to a wide range of products and services. Be aware of how they do this. How do they step prospects through the sales process?
Understand that their ultimate goal is to get list members to buy something. Try to figure out how their sales funnel is laid out and how it seeks to convert list members. Pay attention to the kind of freebies or incentives your competitors give out to get people to sign up to their mailing list.
Do they use cheat sheets or short reports? Do they give away full books? Do they attract list members by offering a special video? Do they promise some sort of insider information that people have to sign up for to access?
Be aware of the specific "industry standard" digital incentive your competitors give out. You're going to have to offer the same. You can tweak this later on, but you need to start out with this type of incentive.
Subsequently, pay attention to the updates that they send. Do they talk about news and events? Do they seek to teach e-mail recipients a wide range of solutions?
Finally, pay attention to the stuff that they are promoting in their e-mails. You can bet that your competitors are sending out e-mails intended to make them money. If you click on the right link, it would lead you to a product they hope you would buy. The same goes with services.
Pay attention to these. Identify the most common products that they push with their updates. Again, this forms the "industry standard" in your niche. Look for the industry standard because this is where you will start. It doesn't mean you have to start and end your e-mail list marketing activities with the industry standard. Instead, it just gives you a tremendous head start because you're not fumbling around coming up with your own squeeze page and mailing list strategy which might fail.
Instead, by going with the tried and proven industry standard, you can improve on mailing list practices that already exist. You just need to perfect whatever it is your competitors are already doing.
This step is crucial. In fact, it's so important that it only comes second in importance to Step #1. You have to have the right technology workhorse to ensure your mailing list business is a success. You have to understand that you cannot do e-mail marketing manually. It's physically impossible. Even if you have a list of only 500 people, sending e-mail updates to those people one by one is going to drive you nuts.
You have to sign up to the right e-mail marketing platform that would automate all mail delivery. You might think that this is a pretty simple process. It isn't. It's very hard to manually keep tract of people signing up and unsubscribing to your list. You may be able to get away with it if you only have a handful of members, but once your mailing list starts to grow, it can easily get out of hand.
Pay attention to key common features of e-mail marketing platforms:
Automated Autoresponder Sequence
Regardless of the platform you go with, they must have a way of enabling you to schedule e-mails to send to each and every one of your list members on a scheduled basis.
For example, if somebody joined your list on Monday, they get the e-mail update for Day 1. On Tuesday, they get the e-mail update for Day 2. When another person signs up for your mailing list on Friday, they get Day 1's update and so on and so forth.
In other words, your mailing list platform must be automated and powerful enough to market to all your list members on an individually scheduled basis. This is crucial if you want to use your autoresponder e-mail sequence to turn your list members into buyers.
Powerful Universal Update Features
Sometimes, you need to send an update to all your mailing list. For example, if you're holding a sale or you have some important news to share, you need to be able to reach everybody at one time. Your mailing list platform must be able to deliver your e-mail to its recipients. Otherwise, it's failed at its job.
Unfortunately, not all e-mail marketing platforms do a good job in delivering your e-mail.
Four powerful players stand out: AWeber, GetResponse, MailChimp and Constant Contact stand out amongst the rest. These services have a solid-gold reputation for getting past spam filters. They are so trusted by mail services like Gmail and Yahoo Mail that their e-mails usually get through.
Other Details
- 1 Article (TXT)
- 1 Ebook (PDF), 53 Pages
- 10 Graphics (PNG)
- Salespage (HTML)
- 10 Ecovers (JPG)
- 2 Promotional Ad Materials (Emails, Banners)
- Resource Report, Cheat Sheet, Mindmap, Social Media Images, Legal Page, Sales Video
- Year Released/Circulated: 2018
- File Size: 47,062 KB
License Details:
[YES] Can be packaged
[YES] You Can Use This Product Yourself
[YES] Can be sold as it is not less than $7 price tag!
[YES] Can pass on the Resell Rights privilege to your customers.
[YES] Can Add This Product to a Membership Site or Bundled Within a Product Package as a Bonus.
[YES] Can be used to create audio/webinar/video products
[YES] Can Give Away The Product (NOT The Source Code Files) To Your Subscribers, Members or Customers as a Bonus or Gift.
[YES] Can change sales page and/or graphics
[YES] Can be added to paid membership sites
[YES] Can sell master resale rights
[NO] Add to a free membership sites
[NO] You can't just pass away the product to anyone
[NO] Contents of the product can be edited, modified or altered.