Salespage Snapshot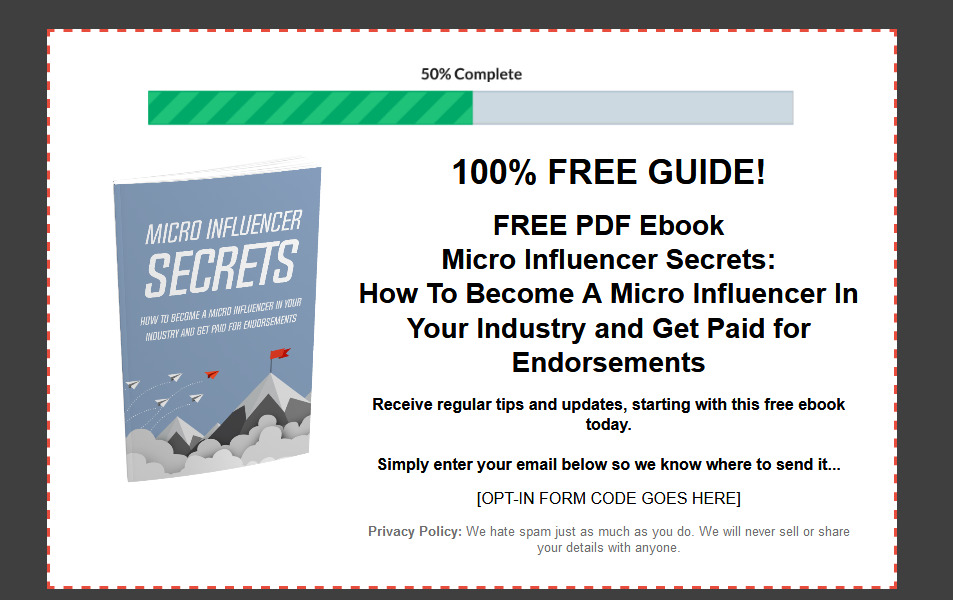 >> Click Here To View Sales Page...
Sample Content Preview
These are two platforms that let you be highly engaging with your audience, as well as very visual so that you can really express yourself quickly and get people to invest emotionally in your ideas and what you're selling.
Then you are going to back those up with a Twitter profile where you will talk regularly and let people see some insight into your life and personality. AND you're going to create a blog where you will regularly post content and where you will be able to sell products potentially in the future.
What's really important, is that this blog be responsive (meaning mobile friendly), that it be quick to load, and that it has large text that is easy to read. You can use WordPress to accomplish all this, but the main goal is simply to ensure that your site is able to compete with the very best competitors in your niche. It must look professional, it must be quick to load, and it must work well.
Strong Branding
You will be your own brand. That means you'll be create a "personal brand" which will use your name and image in the marketing. This is a great way to create more of an emotional connection with your audience and it will also be what makes you the influencer (rather than just a website owner).
You need to make sure that you are living the lifestyle that you are promoting and that you become a role model in that sense. People should see through you that your advice works, and that they should therefore be inspired to follow your advice to achieve what you have.
This is why it's so important to pick a niche that you really know well and have lots of experience in!
What's also important is to make sure that you have a strong message and purpose, and that everything you do is "on brand" and "on message."
If you are going to be a thought leader, then you need to lead. That means you need to know your values, your key lessons, and what you're trying to say. By being consistent with this, you'll develop long term loyal followers, and all the content you produce will be coherent.
THIS is what makes those followers really rally behind you and get on your team.
How to Create Great Instagram and YouTube Posts
Once this is up and running, the next step is simply to post regularly to Instagram or YouTube, as well as your blog. You need to maintain a consistent stream of content, even when there doesn't seem to be many people reading!
On YouTube and Instagram, the aim is to show yourself living the lifestyle that you are promoting and at the same time to help inspire and motivate your audience. That means focussing on the specific niche that you've carved for yourself.
So, if you have a fitness brand that is about being happy, fit, and healthy, then you might show photos of yourself jogging on your beach with your partner smiling. You might post images of yourself drinking smoothie, or relaxing in the sun. Underneath each post you can provide helpful tips and advice, while a little editing and some filters can help to make everything look really perfect.
If your brand is all about heavy lifting and serious hardcore strength, then your posts might be motivational things along the lines of "no pain no gain" and images of the gym, or you with heavy chains over your neck and a battered expression. Your comments might talk about not giving up in the face of adversity.
On YouTube, you'll create videos that answer specific questions that are useful to your audience, but you'll do so in a style that speaks to your brand. The editing should help to set the "mood" for example. Will you use fast editing with electronic, up-beat music? Or will you use a subtle haze effect with a more casual talking manner?
Will your backdrop be an immaculate desk set-up, or a lived-in living room? Will you wear a sharp suit and look serious? Or smile and dress casually?
Some Powerful Tips to Do Better
Find Ways to Optimize Your Posting
Creating photos and videos takes time, but it's very important that you post regularly if you want to keep growing and hold onto your audience.
To that end, you should make it as simple as possible to create content. So you might stick to a 4-minute format for your videos for example, and keep an area of your home with the camera set-up ready.
You can also batch making videos and posts, so that you make lots of content in one go and then have it to upload gradually later on.
Engage With Your Audience
Succeeding on social media means not just posting out, but also thinking about what's coming in. Speak with your audience and answer their comments. Invite them to make suggestions, or to DM you to chat.
Better yet, engage in other communities using your brand name. If you can make yourself known in these circles and better yet, become someone that people consider an "online friend," then they will be far more committed to following your content.
Other Details
- 10 Articles (TXT, DOC)
- 1 Ebook (PDF, DOC), 11 Pages
- 1 Audio (MP3)
- 4 Graphics (PNG)
- 1 Squeeze Page (HTML)
- Year Released/Circulated: 2020
- File Size: 8,194 KB
License Details:
You're granted master resell rights, resell rights or to resell with personal use rights.
You may add this product to your PAID membership site
You may giveaway the product as a bonus when people buy through your affiliate link
You may edit the included opt-in / squeeze / landing page
You may giveaway the eBook for Lead Generation purpose
No, you may NOT edit the contents of the eBook
No, this product does NOT include private label rights. You are granted Master Resell Rights only