Salespage Snapshot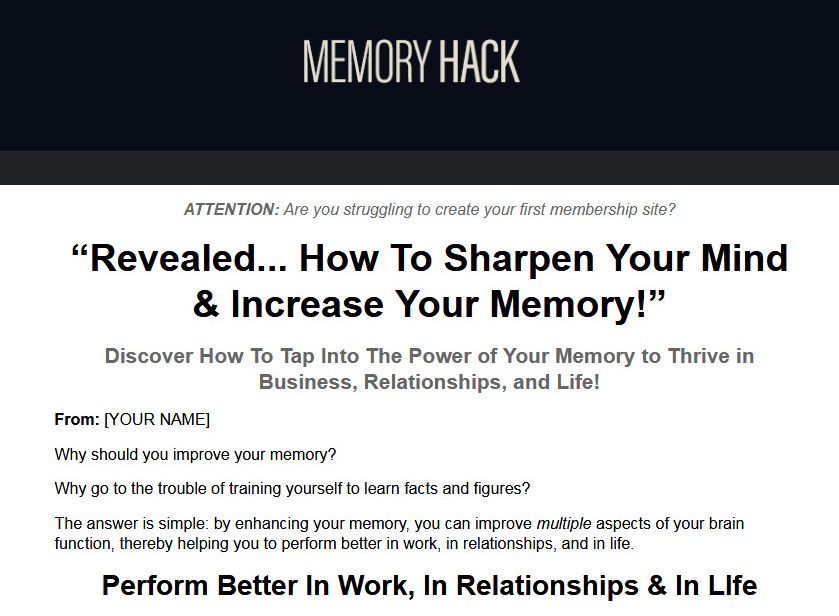 >> Click Here To View Sales Page...
Table of Contents
INTRODUCTION ..5
CHAPTER 1: NEUROPLASTICITY AND THE SCIENCE OF LEARNING 7
CHAPTER 2: APPLYING NEUROSCIENCE TO SMARTER LEARNING .. 11
SPACED LEARNING . 11
EMOTION 12
NOOTROPICS .. 16
CHAPTER 3: MIND MAPS, MEMORY PALACES, AND OTHER MEMORY TECHNIQUES . 18
THE "SHEET TECHNIQUE" 18
MIND MAPS .. 20
MNEMONICS .. 23
MEMORY PALACES AND THE METHOD OF LOCI .. 25
CHAPTER 4: ACCELERATED LEARNING AND PUTTING IT ALL TOGETHER 27
Speed Reading 30
The First 20 Hours . 32
PROSPECTIVE MEMORY 33
Meditation and Mindfulness .. 34
Flow Charts and Checklists .. 35
CHAPTER 5: FLUID AND CRYSTALIZED INTELLIGENCE.. 36
WORKING MEMORY: THE LAST PIECE OF THE PUZZLE 39
CONCLUSION . 43
Sample Content Preview
Chapter 2: Applying Neuroscience to Smarter Learning
Now that you broadly understand the basics of neuroscience, how can you apply this in practice by using different approaches to learning? Here are some examples.
Spaced Learning
Spaced learning is a very interesting approach to learning that has been shown in studies to be more effective than other approaches.
The general idea, is that you break up your learning into periods of revision and then short breaks. By doing this, you can effectively allow your neurons a 'cool down period' so that they aren't holding any residual charge (their resting potential).
This in turn means that when you then go back to revision, it is as though you are starting a new training session and this repetition is more effective than a single prolonged bout of learning. The result is that you actually learn much more, much more quickly.
Emotion
Our brains are designed in such a way that we retain bits of information that might be useful to our survival. We've seen how this works in regards to neurotransmitters. When something happens that is extremely stressful, exciting, or pleasurable, we produce large amounts of hormones and these help us form stronger connections in the brain.
Dopamine for instance – released when we think we are about to be rewarded – will upregulate the production of brain derived neurotrophic factor. That's why you can probably remember the last argument you had but not what you had for dinner last week. That's also why it's so hard to remember who was Prime Minister in 1934 for that History exam; dry bits of data are boring and have no emotional aspect to them so it's incredibly tricky to seer it into our minds.
Our job then, is to try and make these boring facts and figures into things that seem more exciting, interesting, and relevant to us. Better yet, we should try to make the actual act of learning rewarding and fun.
Here are some examples of how you can do just that:
Watching Education: How can a teacher make any lesson less boring and control a rowdy class? Simple: put a video on. It doesn't matter that the video is the same topic as whatever they were struggling to teach the simple fact is that video is much more stimulating and much better at holding our attention than just reading or just looking at something at something on a blackboard. If you are trying to learn something and finding it boring then, why not see if there's a YouTube video on the topic?
The reason this works is the emotion. When we see people talking, hear music, and get to watch things happening, it triggers a more emotional response, helping us to form more concrete memories.
Multitasking: Learning on its own may be boring, but if you can do it at the same time as something more interesting you'll at least have more stimulation to keep you going and you'll be able to save time. An example of this could be flicking through a text book while running on a treadmill, or listening to an audio tape while playing a computer game on mute.
This isn't so effective at increasing the strength of the memories but can be useful as a way to improve your motivation – so that you spend more time learning than you otherwise could bring yourself too.
Create Something: Another great option is to try creating something as part of your learning process. A great example of this might be to write a blog that recounts all the information you're learning or write a book, or you could even make an app!
This is a great strategy because you will reinforce what you're learning as you write it down. At the same time, if you create a useful enough resource then you'll be able to offer that to others and possibly even earn from it (and you can use the resource yourself to recap).
Writing a book or an article is a particularly effective method, as it draws on something that we call The Feynman method. This is a learning technique that involves reading something, learning as much as you can, and then trying to succinctly explain that concept to someone else. If you can't easily explain what you've learned, then you go back and try again.
Make it a Game: This might sound like something un-fun your Mum would try to get you to do in order to keep your room tidier, but there are ways you can turn learning into a fun game. Get more creative than just 'quiz' and think instead about how you can create a board game or something else actually enjoyable out of what you're learning.
Find the Angle That Appeals to You: We all have particular interests and hobbies, and we all decide whether or not something is relevant to us based on whether it applies to these or to part of our careers. The problem with learning maths is often that it doesn't seem to apply to your everyday life and it's common to hear people moaning about how they never use the math skills they learned in school.
In reality though, Maths applies to countless careers and interests – whether it's architecture where you'll benefit from being able to calculate angles and areas, whether it's physics and space, or whether it's programming.
Love computer games? Well with Maths you can make your own. The same goes for History, for English and for every other topic – it will relate to the things you love in at least some respect.
Even if you can't find that angle naturally you can always force it. So say you are trying to get your kid to learn about history and won't engage with it. Find a TV program or game that they love and then explain to them how it was based on history – or how living in that time would have been just like living in an action movie.
Other Details
- 20 Articles (TXT, DOC)
- 1 Ebook (PDF), 44 Pages
- 4 Graphics (PNG)
- 1 Salespage (HTML)
- 4 Keywords List (PDF, CSV)
- Checklist, Lead Magnet, Optin Page, Social Media Messages, Opt-in Page Headline, Email Swipes, Salespage Headline, Infographic, License Pack
- Year Released/Circulated: 2019
- File Size: 22,465 KB
License Details:
Yes can be used for Persoanl use
Yes can be given to List subscribers
yes can be packaged with other products
yes can be offered as a bonus
yes can be edited and Your name put on it
Yes can be used as web content
Yes can be broken Down into smaller articles
Yes can be added to an e-course Or autoresponder as content
Yes can be sunmitted to article directories
Yes can be added to paid membership sites
yes can be added to an ebook/pdf as content
Yes edit title sales letter any way you want
Yes can sell resale rights
yes can sell master resale rights
No can sell PLR rights
No cannot give away PLR rights