Salespage Snapshot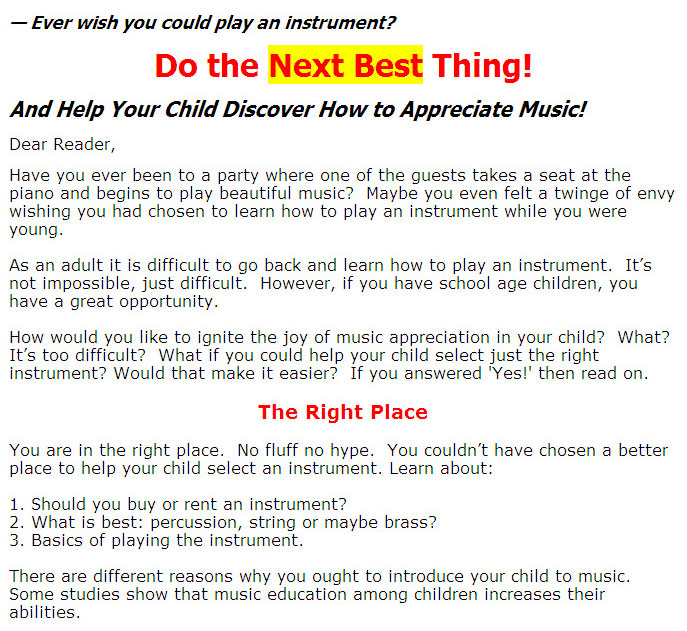 >> Click Here To View Sales Page...
PLR Ebook Table Of Contents
Guitar
Banjo
Piano
Violin
Cello
Drums
Trumpet
Trombone
Harp
Clarinet
Flute
Saxophone
Oboe
Viola
Tuba
PLR Ebook Sample Content Preview
Guitar
Children are particularly interested in playing the guitar at a certain age. The good thing is that they can continue playing well into their adult years, provided that you give them sufficient support as well as the right equipment to boost their skills. Choosing a guitar can be a fairly simple, but tricky process. Do not immediately purchase the best-looking one in the shop. You should consider the tune, design and most of all, the sound.
The Beginner's Package
A lot of shops actually offer beginner packages that are relatively cheap, provide good sound and are durable. The package usually includes a free case, guitar strap, tuner and a guitar chord book. There are also good brands to choose from. The price will vary depending on the level and capabilities of the guitar. Beginners can start with simple models. You may notice that the strings are harder than usual, so these need to be broken in. In about 2 weeks, the strings should be easier to handle.
Allow your child to pick the design of his or her choice. Even popular brands have beginner-type guitars that appear in all shapes, sizes and colors. The size should be right for your child as well. Some models are slightly smaller than the average to cater to very young kids. There are also models that already come with a built-in amplifier or mic out.
Types of Guitars
There are many kinds of guitars so allow your child to tell you what kind of music he or she is particularly interested in. Play some guitar tunes on your radio and let your child decide the genre that suits his or her personality and interest. Acoustic guitars are hollow-bodied instruments. These are unamplified by style, but you can easily add electronics to send the signal to an amplifier. You can play an acoustic guitar without the need to amplify the signal. An electric guitar will sound twangy and thin unless you amplify the signal.
Other Details* Sales Page:
Included, HTML, MS Word Doc
* File Format:
MS Word Doc, PDF
* Number of Pages:
57
* Included Graphics:
Ecovers, PSD
* Download File Size:
2,623 KB