Salespage Snapshot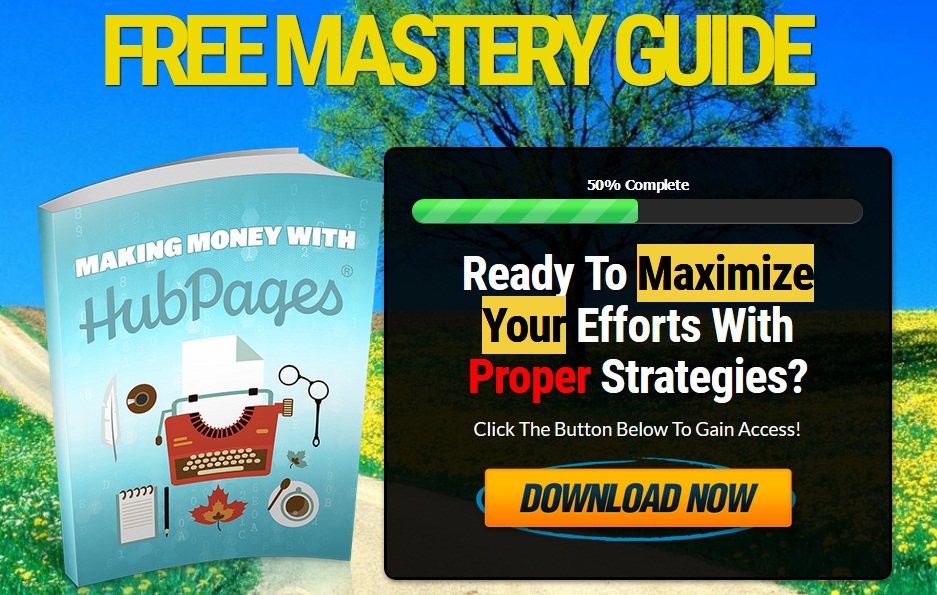 >> Click Here To View Sales Page...
Sample Content Preview
But don't just build them – make sure you link them together.
One useful feature that HubPages gives you is the ability to group hubs together. So let's say for example that you did go ahead with that hub on fishing rods. If you then created other hubs on the topic of fishing, all you need to do is create a group called 'Fishing' and put all the relevant hubs into it.
This will enable people to see the other fishing hubs you have created whenever they visit just one of them. Once you have grouped some hubs together, all you need to do is go into a hub in that group to see how it works. Right at the bottom of the hub, just before any comments that are made, you will see links to other hubs in that group. Two other hubs will appear as links on that page and arrows will indicate that there are others to see as well.
This means you can capitalize on one successful hub by building and drawing attention to others on the same subject.
LEARN FROM YOUR TRAFFIC STATS
Your account stats hold a lot of useful information for you. But among the most useful of all are your hub statistics. This is where you can find out how well your hubs are doing.
Every hub you have published will appear in a table on this page. What's more, each one will show you how many visits it has had in the last day, week, and month. Obviously, this will fluctuate from time to time, but you should keep a close eye on it because it holds clues as to which hubs are proving to be the most popular. It's obvious that the more traffic you can get, the more money you stand to make. So figure out which hubs are receiving the most interest and think about whether you could write more hubs that are similar in topic to your successful ones.
It's very important not to copy what you have already done. But if you have hit on a successful topic, why not mine it further and make more cash from it?
For example, let's say you have three websites of your own that deal with three very different topics. You have written half-a-dozen hubs for each topic, each one with a link to the appropriate website.
After a while, you discover that two out of the three subjects are receiving a lot of attention and click-throughs to your sites. The third one, however, isn't doing very well at all. From this information, your best course of action would be to capitalize on the success of those first two sites. That doesn't mean you should ignore the third one – it just means you should focus on what is working first. Later on, you can try a different tack with the third site and see whether you can improve on your traffic and click-throughs. Always make sure you employ the reverse psychology trick – don't go in for any blatant selling. Make sure you are giving good value and writing useful hubs. This should always occur before your own needs! People will then reward you by using your service or buying your product.
GETTING TRAFFIC TO YOUR HUBS
At the end of the day, more traffic equals more chances to make money from your hubs.
So think about the various ways in which you can increase the flow of traffic to your hubs. It has to be said that HubPages does have a very active community of writers and readers though. This means that as soon as you publish a new hub, you can expect a small flow of traffic to start visiting it. The size of this flow will depend on how big your fan club is, so work on building it as large as you can!
But make sure you link directly to hubs from other sources as well. If you have a blog, write some posts around the subjects of any hubs that are relevant to your blog and link to them. The same goes for your website. You can also write free articles that link back to your hubs and send them to all of the article directories you can find.
You can see how well your hubs are doing in two ways. First, you can sign up for Google Analytics to get detailed information on how your hubs are performing. You'll find the sign-up information under the affiliate settings section of Your Account.
But HubPages does provide you with some stats to look at too. You'll find these under "Traffic Sources" in the "Your Hubs" section of your account information. You will probably find after a while that Google provides a lot of traffic to your hubs, as does HubPages itself. But you will see whether any of your other attempts to get traffic are working too.
In the end, it is a question of experimenting with building your sources of traffic. The more you can bring in, the more people you are going to have looking at your links. So make sure you don't just rely on HubPages to bring you visitors. You'll get out of this site what you put in.
AND FINALLY –EARN FROM HUBBERS THAT YOU INTRODUCE!
Within the help pages, you will see that there are a number of buttons and banners that you can use to attract more people to use HubPages.
But why would this be of any benefit to you?
Well, you can create your own unique link when using these banners. And if you do that, you will earn from the writers who sign up through that link. The site gives you a tutorial to tell you what to do to make this work, so I won't go into it here. Suffice it to say that it's worth doing because, once you have set it up, it doesn't require any more work from you. This provides you with another small revenue of income that joins with all the other sources of income that HubPages can bring you.
So you see, there are actually more ways to earn money with HubPages than you might have realized. The best way to make the most of it is to start with one method at a time and then build things up until you are using all the methods at once.
It's important to recognize too that you will get the best rewards over a longer period of time. Don't expect your efforts to reap huge paychecks in just a week or so. If you stick with it and make it a long-term venture though, the limits on what you can earn will only be set by you.
Good luck!
Other Details
- 1 Ebook (PDF), 14 Pages
- 1 Squeeze Page (HTML)
- 2 Ecovers (PNG)
- Year Released/Circulated: 2019
- File Size: 3,086 KB
License Details:
[YES] Can sell and keep 100% of the sales.
[YES] Can edit the squeeze page.
[YES] Can be bundled into another paid package and sell at a higher price.
[YES] Can be used as a bonus to another product you are selling.
[YES] Can be sold in a Dime sale event.
[YES] Can be added into a paid membership site.
[YES] Can pass on the Master Resell Rights privilege to your customers.
[YES] Can be given away for free AGAINST an email address (lead generation)
[NO] Contents of the product can be edited, modified or altered.